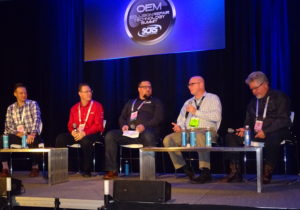 Automaker representatives last fall said OEMs do take into account factors like repairability and cost of ownership when designing vehicles.
However, competing OEM considerations might win out, resulting in a design that demands a more complex and expensive repair, according to Nov. 1, 2018, SEMA panelists.
Mike Kukavica, Porsche aftersales technical training collision repair technology instructor, called it a "balancing act" during the 2018 SCRS OEM Collision Repair Technology Summit.
Kukavica said designers and engineers were aware of the challenges passed down to collision repair, and OEMs do indeed compete on cost of ownership — it is monitored "very well." He said automakers will also talk with insurers and attempt to introduce more repairability.
He said a department at Porsche has the job of considering repairability during the design process, and they fight hard for it. Cost of ownership is a "big issue" as well, he said. However, sometimes other factors get in the way, Kukavica said.
Dan Black, FCA advanced body development service engineer and collision repair manager, said his company will examine mitigating repair costs. Headlights are growing more expensive, but FCA might use the technique of channeling crash energy into a sacrificial bracket to keep the pricey lamp from breaking, he said.
But at a certain point, lightweighting and other standards can mean "you get put into a certain box," Black said.
General Motors customer care and aftersales collision manager John Eck cited his company's position statement on bumper fascias as an example where the OEM offered the option of lower costs by not being absolutely replace-only. Though the document mandates replacement under many circumstances, it does allow topcoat refinish if the end paint result doesn't exceed 13 mils.
Shawn Hart, Audi curriculum designer and collision instructor, said German brands perform much research and testing. He said he will ask why the vehicle is built a certain way, and the OEM might have a good answer. (Though they sometimes will ask his opinion, Hart said.)
Hart recalled a repair design which involving bonding and riveting. It wasn't very attractive, but when the OEM demonstrated how it had been crash tested, "the light bulb goes on," Hart said.
A joke might hold that engineers are trying to screw over collision repairers, but "that's not their goal," Hart said.
Kukavica mentioned the "accursed radiator bracket" on later-model Porsche 911s. Porsche had a reason for the design, even if he personally didn't know it, he said.
"Nobody likes it," Kukavica said. "But that's how it is."
Asked if repairability engineers are involved in new product design, Black said he knew about cars three years into the future. Components are dictated by lightweighting and safety targets for engineers and steel companies, he said. Repairability engineers must work within those parameters, though they might have some influence on a decision between two grades of metals, he said.
Robert Hiser, Auto/Steel Partnership advanced high-strength steel repairability lead and General Motors body structure service engineer, said the "overriding priority" for most OEMs has been safety, calling it "No. 1." He said crash testing was probably the biggest concern for every automaker.
Asked about the number of one-time-use-parts — a contributor to severity — Kukavica said attachment parts might be designed to meet the needs of manufacturing. Reliability and speed were important in the assembly line, he said.
"It's all about you," joked moderator Ron Reichen, owner of Precision Body & Paint.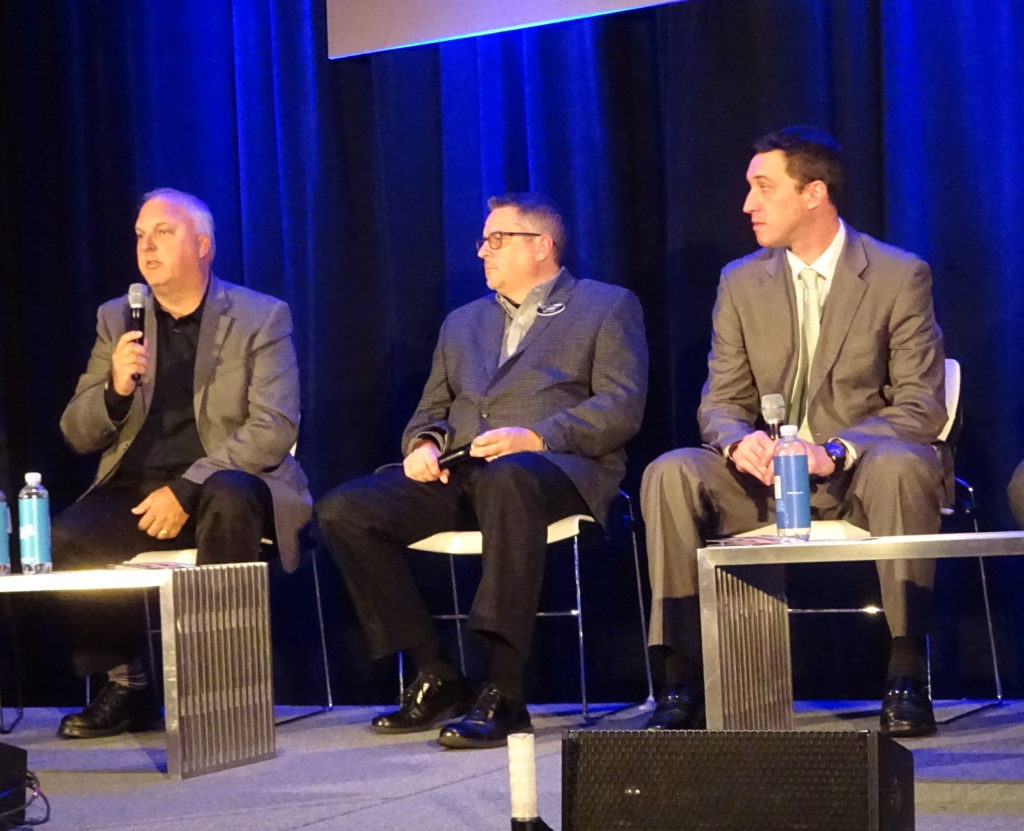 Costs and certified shop rates?
If cost of ownership is a concern and competitive point for automakers, what keeps them from acting like direct repair programs and demanding a certain certified shop labor rate for their brands' owners? We put the notion to three of the OEMs present at the SCRS summit.
"We don't look at it that way," Nissan collision network growth and strategy manager Mark Zoba said.
Cost of ownership was important, but as not every vehicle would suffer the same degree of damage in a collision, the cost would be "balanced out," he said.
"We would never dictate to a shop" … "'You need to keep the cost low,'" Zoba said. He said it was "not for us to say."
Zoba said Nissan would instead try to manage cost on the "other side," for example, looking at trends for "key components" being replaced and keeping what it charges for those parts in line. Or it would modify a vehicle design in response to what insurers have said about its repairability, he said.
Mercedes collision business manager Ben Cid said his company doesn't dictate anything having to do with labor rates or time.
Volvo certified collision program manger Kenneth Park said his company didn't want anyone taken advantage of, which appeared to be a reference to the OEM not taking advantage of its certified shops.
"Shops are in business, just like anybody else," he said.
The company wanted certified shops that would do things right and honorably, he said.
Images:
From left, Dan Black, FCA advanced body development service engineer and collision repair manager; Shawn Hart, Audi curriculum designer and collision instructor; moderator Database Enhancement Gateway Administrator Danny Gredinberg; Mike Kukavica, Porsche aftersales technical training collision repair technology instructor; and Robert Hiser, Auto/Steel Partnership advanced high-strength steel repairability lead and General Motors body structure service engineer, participate in the Nov. 1, 2018, Society of Collision Repair Specialists OEM Collision Repair Technology Summit. (John Huetter/Repairer Driven News)
From left, Nissan collision network growth and strategy manager Mark Zoba, General Motors customer care and aftersales collision manager John Eck and Volvo certified collision program manger Kenneth Park participate in the Nov. 1, 2018, Society of Collision Repair Specialists OEM Collision Repair Technology Summit. (John Huetter/Repairer Driven News)
Share This: