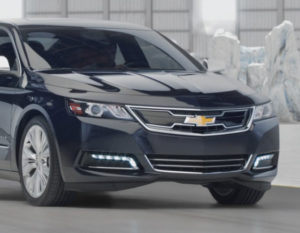 General Motors this month banned the use of all "aftermarket, reconditioned, or salvage" bumper fascias on vehicles with advanced driver assistance systems and restricted repairs to "topcoat refinish only."
The sweeping June position statement reflects fears that deviating from factory fascia specs will compromise automatic safety systems behind the bumper cover.
"General Motors DOES NOT APPROVE the use of aftermarket, reconditioned, or salvage Bumpers/Fascias on GM vehicles equipped with ADAS," GM wrote. (Emphasis GM's.)
Such parts might have "different material specifications than what was designed, tested and validated for use with ADAS," GM wrote.
ADAS uses technology such as radar to detect vehicles and other obstacles on the road and automatically stop the car if the driver fails to react to a threat. It also allows for features which blend convenience and safety, such as adaptive cruise control. Since human error is responsible for more than 90 percent of crashes, the tech can and does save lives, prevent injuries and property damage — and save insurers money on medical and repair bills.
It's therefore imperative that insurers, consumers and collision repairers heed GM and other automakers' instructions related to preserving and restoring ADAS systems.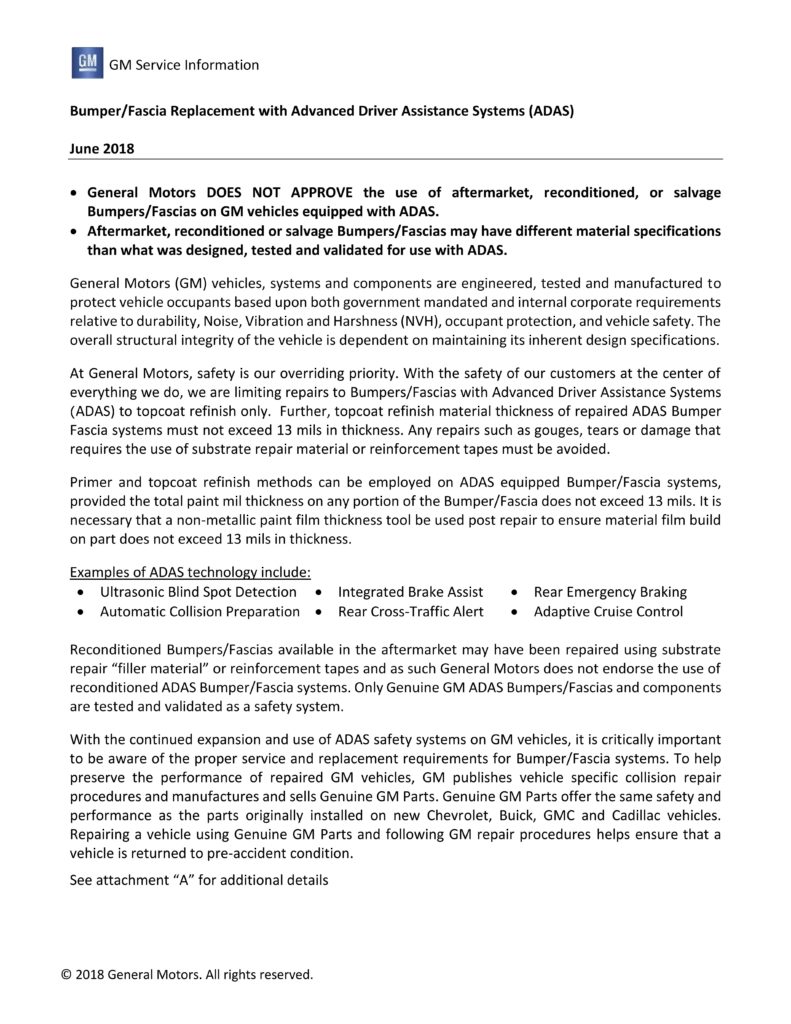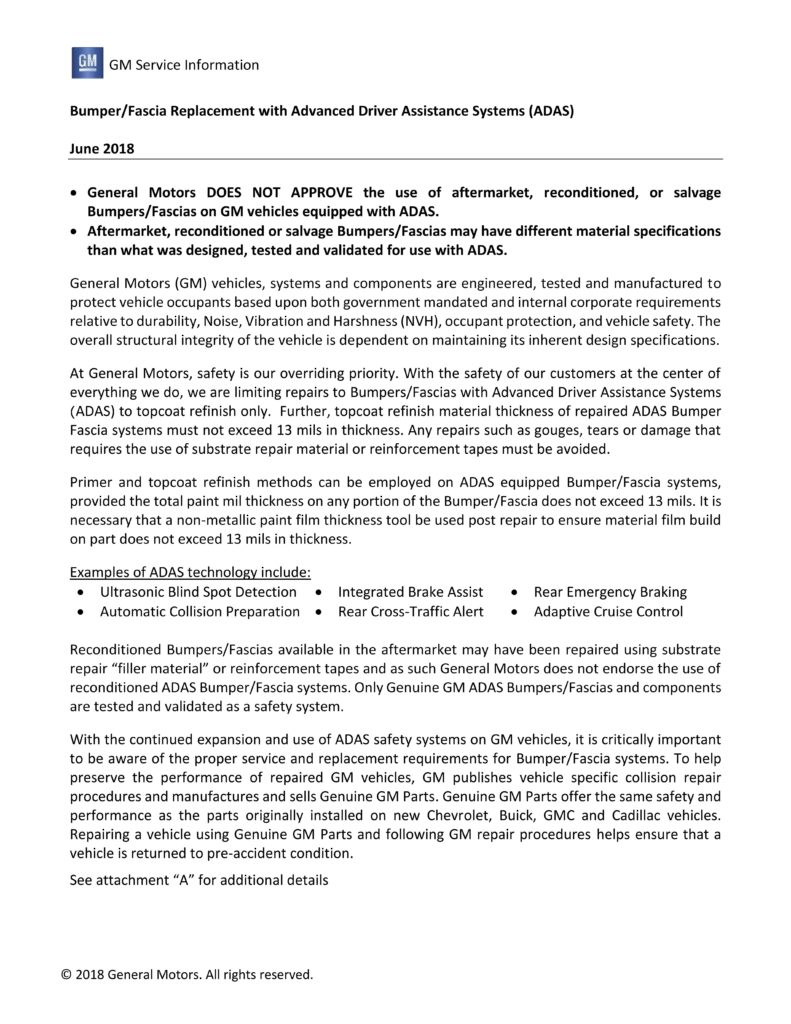 In this case, GM's instructions are basically to keep your hands to yourself and buy a new bumper cover. That way, everyone can be confident that the ADAS can properly "see" through the fascia material.
At General Motors, safety is our overriding priority. With the safety of our customers at the center of everything we do, we are limiting repairs to Bumpers/Fascias with Advanced Driver Assistance Systems (ADAS) to topcoat refinish only. …  Any repairs such as gouges, tears or damage that requires the use of substrate repair material or reinforcement tapes must be avoided. …
Reconditioned Bumpers/Fascias available in the aftermarket may have been repaired using substrate repair "filler material" or reinforcement tapes and as such General Motors does not endorse the use of reconditioned ADAS Bumper/Fascia systems. Only Genuine GM ADAS Bumpers/Fascias and components are tested and validated as a safety system. …
Using only Genuine GM replacement Bumper/Fascia parts will ensure that the ADAS systems will perform as designed by General Motors. Doing so, upfront, will also reduce cycle time. Aftermarket Bumper/Fascia assemblies may not have been designed, engineered, or tested to operate and perform as intended by GM. Non-original parts can be made of different material, or a slightly different configuration, which may cause the safety functionality to not perform as designed.
The use of non-OEM safety and structural parts and components may compromise the overall crashworthiness and occupant safety of General Motors vehicles in a subsequent collision.
GM offered this image as an example of what not to do:


The single repair GM permits also requires caution — and a mil gauge.
"Further, topcoat refinish material thickness of repaired ADAS Bumper Fascia systems must not exceed 13 mils in thickness," GM wrote.
"… Primer and topcoat refinish methods can be employed on ADAS equipped Bumper/Fascia systems, provided the total paint mil thickness on any portion of the Bumper/Fascia does not exceed 13 mils. It is necessary that a non-metallic paint film thickness tool be used post repair to ensure material film build on part does not exceed 13 mils in thickness."
GM says an "(a)ppropriate paint mil gauge should be used" and offers the DeFelsko PosiTector 200 as an example  which "can determine paint film thickness on a non-metallic surface."
(That's an important distinction; some paint gauges might not be able to handle non-metal substrates and vice versa. Make sure you have the correct version for the task in front of you. GM OEM repair procedures might be able to help here.)
GM also implies repairers can't always tell from eyeballing a vehicle that it has an ADAS system. Estimators, adjusters and body technicians will have to check the build data and OEM repair procedures to see if one exists.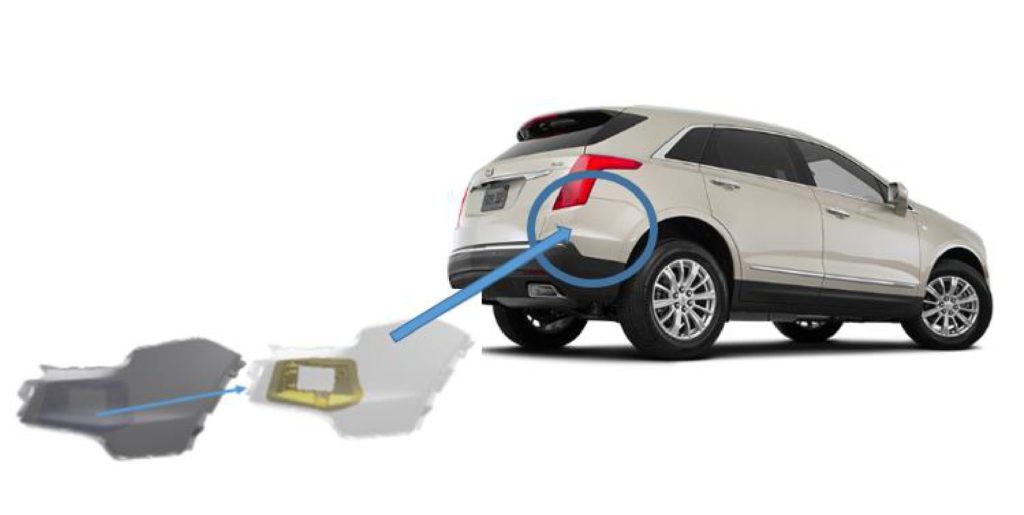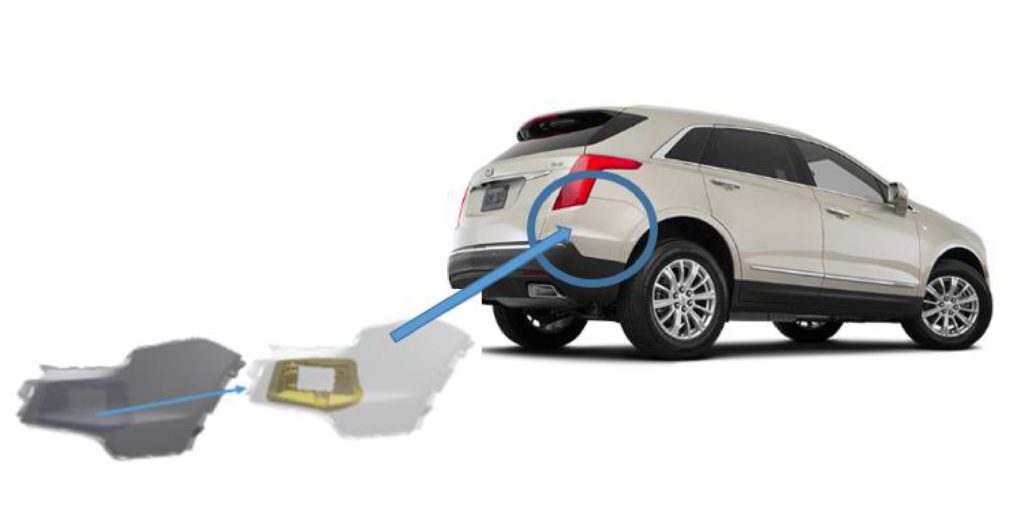 ADAS systems such as "Adaptive Cruise Control," "Automatic Collision Preparation," "Integrated Brake Assist," "Ultrasonic Blind Spot Detection, "Rear Cross-Traffic Alert" and Rear Emergency Braking" might be among those relevant to the position statement, according to GM.
More information:
"Bumper/Fascia Replacement with Advanced Driver Assistance Systems (ADAS)" position statement
General Motors, June 2018
General Motors position statements
Images:
The 2014 Chevrolet Impala was the first Chevrolet with "full-speed range adaptive cruise control" as an option, according to General Motors. (Provided by General Motors/Copyright General Motors)
General Motors this month banned the use of all "aftermarket, reconditioned, or salvage" bumper fascias on vehicles with advanced driver assistance systems and restricted repairs to "topcoat refinish only." (Provided by General Motors/Copyright General Motors)
General Motors this month banned the use of all "aftermarket, reconditioned, or salvage" bumper fascias on vehicles with advanced driver assistance systems and restricted repairs to "topcoat refinish only." Thus, this image shows what not to do. (Provided by General Motors/Copyright General Motors)
Share This: