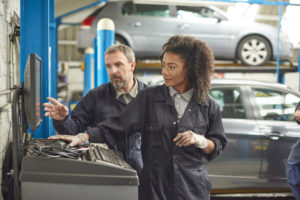 Years of on-the-job training could be required before a worker "graduates" from federal registered auto body repair and refinishing apprenticeships, according to templates provided by the Department of Labor.
Federal registered apprenticeships entail businesses giving unskilled Americans jobs and teaching them the business while paying them an average of $15 an hour. At the end of the apprenticeship period (one to six years, typically four years), apprentices receive a credential which signals to other companies in the industry that the employee knows his or her stuff. More than 55,000 apprentices graduated nationwide in 2011.
The careers "automobile body repairer" and "painter, trans(portation) equipment" are among those with registered apprenticeship programs. Asked about what those programs look like for an employer and employee, Department of Labor spokesman Egan Reich provided two templates, explaining:
They are work process templates that are used during consultations with the private sector when they are exploring apprenticeship as a potential fit for their needs. They identify things like hours of instruction and certain competencies that are expected for these trades.
Those documents suggest that companies evaluating a candidate with an apprentice credential can be fairly confident that the applicant is qualified.
A federal spreadsheet lists both jobs as requiring 8,000 hours of training — more than four years under a typical 2,080-hour work year (40 hours times 50 weeks, presuming two weeks of vacation). However, the templates put the painter and auto body repairer apprenticeships at 6,000 hours each.
It's unclear if the program would provide college credit in addition to the credential; some apprenticeships do carry that extra perk.
Auto body repair apprenticeship template
The auto body repairer apprenticeship template describes the role as
Repairs damaged bodies and body parts of automotive vehicles, such as automobiles, buses, and light trucks according to repair manuals, using hand tools and power tools:  Examines damaged vehicles and estimates cost of repairs.  Remove upholstery, accessories, electrical and hydraulic window‑and‑seat‑operating equipment, and trim to gain access to vehicle body and fenders. Positions dolly block against surface of dented area and beats opposite surface to remove dents, using hammer.  Fill depressions with body filler, using putty knife.  Removes damaged fenders, panels, and grills, using wrenches and cutting torch, and bolts or welds replacement parts in position, using wrenches or welding equipment.  Straightens bent automobile frames, using pneumatic frame straightening machine.  Files, grinds, and sands repaired surfaces, using power tools and hand tools.  Refinishes repaired surface, using paint spray gun and sander.  Aims headlights, aligns wheels, and bleeds hydraulic brake system.  May paint surfaces after performing body repairs.  May repair or replace defective mechanical parts.
That description and subsequent discussion of technician skills feel a bit archaic and unreflective of the precision work collision repair now entails. (Still, it's nice to see a reference to "repair manuals.") But the notion of devoting thousands of hours to produce a well-rounded tech shows that the apprenticeship program's heart is in the right place.
The apprentice would spend 300 hours — 7.5 weeks — learning "basic procedures and routine" for a body shop, including "Use and maintenance of typical shop tools and equipment; shop safety practices; exposure to basic mechanical concepts and procedures."
("The times allotted to these various processes are the estimated times which the average apprentice will require to learn each phase of the trade," the auto body repairer template states. "They are intended only as a guide to indicate the quality of the training being provided and the ability of the apprentice to absorb this training in an average amount of time.")
The Department of Labor observes that apprenticeship focuses on such safety training "may reduce workers' compensation costs."
The apprentice is expected to spend 1,000 hours — nearly half a year — doing metal work, described as "Disassembling, assembling, and aligning; roughing small dents with a hammer and dolly; dinging small dents with a pick and file; metal shrinking; welding and brazing; soldering; plastic filling; and repairing large dents using all of the above procedures." This should teach them how to align, straighten and assemble parts and "fully understand the strains and stresses of damaged body panels," according to the template.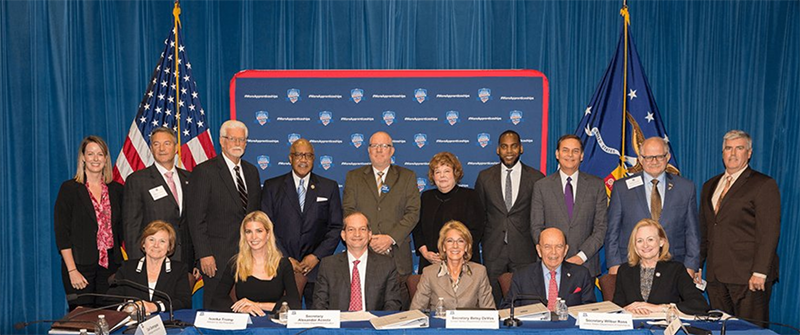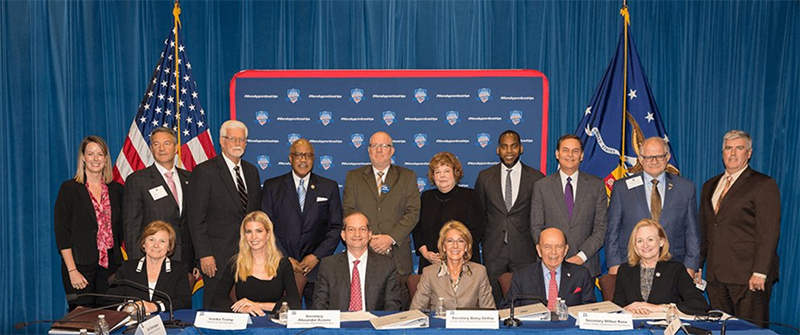 During or after the basics, the technician would spend 1,200 hours on "Advanced Metal Work," which means "a more responsible level" and includes repairing and installing "door panels, rocker panels, quarter panels, trunk lids and hoods."
Another 1,200 hours are estimated to be spent on "Basic Auto Body Rebuilding," including "Repair top cowl panels, cowl posts, and firewalls; repair body and trunk floors and seats, repair turret tops, including rear glass and windshield openings; install quarter panels, door panels, and rocker panels."
The longest time period proposed involves 1,500 hours on "Major Auto Body Rebuilding":
Repair frame horns; repair frames from under rear seat to rear cross member on unibody structures and conventional frames; repair frame from cowl forward to frame horns; repair bumpers and mounting structures; transfer and be responsible for major component and sub-assemblies, such as suspensions, engines and related parts, drive train, rear axle, braking systems, air conditioning and cooling systems.
Finally, painters ought to appreciate that the auto body apprentice ought to better understand what the paint shop needs following the completion of the program.
The 800-hour training regimen declares an objective of helping a technician "appreciate the importance of a quality metal finish for a quality paint application and its endurance; to prepare a surface for painting; to apply color to surface of any panel using all normal shop equipment, including spray guns, filters, compressor, and other such equipment; and to perform spot-refinishing."
The technician would under the template understand "Compound, polish and wax automotive finishes; feather-edge metal finished areas; proper use of masking tape; apply primer-surfacer, glazing putty, and sand these materials; refinish body panels with lacquer-type paint; refinish body panels with enamel-type paint; tow-phase painting (color and clear); refinish non-steel body panels, including polyurethane, aluminum, and fiberglass."
Auto painter template
The transportation equipment painter template isn't as detailed as the auto body repairer apprenticeship template. It describes the apprenticeship role as:
Paints surfaces of transportation equipment, such as automobiles, buses, trucks, and aircraft, applying knowledge of surface preparation and painting techniques, using spray painting equipment, power tools, and work aids: Cleans, sands, and applies chemical solutions to prepare and condition surfaces prior to painting. Mixes and thins paint or other coating to specified color and consistency according to standard formulas or color charts, using spatula or mixing equipment and viscometer. Masks and covers surfaces not to be painted. Sprays specified amount or thickness of primer, protective, decorative, or finish coatings, such as paint, lacquer, sealer, or enamel, onto prepared surfaces, using spray equipment. Strips, sands, masks, and repaints surfaces, and blends and polishes finish to match surrounding areas, manually or using portable power tools. May apply or retouch paint, using brush. May lie out and paint insignias, symbols, designs, or other markings on painted surfaces, according to blueprints or specifications, using stencils, patterns, measuring instruments, brushes, or spray equipment. May regulate controls on equipment to cure and dry paint or other coatings. May set up portable ventilators; exhaust units, ladders, and scaffolding prior to painting. May operate lifting and moving devices to move materials and equipment and access areas to be painted. May remove accessories from motor vehicles, such as chrome, mirrors, and windshield wipers, prior to repainting.
The painter's 6,000-hour template describes 1,000 hours of "Spot or patch repairs and mixing paints," 800 hours of "Adjusting spray gun and spraying intermediate coats" and 600 hours of "Cleaning equipment and metal surfaces to be painted." (GFS has observed that the real secret to good painting is prep work.)
The apprentice would under the template spend 500 hours each "Rough sanding of repair or rust spots," "Masking around panels to be painted, "Removing paint," "Sanding intermediate coats" and "Rubbing and polishing finish coats.
Finally, the template describes 400 hours of "Adjusting spray gun and spraying finish coat," 300 hours of "Brush touchup" and 400 hours of "Miscellaneous."
Benefits to a shop, technician
Why would business bother with the additional red tape of a government apprentice program rather than just hiring somebody and training them to do all of this stuff on the job? Several reasons.
It seems as though the structure of the program could be a useful guide for a shop who'd never engaged in such a mentoring program in the past. The DOL describes it as "A systematic approach to training that ensures that employees are trained and certified to produce at the highest skill levels required for that occupation." (Emphasis removed.)
Other materials from the federal agency indicate the kind of added benefits a shop and employee might receive.
"International studies suggest that for every dollar spent on apprenticeships, employers may get an average $1.47 back in increased productivity, reduced waste, and greater innovation," a recently completed apprenticeship task force report states.
Having an apprenticeship program might make a shop more attractive to a potential employee than a hire-and-train-on-the-job competitive down the street.
Employers receive national recognition on job search websites that they're hiring apprentices — a free, high-profile "Help Wanted" ad.
Apprentices are also guaranteed tiered pay increases as they develop certain skills, something that the guy down the street doesn't have to provide. For that matter, the guy down the street might flake on his promise to teach the business to the new hire, while a formal mentor business seems likely to make good on the commitment.
"Apprentices earn competitive wages, a paycheck from day one and incremental raises as skill levels increase," the DOL states. "The average wage for a fully proficient worker who completed an apprenticeship translates to approximately $60,000 annually. Apprentices who complete their program earn approximately $300,000 more over their career than non-apprenticeship participants."
Employers who offer registered apprenticeships can tap into federal and state assistance the guy down the street can't.
"Businesses that register their apprenticeship programs can access many benefits, including a nationwide network of expertise and support at no cost, tax credits in many states, and funding and other resources from federal programs," an employer-facing DOL publication on apprenticeships states.
Finally, while the recognized certification admittedly makes it easier for your tech to jump ship to a competitor someday, in the near term, it provides an incentive for a worker to sign up with your shop and give you 3-4 years of good work.
Besides, the employee might well stick around with the business who gave them a shot at an apprenticeship.
"87 percent of program completers in 2011 were still employed nine months after completing their apprenticeship," another Department of Labor apprenticeship webpage states. The task force's report cites other DOL data to note that "91 percent of apprentices retain employment after the program ends – a data point that is highly attractive to employers."
More information:
Department of Labor Apprenticeship portal
More on registered apprenticeships
Images:
Federal templates for auto body repairer apprentices describe 6,000-hour programs. (sturti/iStock)
The Task Force on Apprenticeship Expansion is shown. (Provided by Department of Labor)
Share This: