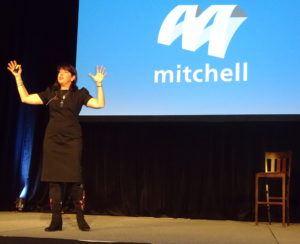 Mitchell on Tuesday released its second-quarter Industry Trends Report, a free source of collision repair market data shops can use to evaluate their business and study the industry.
Here's some of the highlights:
Supplements
The ratio of supplements to estimates rose 2.72 percentage points to 67.67 in the first quarter of 2018, a 4 percent increase from the prior year, according to Mitchell data. However, the proportion of estimates with a supplement remained flat, up 0.02 percentage points to close at 42.05 percent.
The average supplement cost rose 4 percent as well to $936.39 in the first quarter.
This seems to reinforce the folly of a consumer or body shop blindly following an insurer's estimate or preparing an estimate without a proper teardown and blueprint. There's at least a 42 percent chance that more than $900 in damage was missed. (Given that some shops do follow the carrier's estimate blindly and some customers take the money and run, the odds that damage was missed are probably even higher.)


Parts
Aftermarket parts rose to 2.68 components per estimate in the first quarter, up from around 2 parts around 2 years ago.
"At the same time, new OEM, Remanufactured, and Recycled parts usage decreased," Mitchell wrote.
However, it cautioned that the statistic of 0.43 recycled parts per estimate might be misleading, as "a very large number of RECYCLED 'parts' are actually "parts-assemblies" (such as doors, which in fact include numerous attached parts and pieces). Thus, attempting to make discrete comparisons between the average number of RECYCLED and any other parts types used per estimate may
be difficult and inaccurate."
OEM parts per estimate fell to 8.41 in the quarter.
The average repair appraisal value continued to climb to what Mitchell projected was $3,196 in the first quarter of 2018, up more than $100 from the prior year. While comprehensive damage barely registered a gain, the average third-party and collision repairable vehicle needed an estimated $154 and $194 more than a year ago.
This probably can be attributed to crummier 2018 weather producing worse crashes than the prior two years' January-March time periods, though perhaps more complicated or replace-only repair procedures made a minor contribution. The average repairable vehicle fell to 6.8 years old, down 0.18 years (more than two months), which suggests it was more advanced than than the 6.98-year-old and 7.1-year-old vehicles in the first quarter of 2017 and 2016, respectively.
Labor rates
Despite insurers' squawking predictions of higher repair costs in their push to circumvent California Department of Insurance reforms targeting labor rate survey abuses, the average California labor rate only is up 46 cents over the prior year, an 0.8 percent gain.
Despite similar squawking in Rhode Island that repair costs will rise because of a bill expanding OEM parts choice, insurers there are actually catching a break so far on one aspect of the repair. Labor rates there fell $0.20 cents to $46.62, down 0.4 percent.
If the complainant is a national insurer, they're also enjoying stagnant labor rates in many other states as well, based on the Mitchell data.
May 2018 saw an inflation rate of 2.8 percent over the prior year, according to the Bureau of Labor Statistics.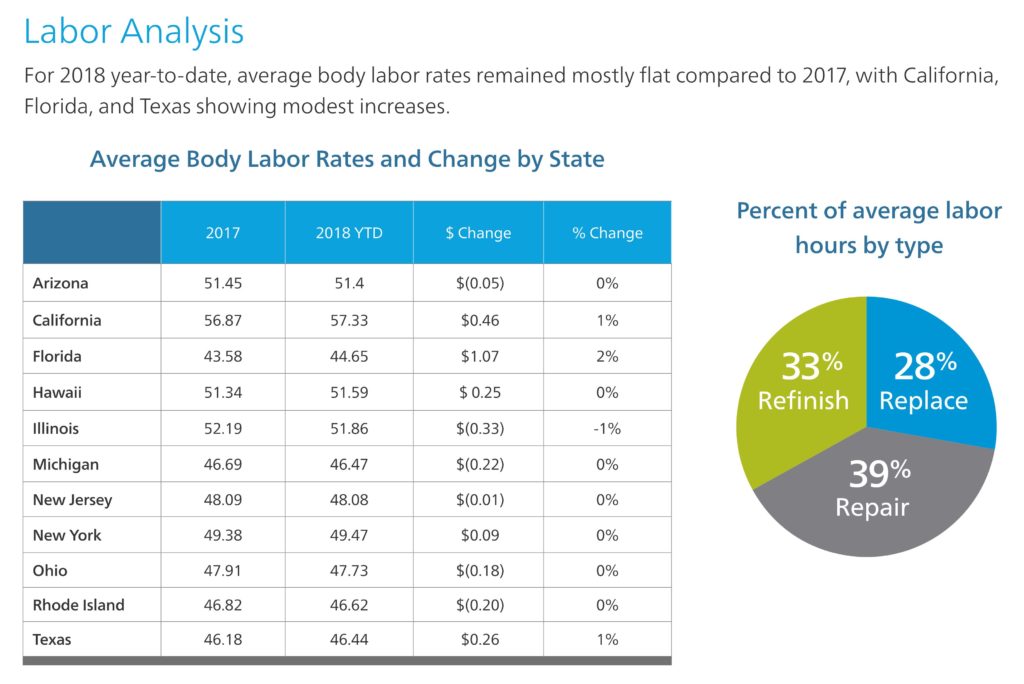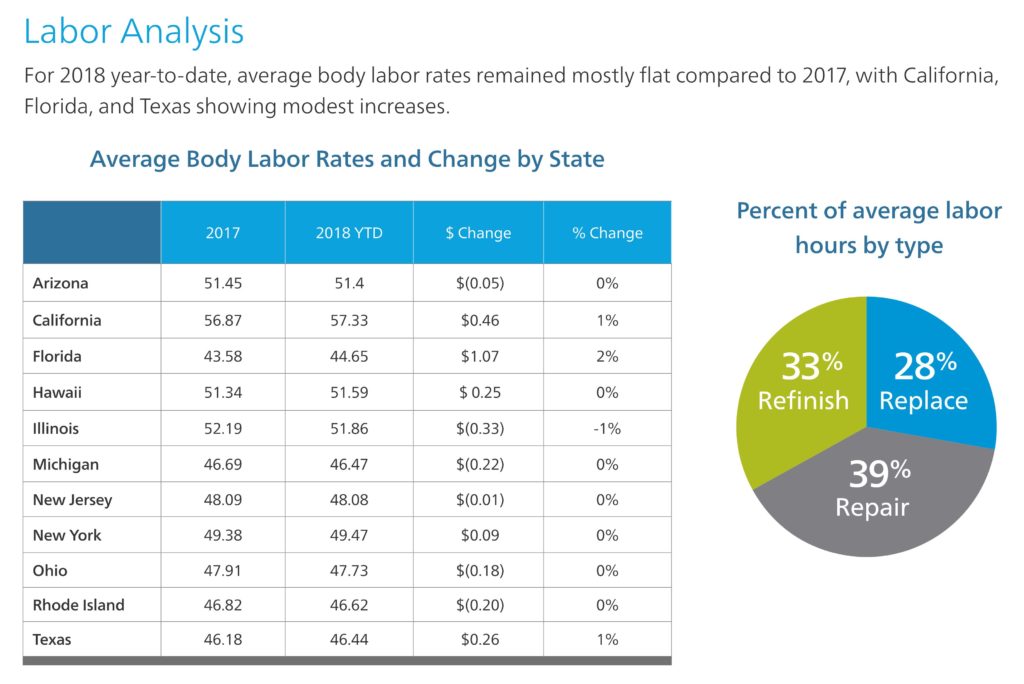 Don't be intimidated by data
Finally, shops daunted by the process of using these or other statistics to make business decisions might find guidance in a Mitchell column contained in the Industry Trends Report.
Though insurer-facing, the lessons in Mitchell claims performance director Ryan Mandell's piece can be taken to heart by any business.
"For many, analytics can be intimidating simply because of the massive amount of data that is at our fingertips," Mandell wrote. "I often liken it to an author working on a novel: the hardest step is usually just getting started. Being inundated with data from every angle makes it difficult for an everyday user to get started in gleaning insights from analytics. In order to overcome this challenge, it is important first to define the question one wants to investigate, essentially starting with the first step of the scientific method. This narrows the focus of inquiry, eliminating wide swaths of data that do not contribute to answering the question."
You also don't need to use the data to make a sweeping overhaul of your business. Little victories make you a better company, according to Mandell, citing a 2016 McKinsey Quarterly piece.
"Success in asking the right question(s) and making sure the data analyzed meaningfully inform the decisions at hand means nothing if data analysis is not followed by action," Mandell wrote. "The actions taken will look different depending on the questions that started the process. … It is necessary for insurance business leaders to avoid creating action plans that completely overhaul or revolutionize their organization, but rather focus on more granular goals. According to McKinsey and Company, 'The impact of "big data" analytics is often manifested by thousands—or more—of incrementally small improvements. If an organization can atomize a single process into its smallest parts and implement advances where possible, the payoffs can be profound.' Too often, companies ignore the value of small improvements and their potential for exponential payoffs that accrue from building on the foundation of small improvements over time."
More information:
"Mitchell Issues Second Quarter 2018 Industry Trends Report"
Mitchell, June 12, 2018
Mitchell second-quarter Industry Trends Report
Mitchell, June 12, 2018
"Making data analytics work for you—instead of the other way around"
McKinsey Quarterly, October 2016
Images:
Mitchell's auto physical damage Vice President Debbie Day speaks during the company's January 2018 "Project Freedom" event. (John Huetter/Repairer Driven News)
The ratio of supplements to estimates rose 2.72 percentage points to 67.67 in the first quarter of 2018, a 4 percent increase from the prior year, according to Mitchell. However, the proportion of estimates with a supplement remained flat, up 0.02 percentage points to close at 42.05 percent. (Provided by Mitchell)
National insurers are so far this year enjoying stagnant labor rates in many states, based on Mitchell data. (Provided by Mitchell)
Share This: