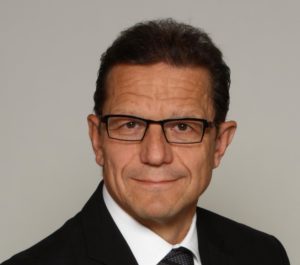 Boyd Group CEO Brock Bulbuck on Thursday expressed no concern over the merger of two of Gerber Collision & Glass' largest rivals, describing one effect as "neutral to slightly positive" for Boyd.
An analyst on a 2018 results earnings call Thursday had asked if the Boyd Group — which owns Gerber Collision, Boyd Autobody and Assured Automotive — was seeing any operational benefits from the Caliber-ABRA merger in the U.S. The analyst described hearing the now 1,000+-facility Caliber had struck a new paint deal and mentioned an impact upon Uni-Select from MSOs.
A Seeking Alpha transcript of Uni-Select's Feb. 20 2018 earnings call describes margin pressure on the distribution company from collision industry consolidation.
Bulbuck said Thursday he was considering his answer carefully, for he might reveal competitive information. He said that generally, the impact of the merger upon the Boyd Group was "neutral to slightly positive" but would not elaborate.
Asked if this was the case on all fronts for Boyd, Bulbuck again said he would leave his answer at that.
The company's annual report references the Caliber-ABRA merger, but describes an industry with plenty of room to consolidate. Comparing the document to Boyd's 2017 report reveals the estimate of dealership collision industry market share has fallen a percentage point, while $20 million-plus MSOs grew 2 percentage points from 2017 to 27 percent of the market.
"The industry is highly fragmented, consisting primarily of small independent family owned businesses operating in local markets," Boyd wrote. "It is estimated that car dealerships have approximately 19% of the total market. It is believed that multi-unit collision repair operators with greater than $20 million in annual revenues (including multi-unit car dealerships), now have approximately 27% of the total market. In late 2018, two of the four largest multi-location collision repairers announced a merger, making the combined entity more than twice the current size of Boyd in terms of revenue."
Bulbuck, whose company's U.S. and Canada collision chains have together grown past the 600-shop mark, told analysts he also still saw a strong lineup of collision repairers to buy.
The company still had more than $300 million to buy them, Bulbuck wrote in his annual report to investors — down from the $400 million in "dry powder" he reported to analysts in his third-quarter report Nov. 14, 2018.
The $100 million difference seems to provide a hint of what Gerber has paid for its recent major acquisitions.
The Boyd Group appears to have added 34 body shops and intake centers between Sept. 30, 2018, and Dec. 31, 2018, based upon its quarterly and annual report. It added another 34 collision shops to date this year and also exercised a call option to buy 30 percent of Glass America.
The company is only leveraged at 1.3 times earnings before interest, taxes, depreciation and amortization, Bulbuck said.
The 81 locations Boyd added in 2018 included eight dealer service centers, a business model its Assured Automotive subsidiary had leveraged to apparent success.
Bulbuck said the company entered Alabama, Missouri, Texas and Wisconsin for the first time in 2018 and entered New York this year with the acquisition of 18-shop Carubba Collision.
Bulbuck said industry dynamics favor consolidation and the Caliber-ABRA deal further validates this — while reducing what he called the number of large industry players to three.
Asked if the pipeline of shops to buy would return to single-shop locations, Bulbuck said the Boyd Group had a pipeline including both single shops and MSOs of "comparable size" to those purchased in the fourth and first quarter.
That time period included the 18-shop Gates Collision, the 18-shop Carubba and the nine-location Paceline Collision Centers.
Bulbuck said there remained a "healthy number" of MSOs with "nice" sizes, and the possibility of smaller MSOs growing larger.
The company didn't see any material change in valuation of the shops it was buying, according to Bulbuck.
Asked if there was geographic density threshold where the Boyd Group would add a dealership intake center, Bulbuck called them "another very good tool" for organic same-store sales growth but said there was no point to adding one if the company had too few techs to capitalize upon it.
Bulbuck said technological changes like aluminum which require capital investment often don't provide a return in the "early days," which gives an MSO an advantage over a smaller shop by allowing it to share resources, while smaller shops just had to face a lack of return.
"And many, therefore, are choosing not to make those investments," he said. "… I think this trend is acting as a further accelerant to consolidation."
Asked if single-shop operators would be more open to an acquisition by Boyd because it would allow their facility to obtain aluminum capabilities, Bulbuck said no.
Most single-shop owners leave the company and are likely looking for "an exit" rather than strategic assistance, he said.
"They really don't care at that point," he said.
More information:
Boyd Group (Gerber Collision) 2018 annual report
Boyd Group, March 21, 2019
Boyd Group 2018 results earnings call
Boyd Group, March 21, 2019
Featured image: Boyd Group CEO Brock Bulbuck. (Provided by Boyd Group)
Share This: