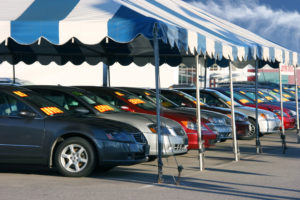 A significant part of the growth and margins that made Assured Automotive an attractive acquisition target can be attributed to the Canadian collision repair chain's "unique business model" of "intake centres" in unaffiliated dealerships, the Boyd Group and its CEO said Monday.
The strategy has worked well enough for Assured that the Boyd Group will consider deploying it in other Boyd Autobody & Glass and Gerber Collision & Glass across Canada and the U.S, Boyd Group CEO Brock Bulbuck said.
"This is also a model which we may consider adopting in our other regions," he said during an analyst discussion of Boyd's $143.8 million purchase of Assured.
Thirty of the 68 Assured locations Boyd will buy are such dealership intake centers, which do no actual collision repair. (Boyd will also buy an additional two full-service collision repair facilities and two more dealership sites not yet baked into the $143.8 million sale price.)
In 2012, Assured had just 16 intake centers, according to Bulbuck. He said the growth in the model "is a validation that it's working for both parties."
Assured has posted a 24.7 percent revenue and 31.9 percent sales compound annual growth rate between 2012 and 2016, Boyd documents indicate.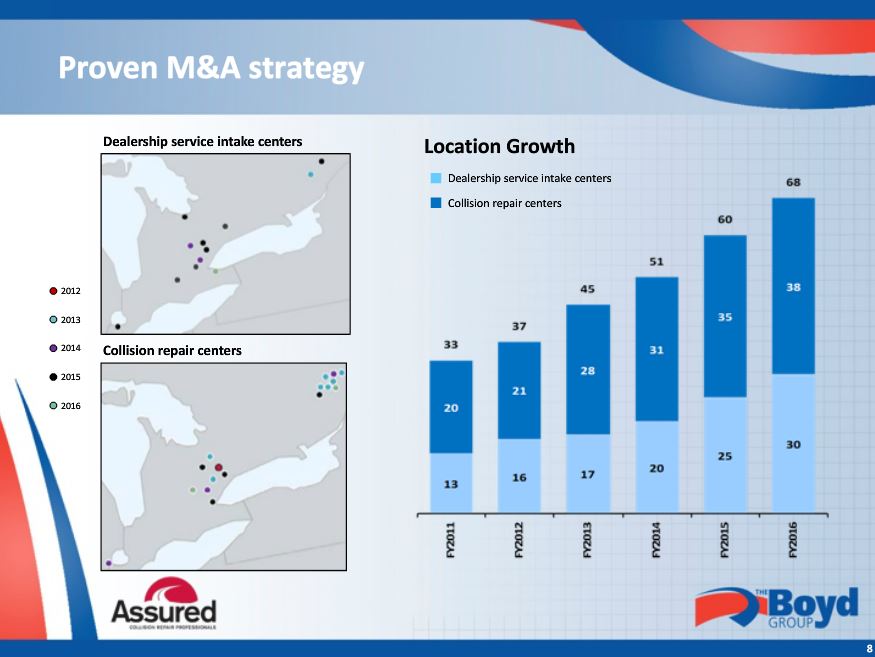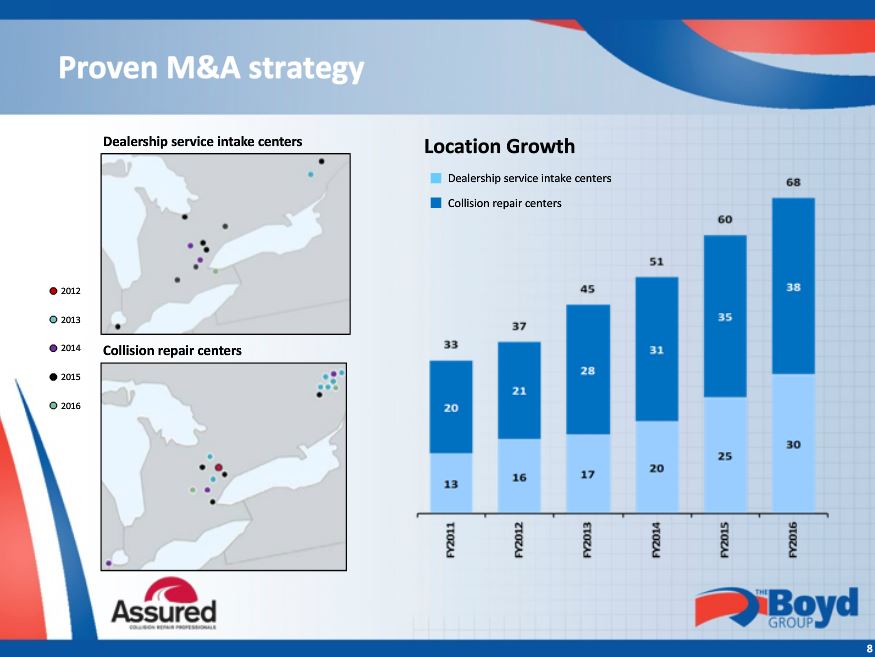 There are signs that auto dealerships are more aggressively pursuing the collision repair segment, but many also have rejected auto body repair as too capital-intensive, leading OEMs to court many third-party body shops for their growing collision networks.
Assured's (and now the Boyd Group's) tactic suggests a potential middle ground — and a lucrative one for other auto body shops and dealerships in both countries to consider.
How it works
Assured partners on intake centers with both smaller, one-site dealerships as well as larger chains in exclusive contracts, Bulbuck said.  The intake sites typically are staffed with a single employee and perhaps a little office furniture — "no collision repair equipment," he said.
The intake centers simply capture business for Assured's actual collision-capable facilities and help the dealerships retain their customer loyalty. The actual collision repair is done elsewhere and subsequently returned to the intake center.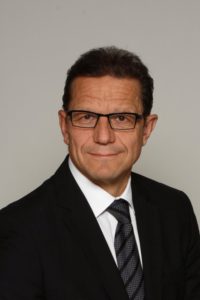 This division not only captures more customers but allows the actual collision center to maximize its capacity, "in fact, driving up the EBITDA margin," Bulbuck said.
Bulbuck said Boyd wouldn't disclose how much of Assured's revenue ($111.4 million in the year ending March 31) came from the dealership intake source, but "it is meaningful." Most of the intake center revenue also is DRP work as well, he said.
Bulbuck said he thought that from a customer perspective, it was "not obvious, and not really relevant" that the collision repairs weren't done at the dealership.
"From a customer perspective, it is 68 locations," he said.
All 68 locations have the capability to receive customers, he wrote in an email Tuesday.
The Boyd Group has a "limited number" of "capture points" similar to Assured's, but none in dealerships, according to Bulbuck. He said "we're not aware of any others" in the industry with a model like Assured's.
Bulbuck told an analyst he wasn't sure why nobody else had emulated the idea, other than perhaps Assured was the first to work out the "secret sauce" for how to make it a "win-win" for the dealership and the collision repair company.
He wouldn't give many nuts-and-bold details of how the arrangement specifically benefited both parties. However, he did say the relationship provides a dealership with control over its customer base, "which is very important to them," and also yields some "very attractive economics." The intake center space is leased from a mixture of dealerships and third parties, he said.
"It varies by market" how much local scale Assured needed to launch an intake center, but it often was a 1-to-1 ratio between a center and a collision repair facility, Bulbuck said. However, Assured also had instances of a single intake center with two or three collision repair facilities, he said.
More information:
"Boyd Group Income Fund To Acquire Canada's Largest Non-Franchise Collision Repair Company With 68 Locations"
Boyd, May 29, 2017
Boyd conference call on Assured Automotive purchase (Expires midnight June 5)
Boyd, May 29, 2017
Images:
A car dealership is shown. (egdigital/iStock)
In 2012, Assured Automotive had just 16 intake centers, according to Boyd Group, which is buying Assured. As of the end of the first quarter of 2017, it had 30 of them. (Provided by the Boyd Group) 
Boyd Group (Gerber) CEO Brock Bulbuck is shown. (Provided by Boyd)
Share This: