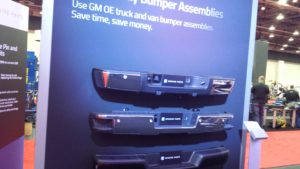 Consulting firm KPMG predicted earlier this month that OEMs should expect advanced driver assistance systems to take a huge bite out of the collision parts which had been a stable source of profit, echoing a similar analysis from 2015 and providing input that auto body shops need to take to heart as well.
"OEMs have already begun to deal with the design and engineering challenges related to autonomous vehicles," KPMG U.S. automotive leader Gary Silberg said in a statement. "And while their focus may be on bringing the first self-driving cars to market, OEMs need to contend with the decline in demand for collision parts that these safer, autonomous vehicles are expected to bring by reducing driver error and lowering accident rates."
KPMG has predicted in a new white paper that vehicles with at least one ADAS system, such as automatic braking, will constitute 65 percent of the U.S. fleet but 75 percent of all miles traveled by that fleet by 2025. This will begin to slash collision volume and raise severity — but the net effect will still be a reduction in profit, it predicted.
Crash involvement could be down 60 percent by 2030 and more than 80 percent by 2040. As those KPMG estimates don't include weather-damaged vehicles or totaled vehicles (each about 15 percent of all damage incidents, according to KPMG), collision repairers won't experience quite as much of a business decline — but still enough to be alarming to an owner.
"This is a great source of concern for people in my line of business," an Alliance of Automotive Service Providers member who owns two auto body shops and one dealership told KPMG. "I'm already seeing a 10 to 15 percent decline in repair jobs in my own shops among vehicles that come with ADAS.
"In 15 to 20 years, this line of work is going to be decimated. … I have already begun developing my exit strategy out of this business."
KPMG predicted what had been 3.1 crashes per million miles traveled would drop to 0.3 vehicles by 2050. The overall collision repair market (it's unclear if this refers to non-dealership repairs) would fall from less than $30 billion to less than $5 billion, with OEMs' share falling from $5.6 billion in 2015 to $1.4 billion by 2040.
Crash parts are less than 3 percent of an OEM's revenue, but yield 10-20 percent of operating profit, according to KPMG. It estimated that those profits would fall 4-9 percent in 2030 and 6-13 percent by 2040.
"OEMs need to implement aggressive plans to right-size collision parts cost structures and identify new revenue streams," KPMG industrial manufacturing head of strategy Tom Mayor said in a statement. "This will keep their shareholders and dealer partners whole, while maximizing showroom floor support for ADAS and autonomy."
As for body shops and other collision repair stakeholders, KPMG predicts "job loss and unemployment," and "increasing competition and downsizing … until the low performers ultimately  are pushed out or absorbed into larger, high-performing players with scale advantage."
More information:
"AUTONOMOUS VEHICLES WILL SHRINK AUTO OEM COLLISION REPAIR REVENUE BY NEARLY 50 PERCENT BY 2030: KPMG PROJECTS"
KPMG, May 17, 2017
"Will autonomous vehicles put the brakes on the collision parts business?"
KPMG, May 17, 2017
Featured image: General Motors bumper assemblies are promoted at NACE 2015. (John Huetter/Repairer Driven News)
Share This: