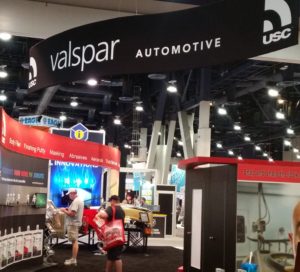 June 1 will be a big day for four paint giants.
Sherwin-Williams said Friday that U.S. and Canadian trade regulators both OK'd its purchase of Valspar for $11.3 billion, and the deal was expected to formally close Thursday.
The companies had expected and been waiting for the Federal Trade Commission and Canadian Competition Bureau to agree that selling Valspar's North American industrial wood coatings segment to Axalta for $420 million was enough to preserve adequate market competition.
Ironically — or intentionally — Valspar a day before the closing announcement reported that $10 million worth of expansions in Texas and Pittsburgh will grow its automotive refinish output 200 percent.
Sherwin-Williams representatives said Wednesday they couldn't comment on what — if anything — the merger would mean for auto body and auto paint shops until after the closing. Corporate communications director Mike Conway said it's possible that specific details might not be available until Sherwin-Williams' second-quarter earnings discussion July 20 but he'd try to get us something after the merger closed.
PPG-AkzoNobel
The bigger story on June 1 will be what PPG decides to do regarding AkzoNobel, which it has tried to buy on friendly terms three times with unsolicited offers; it most recently offered about $28.8 billion.
Under Dutch law, PPG must either attempt a hostile takeover by June 1 or quit pursuing AkzoNobel for six months, according to reports in the Pittsburgh Business Times and Reuters. PPG had apparently sought but failed to receive an extension, based on a Tuesday statement:
PPG was notified late today by the Dutch Authority for the Financial Markets (AFM) that it did not grant PPG's request for an extension. PPG will continue to assess all of its options including whether or not to file a preliminarily draft offer memorandum with the AFM by no later than June 1, 2017, relating to a public offer for all the issued and outstanding shares of AkzoNobel. PPG will make further announcements if and when it is appropriate.
According to Reuters, an Amsterdam court on Monday threw out gadfly shareholders' attempt to have AkzoNobel's board Chairman Antony Burgmans fired. PPG on Monday called the ruling "between AkzoNobel and certain shareholders, who have clearly stated that constructive engagement between AkzoNobel and PPG is in the best interests of all stakeholders."
AkzoNobel's successful defense before the Amsterdam Enterprise Chamber can be found here. The document also stresses the company's plans to focus on its Paints and Coatings division.
The spin-off of Specialty Chemicals and the dividend payments in 2017 are not a terminal point, nor are these or isolated aspects of AkzoNobel's strategy. On the contrary: after the spin-off, AkzoNobel will be able to fully focus on its paint and coating activities. The solid operational base AkzoNobel has created since 2012, the ongoing implementation of the (AkzoNobel Leading Performance System) and (Global Business Services) programs, the future exclusive focus on these business units, and the accelerated growth momentum offer an opportunity to increase the profitability of the Paints and Coatings division.
For example, though ALPS has been implemented at 75% of AkzoNobel's production sites, it has only been implemented at 50% of the production sites of Paints and Coatings. The significant improvements and accompanying environmental and cost savings created by ALPS, therefore, can still be realised for the remaining division of Paints and Coatings to a significant extent.
Paints and Coatings' growth potential and opportunity for profitability are such that AkzoNobel expects that, after the spin-off of Specialty Chemicals in 2018, it will be able to pay out the same annual dividend of EUR 1.65 per share as before the spin-off. Thus also in the long run, the strategy is in the interest of the shareholders of AkzoNobel.
Presiding Judge Gijs Makkink said AzkoNobel needed to address shareholder concerns but shareholders didn't have the right to force the company to change direction through the ouster, according to Reuters.
More information:
"SHERWIN-WILLIAMS RECEIVES REGULATORY APPROVAL TO COMPLETE ITS ACQUISITION OF VALSPAR EXPECTED TO CLOSE ON JUNE 1, 2017"
Sherwin-Williams, May 26, 2017
"Akzo Nobel wins court case against dissident shareholders"
Reuters, May 30, 2017
"PPG nears deadline for making new play for Akzo Nobel"
Pittsburgh Business Times, May 30, 2017
AkzoNobel statement of defense to Amsterdam Court of Appeal Enterprise Chamber
AkzoNobel, May 22, 2017
"PPG issues statement regarding decision by the Dutch Authority for the Financial Markets"
PPG, May 30, 2017
"PPG issues statement regarding decision by Amsterdam Enterprise Chamber"
PPG, May 29, 2017
Featured image: The Valspar Automotive booth is seen at SEMA 2016. (John Huetter/Repairer Driven News)
Share This: