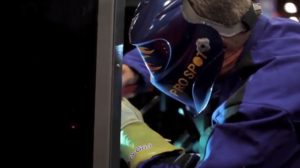 Technicians and owners seeking more information about MIG welding on today's vehicles should check out the Society of Collision Repair Specialists' latest educational video.
The film, announced Wednesday and available on YouTube, discusses the types of MIG (metal inert gas) welders available for shops, considerations before buying one, and how to ensure your shop has the correct wiring and voltage to use the new toy on a steel or aluminum vehicle.
"If you are looking to update the welding equipment in your facility, this new series should inspire questions and considerations as they relate to the equipment, facility, procedures, training and protective measures and more," SCRS wrote in a news release Wednesday.
The film, the first in a three-part welding series and the sixth in an ongoing educational initiative, features SCRS board members Dave Gruskos (Reliable Automotive Equipment) and Michael Bradshaw (K&M Collision), former board Chairman Andy Dingman (Dingman's Collision Center), and SCRS Education Committee co-Chairman Toby Chess (Kent Automotive).
Don't miss the video, particularly those of you at shops preparing for the I-CAR welding certification tests needed to retain a spot on State Farm's Select Service direct repair program or to obtain a spot on an OEM network. For I-CAR tests not only the technician, but the shop itself — a facility must have the proper equipment and infrastructure before I-CAR will let techs take the exam.
Other SCRS educational videos on corrosion protection, scanning/calibration and adhesives can all be seen on the organization's YouTube channel.
More information:
"SCRS Education Committee Presents Video on MIG Welding Equipment and Power"
Society of Collision Repair Specialists, May 31, 2017
"SCRS Education Committee Presents – MIG Welding Part 1 of 3 : Equipment and Power"
Society of Collision Repair Specialists YouTube channel, 2017
Featured image: A new Society of Collision Repair Specialists video discusses considerations for a shop looking to buy a MIG welder. (Screenshot from Society of Collision Repair Specialists video)
Share This: