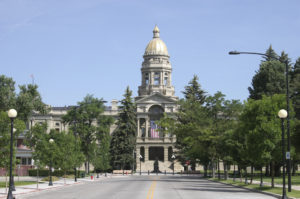 A bill overturning Wyoming consumers' right to be reimbursed for OEM collision parts without any out-of-pocket cost has died in a House committee.
"An insurer shall not require the use of aftermarket parts in the repair of an automobile unless the aftermarket part is at least equal in kind and quality to the original part in terms of fit, quality and performance as approved by a nationally certified organization," states Senate Bill 95, which was backed by lead sponsor Sen. Tara Nethercott, R-Cheyenne, and co-sponsors Sens. Stephan Pappas, R-Cheyenne, and Wendy Schuler, R-Evanston. "Insurers specifying the use of aftermarket parts shall consider the cost of any modifications that may become necessary when making the repair.
"… An insurer shall not be required to pay any additional cost of an original equipment manufacturer part when an aftermarket part equal in kind and quality in terms of fit, quality and performance is available. The insured may require installation of an original manufacturer part, but shall pay any additional cost of an original equipment manufacturer part if not covered pursuant to the terms of the insuring agreement."
The Wyoming Legislature has adjourned for the year, and as the body only meets in general session every other year, consumers might not encounter SB 95 again until 2021. Even-numbered legislative years are restricted to budget matters, though other bills can be heard with a two-thirds vote of either house.
This is certainly possible. SB 95 sped through the Senate, passing 20-10 within two weeks of being introduced. (In fairness, Wyoming's legislative sessions are extremely short.)
It was kicked over to the House on Jan. 31 and sat there until Feb. 13, when it was assigned to the House Appropriations Committee. Nothing happened in that body before the Feb. 20 committee deadline or before the Feb. 27 closing day of the Legislature.
Wyoming's sparse legislative schedule should work well for the measure by allowing for enough data to have an informed debate should the bill reappear in 2021.
The right for consumers to choose OEM parts in insurance-paid repairers without out-of-pocket costs was officially established in July 2017. The Wyoming Department of Insurance proposed the idea, and Republican Gov. Matt Mead agreed to the new language in Wyoming Administrative Rules Chapter 19:
(a) No insurer shall directly or indirectly require the use of non‑OEM parts nor shall any insurer accept any estimate or authorize any repair unless the consumer is advised that he or she is not required to accept non‑OEM parts in the repair of the vehicle and consents in writing to the use of those parts before repairs are made.
(b) No insurer shall directly or indirectly require the consumer to pay any difference in price if the consumer elects to use OEM parts in the repair of the vehicle. (Minor formatting edits.)
If SB 95 appears in the 2021 legislative session, lawmakers will have three and a half years of data (sessions start in January) regarding insurance rates since that regulation took effect. We'll be able to see if letting consumers have OEM parts inflicted skyrocketing insurance rates — the boogeyman insurers like to raise whenever they encounter a bill or regulation they don't like — disproportionate to national and comparable state trends.
If rates do explode disproportionately, then everyone can have an honest debate about whether consumers receiving OEM parts without out-of-pocket costs was worth it. If they don't, then lawmakers ought to be much more skeptical about the merit of bills like SB 95 than the Wyoming Senate was in 2019.
Here's one sign that allowing OEM parts won't trigger a premium apocalypse. No. 1 national insurer State Farm announced June 4, 2018, that it would cut Wyoming auto insurance rates more than 3 percent, for an average savings of $16 a policyholder. That's nearly a year after the OEM parts choice regulation took effect.
"The company's financial strength is allowing us to pass along rate savings to our Wyoming customers," State Farm Senior Vice President Denise Hardin said in a statement. "We continually evaluate how we can best serve our customers and are very pleased to be able to offer this rate decrease in Wyoming."
According to Insurance Information Institute research on NAIC and S&P Global Market Intelligence data, State Farm was the No. 1 auto insurer in Wyoming with a 24.1 percent market share in 2017.
The Automotive Service Association had opposed the legislation, writing that it would "negatively impact collision repairers and consumers relative to aftermarket crash parts."
"The bill was introduced Jan. 15, 2019 and in a very brief period of time, is on its way to potentially becoming state law," the ASA wrote in a news release Jan. 29. "This legislation has been attempted in other states and numerous legislatures have rejected this policy as it dramatically changes the consumer-collision shop marketplace."
SB 95 also potentially affects recyclers and refurbishers, whose wares under the definition of the bill would be OEM parts. If they're not cheaper than certified aftermarket parts, the insurers don't seem to have to cover them either. The bill defines "non-OEM" parts as built by "a manufacturer other than the original equipment manufacturer of the part."
The Senate Transportation Committee amended the bill to define an aftermarket part as including "but is not limited to, any non‑OEM sheet metal, plastic, composite, fiberglass or carbon fiber parts that generally constitute the exterior of a motor vehicle, including inner and outer panels. Aftermarket part' shall not include tires, windshields or windows."
Be heard: Wyoming lawmaker contact information can be found here and here.
Featured image: The Wyoming Capitol is shown. (JTSorrell/iStock)

Share This: