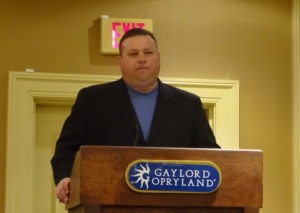 The Society of Collision Repair Specialists announced Wednesday it had elevated Vice Chairman Brett Bailey to succeed Kye Yeung as chairman — the second Bailey to hold that role.
Bailey (A&B) is part of an auto body and SCRS dynasty including his father Dan, a former SCRS board member, and uncle Bill, one of SCRS' founders and its 14th chairman.
"I've never known life without SCRS," Bailey said Wednesday during SCRS' awards luncheon. Bailey was a child in 1982 when the national trade group was founded a mere 100 yards away from his home, he said.
"It's always been a part of my blood," he said.
Bailey described his upcoming leadership using his relatives. He said his uncle was the type that would throw an insurer out of his shop "at least once a week," while his father was the type that followed and "tried to save him" and figure out how they could do more business.
"As I go forward … I see both perspectives," Bailey said.

He said the industry also needed to hold itself accountable. "We have to get better," he said.
Bailey said he was "extremely honored, extremely privileged" and very humbled to become chairman.
Bailey will lead a board which is largely unchanged. Incumbent board members Dave Gruskos (Reliable Automotive Equipment), Jeff Kallemeyn (Kallemeyn Collision Center) and Tim Ronak (AkzoNobel) were all re-elected in the election Tuesday. SCRS members tapped Colorado-based Nylund's Collision Center owner Robert Grieve to the fourth seat in contention.
Grieve defeated Todd Gillette (Gillette's Collision Center, Wis.), Drue Tomlinson (Don Thorton Collision Center, Okla.) and Josh McFarlin (I-CAR, Calif.) for the post.
Grieve told voters Tuesday that many people had taken a chance with him, and he felt "more than obligated to pay it forward" and help others.
"That is the primary reason" he wanted to be part of the board, Grieve said.
He also called himself "honored to be on the list" of nominees.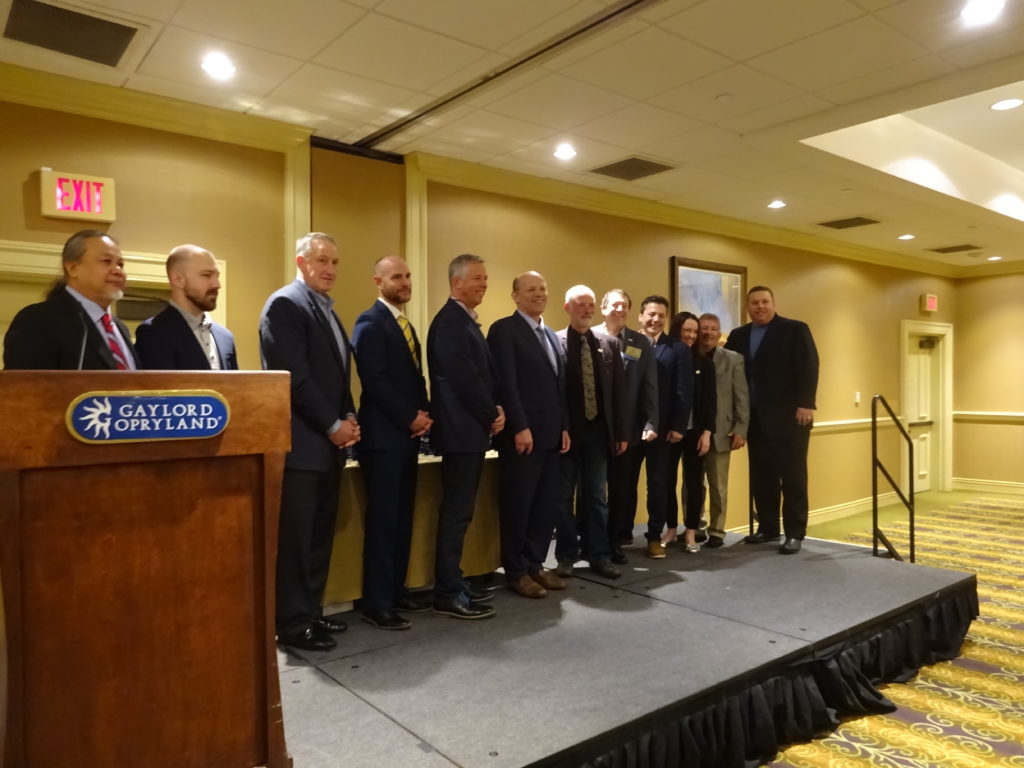 Bailey on Tuesday before the election told candidates that some of the board members seated around the table were'ent elected on their first tray either.
"Please don't get discouraged," he said.
Bailey succeeds Chairman Kye Yeung (European Motor Car Works), whose two-year term has officially ended. However, he will as a former chairman be allowed to participate in SCRS board meetings, though such emeritus chairs don't receive a formal vote.
Yeung in his farewell speech Wednesday recalled a riddle from his father about three sons competing for the title of wisest through a challenge of filling a shed. One bought enough dirt to encompass the volume, another bought hay, and the third bought a candle to fill it with light.
Looking at the SCRS board, "they all have that light in them," Yeung said.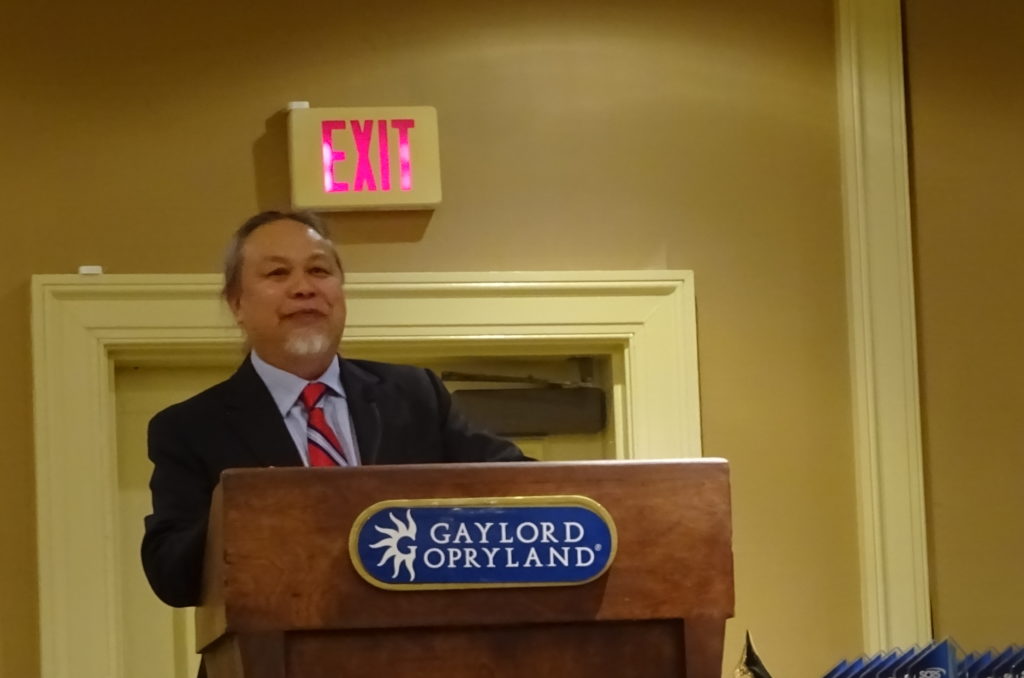 Awards
SCRS' new board was sworn in Wednesday during a luncheon that also saw the organization recognize its corporate members and present three special awards. As Bailey noted, SCRS only gives its awards when it feels they're warranted rather than risk filling an annual award with a warm body.
Lifetime Achievement: SCRS gave the 15th Lifetime Achievement award in its nearly 40-year history to Tony Lombardozzi, president and founder of the Coalition for Collision Repair Excellence.
Hendler said that while he and Lombardozzi didn't always agree during various industry battles, both were on the same line: improving the industry.
Lombardozzi "stands on that line so hard, the line shrinks," Hendler said.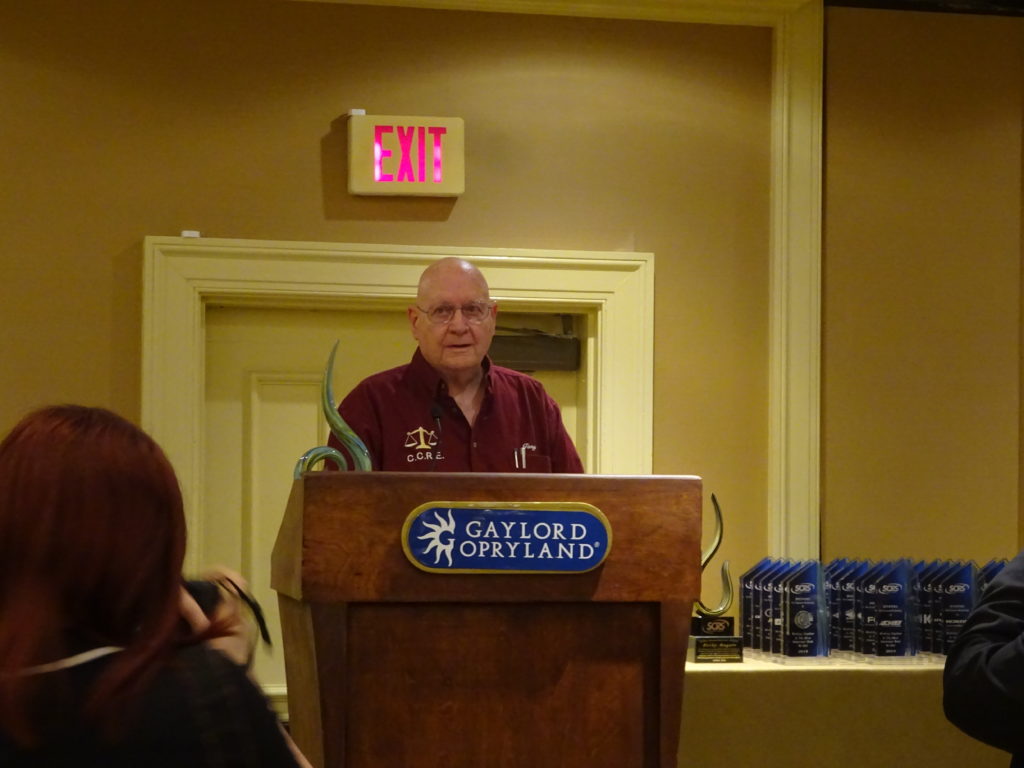 Lombardozzi told the audience that when he started his "little quest" in 1957, he wanted to leave the collision industry better than he found it.
"I think we've accomplished a lot of it; we have a long way to go" Lombardozzi said. "I keep trying, and I will keep trying."
He said the award was also for everyone who tried to improve the industry.
Individual Service Award: Collision repair attorney and founder of the Automotive Education & Policy Institute Erica Eversman (Vehicle Information Services) received the organization's Individual Service Award.
Presenter and former SCRS Chairman Lou DiLisio (Automotive Industry Consulting) said the award was for people whose behavior would be "considered exemplary in maintaining and advancing" the industry.
He called Eversman "the epitome of that."
Her many contributions recently grew with a role as a consumer liaison for the National Association of Insurance Commissioners, a job she discussed at the SCRS "Repairer Roundtable" prior to the luncheon.
"I love this industry," Eversman said. She said she hated to see how much it struggled and suffered at times, describing that as the factor that "really drives me to help you help customers."
"I can't tell you how much I appreciate this award," Eversman said.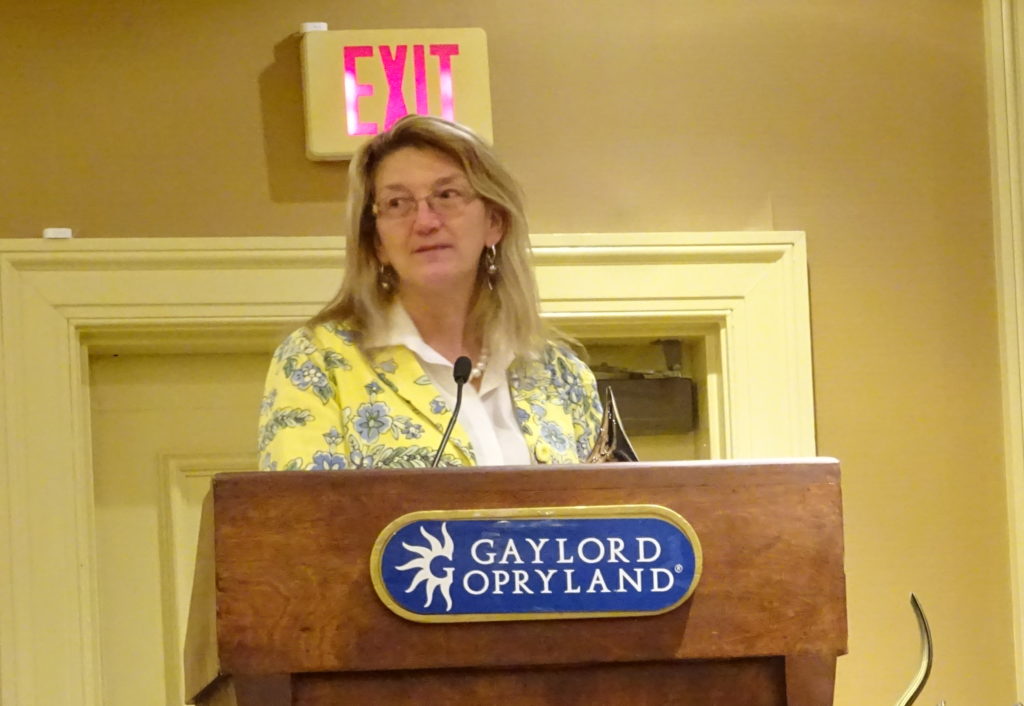 Humanitarian Award: AirPro business development Senior Vice President Michael Quinn told the industry that 2019 Humanitarian Award winner Becky Rogers' house was destroyed in the devastating Camp Fire.
Rogers contacted the Collision Industry Foundation, which aids industry professionals who suffered during disasters. However, she told the group: "'I don't need any help,'" according to Quinn, CIF's president.
Instead, Rogers directed them to help other repairers in the market, according to Quinn.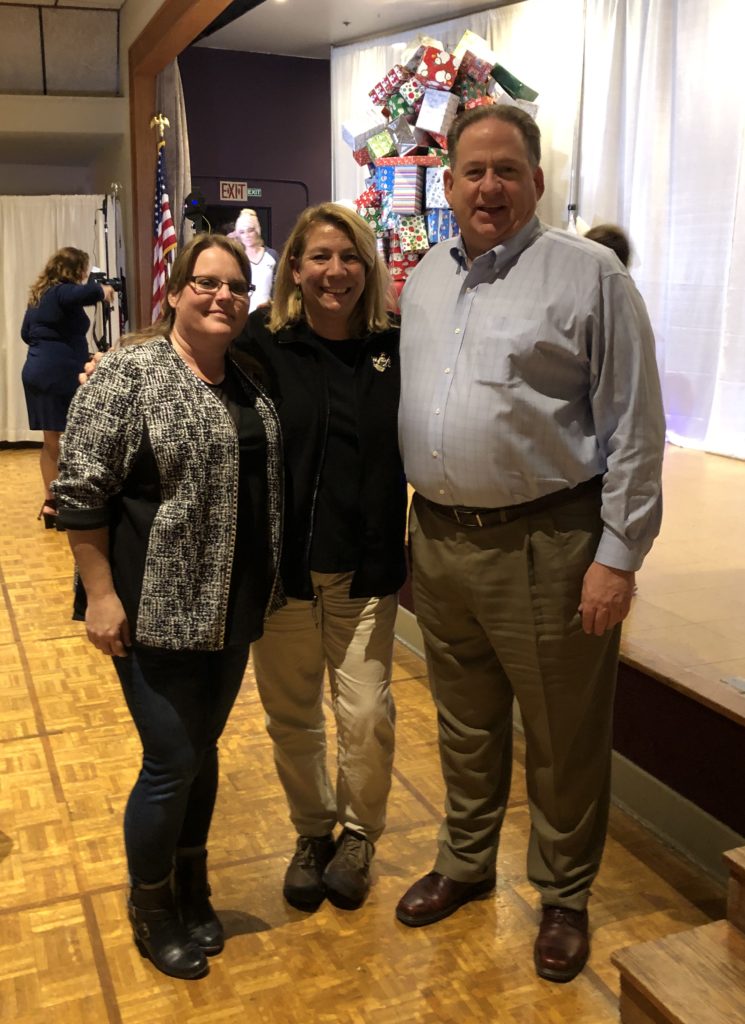 The Camp Fire in Northern California destroyed 13,792 homes, 528 businesses and 4,293 other buildings, according to Cal Fire. It killed 88 people and injured three firefighters.

Rogers proposed the idea of inviting all of the region's collision professionals to a Christmas meal. After her own losses, she has "worked tirelessly with the CIF to identify and validate those in need in our industry," the organization said last year.
CIF relies on what it calls "boots on the ground" to ensure it's dispensing funds correctly, and Rogers filled that role, Quinn said. She did a "phenomenal job," he said.
Quinn — a former Humanitarian Award winner himself — said he didn't know if he'd ever worked with someone in all of CIF's other disasters with Rogers' level of selflessness. It took effort to get her to agree to accept CIF help personally, he said.
Rogers wasn't present to accept the award in person. She had planned to come, but a co-worker at Rogers' new shop unexpectedly lost a husband.
She said she had to turn down the offer to come to Nashville, Tenn. "'The shop needs me,'" Rogers said, according to Quinn.
SCRS also recognized corporate members on Wednesday. Organization co-founder and former Chairman Jeff Hendler (JD Hendler/Associates) called them "really deep in my heart," recalling how the original 12 corporate members "absolutely saved SCRS" from folding years ago.
Images:
Society of Collision Repair Specialists Chairman Brett Bailey speaks April 17, 2019, at the organization's corporate recognition and awards luncheon. (John Huetter/Repairer Driven News)
The 2019-20 Society of Collision Repair Specialists board stands April 17, 2019, at the organization's corporate recognition and awards luncheon. (John Huetter/Repairer Driven News)
Former Society of Collision Repair Specialists Chairman Kye Yeung speaks April 17, 2019, at the organization's corporate recognition and awards luncheon. (John Huetter/Repairer Driven News)

SCRS on April 17, 2019, gave the 15th Lifetime Achievement award in its nearly 40-year history to Tony Lombardozzi, president and founder of the Coalition for Collision Repair Excellence. (John Huetter/Repairer Driven News)
2019 Individual Service Award winner Erica Eversman speaks April 17, 2019, at the Society of Collision Repair Specialists corporate recognition and awards luncheon. (John Huetter/Repairer Driven News)
From left, 2019 Society of Collision Repair Specialists Humanitarian Award winner Becky Rogers, Gigi Walker of Walkers Auto Body & Fleet Repair and Collision Industry Foundation President Michael Quinn pose during a Christmas party for collision repairers affected by the Camp Fire. (Provided by CIF)

Share This: