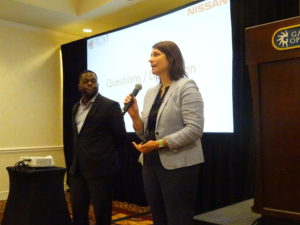 A panel of Tennessee workforce development experts — including one from Nissan — last month shared perspective with repairers on how they're fostering the kind of skilled employees major manufacturers need.
However, the speakers at the Society of Collision Repair Specialists "Repairer Roundtable" on April 17 also offered takeaways for auto body repair small businesses struggling with their own workforce demand.
Dan Caldwell, senior manager of learning pathways for Nissan, told the audience that Nissan's success came from a "strong and vibrant chamber of commerce" that can serve as an "intermediary."
He said he has a counterpart there that helps creates inroads with the industry and education sectors. For example, Nissan is meeting with a construction council — small businesses that got a seat at that table because of the chamber.
Tennessee Department of Economic & Community Development workforce development director Ann Thompson asked the crowd how many had an internship program exposing teachers or high schoolers to the business.
"That is the best thing you can do," said Thompson, whose father is a small business owner.
Find something "low-skill" within your business where students can come in and work, and it could help "build your pipeline," according to Thompson. Students might refer other employees.
Use an intermediary if they exist, but you can always just take the initiative and go to a high school yourself if necessary, Thompson said. Teachers who can identify students for you might not have known that opportunity was available otherwise, she suggested.
Use your "entrepreneurial spirit" on the educational side, she said.
Complete Tennessee Executive Director Kenyatta Lovett said the Tennessee Promise and Tennessee Reconnect programs were actually driven by local innovation.
He encouraged repairers to contact local officials. "You'd be surprised" how many area elected officials would be a "champion" after you explain your challenge and their potential role in addressing it, Lovett said.
More information:
Tennessee Department of Economic & Community Development
Featured image: Tennessee Department of Economic & Community Development workforce development director Ann Thompson speaks to the Society of Collision Repair Specialists "Repairer Roundtable" on April 17, 2019. Complete Tennessee Executive Director Kenyatta Lovett is at left. (John Huetter/Repairer Driven News)

Share This: