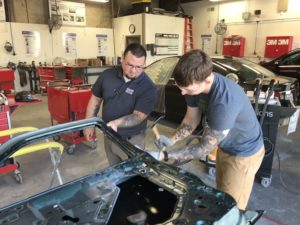 Caliber talent development Senior Vice President Ty Gammill earlier this year described the company's rationale and playbook for using veterans to fill the collision industry technician shortage.
His comments from the International Bodyshop Industry Symposium panel Feb. 15 on Caliber's "Changing Lanes" might provide guidance to other tech-strapped employers seeking to leverage a military presence in their market.
Clearly, not everyone has the resources of a Caliber or Service King — whose more established "Mission 2 Hire" program announced reaching the 500-veteran mark the same week as the IBIS — but some of these lessons might be adaptable or educational to even small shops.
Gammill said the military came to mind when Caliber looked at workforce development scalability.
Between 1,000 and 2,000 soldiers exit a military base every month once their enlistment contracts end, according to Gammill. But many of them — particularly Army soldiers — lack a plan for what to do next, he said.

"They're a little bit lost," Gammill said.
However, they do share the core values Caliber desires, such as a commitment to do the right thing and service. It's a "great alignment" in terms of the "people set" and skills Caliber wants.
The company established relationships with Fort Carson, Colo.; Fort Bragg, N.C.; and Fort Hood, Texas., and works with the Career Skills Program.
Caliber begins working with troops about six months before they're scheduled to be discharged. It hosts them at three dedicated training centers and tests them on quality and efficiency, according to Gammill.
He said Caliber's "secret sauce" was treating those facilities like a production environment.
The company had recognized that students out of traditional vocational schools weren't used to a production environment, — they're fixing the "same dent over and over again," Gammill said.
Enterprise provides fleet work to the facilities, which look like a Caliber facility but aren't retail, Gammill said. This gets the technicians used to concepts like cycle time over the course of the 18-week class, he said.
Once they complete the program, they are offered a job at a Caliber facility and given a $12,000 tool kit.
"It's the right thing to do," Gammill said.
Caliber expects to graduate 300 veterans in 2019 and has about 105 graduates currently employed.
It's a different model, but "I think we have to get creative as an industry," he said.
Gammill said Caliber seeks to ensure the program is a good fit for students by delivering a mechanical aptitude test. A score of 70 or below means the service member would probably struggle in a body shop, he said.
The company doesn't want anyone who would damage Caliber's brand or reputation for training, Gammill said. About 30 percent of the entrants don't graduate because of attitude or skill set, he said.
"They do excel once they get in," Gammill said.
He also noted that Caliber had to give the new Changing Lanes hires a "close hand" during their first six months.
Being military, they're used to being told what to do. "They're very regimented," he said.
Get them past that point, instill your culture quickly, devote time to them, and after six months, they're solid, according to Gammill.
3M and the Collision Repair Education Foundation's "Hire our Heroes" program for service members and families might be a resource for smaller shops looking to connect with veterans or help get them prepared for work.
The program has handed out more than $1 million in scholarships and tool grants to more than 330 people. CREF in January advised body shops to contact info@ed-foundation.org to get connected with a recipient.
Shops might also wish to check out the Department of Labor's "Hire a Veteran" and Veteran and Military Transition Center websites.
More information:
Caliber Changing Lanes program
Department of Labor "Hire a Veteran" resources

Veteran and Military Transition Center website
Featured image: Caliber's Falcon Academy for its veteran-hiring "Changing Lanes" program is shown. (Provided by Caliber)
Share This: