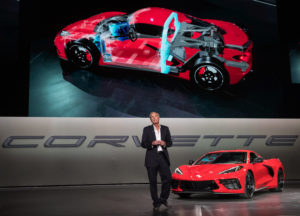 The next-generation mid-engine 2020 Stingray demonstrates what Chevrolet called "a smart mixed-materials strategy" at a price inching down to mainstream luxury vehicle levels.
Chevrolet said in a news release Thursday the car will start "under $60,000" and start production "in late 2019."
The mid-engine powertrain and lightweighting strategy will result in significant changes to the vehicle structure. In fact, a website on the Stingray's design states "Only a single part has been carried over from the last generation."
Chevrolet built what are now both front and rear trunks and the dashboard out of "float" sheet-molding composite (SMC) that incorporate fiberglass in a "proprietary resin."
"The material is so light that it can actually float in water," Chevrolet wrote Thursday. "It works with other fiberglass and carbon fiber variants to lower mass and reduce noise and vibration."
The trunk is large enough to accommodate a removable roof panel.
The 2020 Stingray also includes a curved carbon-fiber-reinforced polymer rear bumper beam, which Chevrolet called "(i)ndustry-first."
A Chevrolet diagram reveals indicates other composites include "TOUGH HYBRID SMC" in the rear of the vehicle and structural carbon fiber in the passenger compartment floor.
It also appears to display a large section of the floor made out of magnesium.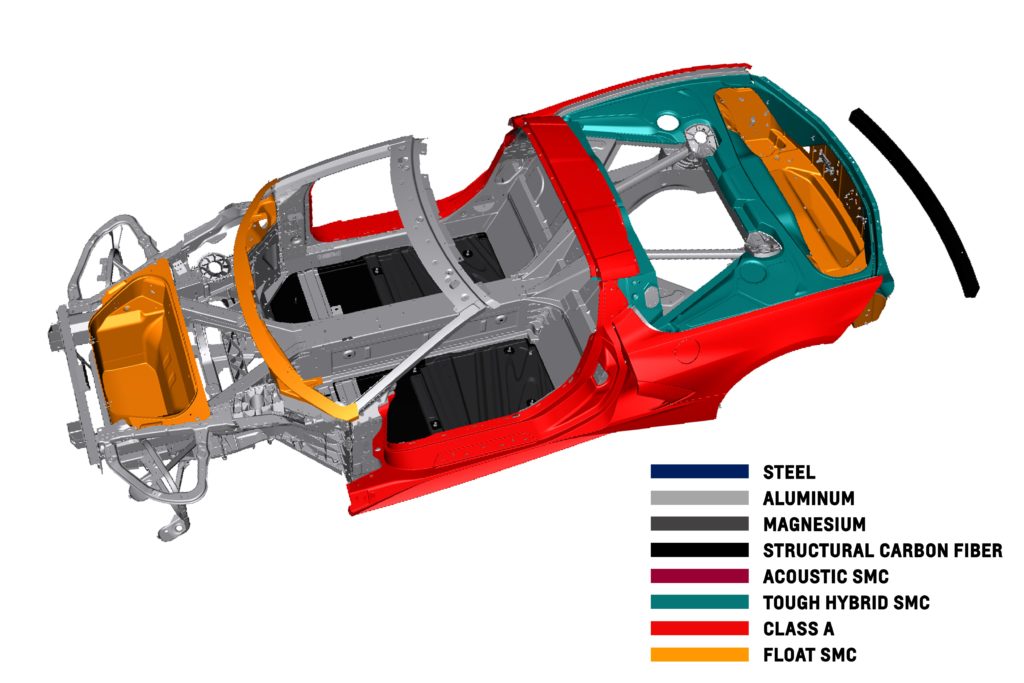 The body itself is built around the center tunnel, according to Chevrolet.
"This enables a light, stiff structure to serve as the foundation for the suspension system to perform in an optimized manner," the OEM wrote. "By removing unwanted body compliance, Corvette customers will experience the ultimate in ride performance with outstanding lateral grip capabilities. The car has a solid, connected-to-the-road feel with minimal vibrations at high speeds or on long road trips."
It called the body structure more than 10 percent stiffer than the outgoing 2019 Corvette Stingray's generation and delivering "(o)ustanding ingress/egress for a mid-engine vehicle."
"Unlike some competitors, there's no need for oversized rocker panels to bear structural and load weights, making it easier to enter and exit the vehicle," Chevrolet continued.
Chevrolet said the main structure includes "six high-pressure diecast aluminum parts, also known as the Bedford Six."
The parts from the General Motors Bedford, Ind., powertrain plant "minimize the number of joints within the vehicle, making a stiffer structure that aids in handling and track cornering," according to Chevrolet.

"Thanks to sophisticated suspension geometry, tailored tire technology and exquisite attention to structural details, we have improved ride and handling," Corvette executive chief engineer Tadge Juechter said in a statement. "No Corvette has ever felt so comfortable, nimble and yet completely stable."
The suspension also features the capability to boost the front bumper 40 mm in 2.8 seconds automatically for up to 1,000 programmed locations, such as speed bumps.
The mid-engine itself is visible thorough a 3.2 mm-thick glass panel on the rear hatch.
"This panel features a cantilevered trailing edge to evacuate heat from the LT2 engine compartment," Chevrolet wrote. The hatch has seven air vents.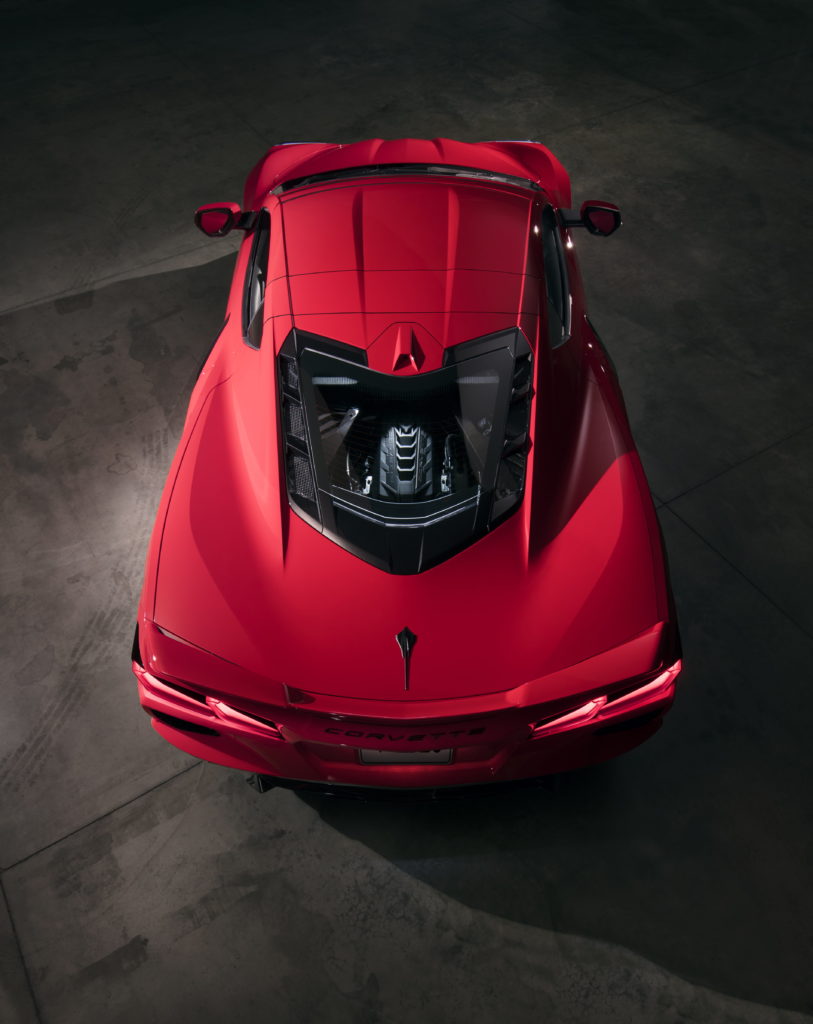 Other exterior features of note for collision repairers.
A front splitter and two-piece spoiler together contribute up to 400 pounds of downforce.
"Completely hidden door, hood and hatch releases do not disrupt the sculpted design," Chevrolet wrote.
Large air intakes on the vehicle's side cool the engine.
Colors include "Torch Red, Arctic White, Black, Blade Silver Metallic, Shadow Gray, Ceramic Matrix Gray, Long Beach Red, Elkhart Lake Blue and Sebring Orange." Chevrolet also will add the new colors "Rapid Blue, Zeus Bronze and Accelerate Yellow."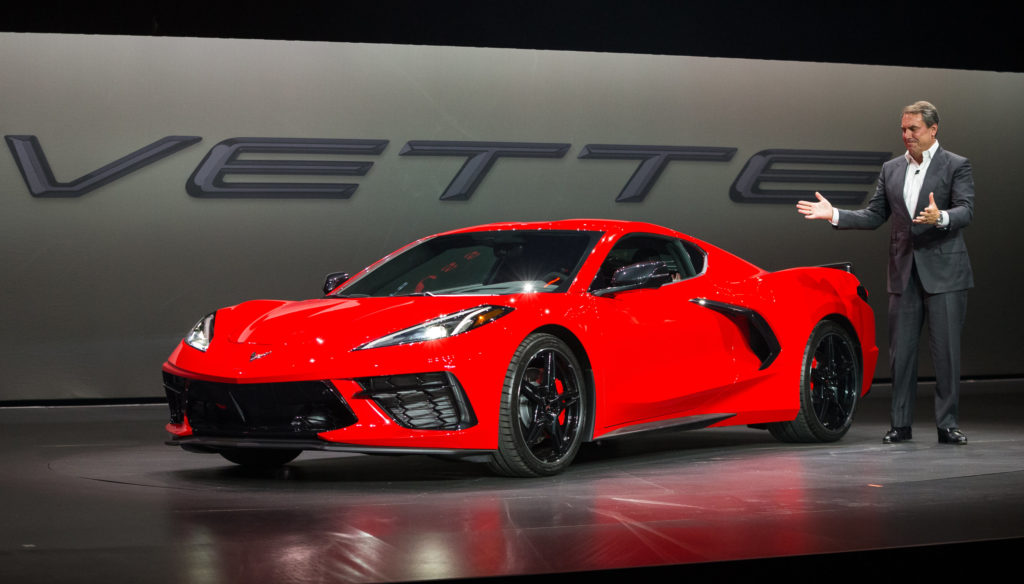 More information:
"CHEVROLET INTRODUCES FIRST-EVER MID-ENGINE CORVETTE"
Chevrolet, July 18, 2019
2020 Corvette Stingray website
Images:
Corvette executive chief engineer Tadge Juechter appears with the 2020 Chevrolet Corvette Stingray on July 18, 2019. (Dan MacMedan for Chevrolet/Copyright General Motors)
Aluminum and composites are notable elements of the 2020 Corvette Stingray's design. (Provided by Chevrolet; copyright General Motors)
Chevrolet said June 18, 2019, the main structure of the 2020 Corvette Stingray includes "six high-pressure diecast aluminum parts, also known as the Bedford Six." (Provided by Chevrolet; copyright General Motors)
The 2020 Corvette Stingray is shown. (Provided by Chevrolet/Copyright General Motors)
General Motors President Mark Reuss stands next to the 2020 Corvette Stingray on July 18, 2019. (Dan MacMedan for Chevrolet/Copyright General Motors)
Share This: