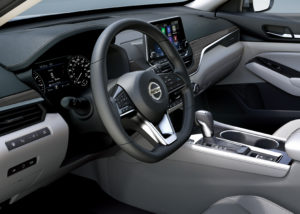 Nissan this month adjusted its position statement on scanning again to clarify that while it requires post-repair scans on all 2008-newer vehicles, it recommends them on all 1996-2007 Nissans too.
"The post-repair diagnostic system scan is recommended on all 1996—2007 Nissan vehicles and required on all 2008 and newer vehicles to confirm DTCs are properly resolved and assist in system calibrations, helping to ensure our owners' safety and satisfaction," Nissan wrote in a July 12 position. Another July 12 statement provided similar direction for Infinitis.
Nissan had already updated its 2016 scanning position statement earlier this year to stress "ALL Nissan vehicles from 2008 forward MUST" have a diagnostic scan following a collision repair. (Emphasis Nissan's.)
The OEM adjusted this language slightly in the new July 12 statement to "ALL Nissan vehicles from 2008 forward are REQUIRED to have a post-repair diagnostic scan." (Emphasis Nissan's.)
We asked Nissan about the 2008 model year threshold in January given the OEM's original insistence in 2016 that "all" Nissans be scanned.
Nissan certified collision growth program administrator Chad Gough wrote in January that Nissan did suggest scanning pre-2008 cars too.
"While 1996 was the first use of the OBDII systems and the ability to detect DTC's was started, the year 2008 was selected as being required due to additional system enhancements such as occupant detection, dual stage SRS systems, and other smart technologies," Gough wrote in an email. "Thus, while it is recommended that all 1996 vehicles and newer have a post scan conducted, it is required all 2008 and newer vehicles are scanned to confirm that all systems are connected, calibrated, and functioning as designed." (Emphasis Gough's.)
The July 12 document formally bakes such guidance into the position statement.
Nissan also updated the guidance to reflect its approval of the asTech as an alternative to a repairer owning an official Nissan CONSULT scan tool or subletting to a dealership.
The January version of the position statement made it clear that only the CONSULT was vetted to work: "Nissan North America does not test or validate other diagnostic scan tools in the market and cannot comment on their capabilities or accuracy. Using the CONSULT diagnostic scan tool, stored DTCs are identified, validated, and then addressed within the repair process."
The July 12 statement followed this passage with the sentence "Remote diagnostic prerepair scans, post-repair scans, and calibrations can also be performed by using the CONSULT tool via the asTech® remote diagnostic device."
The asTech can connect remotely to a CONSULT device stored at an asTech facility.
Nissan last week said its certified collision repairers must effective Oct. 1 have and use a CONSULT or asTech on scans on 2008-present vehicles. It offered to give shops a free asTech (though the shop must perform 50 scans) if they didn't have one already. Subletting to a dealership with a CONSULT would also be acceptable, Nissan said.
The J-2534 standard allows aftermarket scan tools or laptops to scan vehicles using an OEM's official software rather than an aftermarket version. However, Nissan said its vehicles only adopted the standard for 2018, and so the "J-Box" alternative wouldn't satisfy its demand for 2008-present scanning.
"Currently, Nissan's software for J-2534 devices is not backwards compatible for vehicle models before 2018," Nissan collision network growth and strategy manager Mark Zoba wrote in an email. "Thus, for vehicles between 2008-2018, there is no certainty all vehicle system control modules would be identified correctly."
Nissan last week in its scanning communication to certified shops described its position statements as important tools — even recommending its network of repairers mount a framed copy on the wall. However, it said the certified shops still had to "research and present all requirements for Nissan and INFINITI repairs as identified in TechInfo and service manuals."
Nissan's statement continues to recommend body shops perform a scan prior to a repair.
"A pre-repair system scan is recommended to identify items in advance that are malfunctioning on a vehicle," Nissan writes. "This helps the repair facility fully understand the scope of the repair before starting as well as documenting elements related to the overall loss."
Nissan has pointed out that scanning a vehicle up front might benefit an insurer too:
• asTech secures the vehicle build data and provides body shops with access to all OEM technical service bulletins and active recalls. When supported by the OEM, asTech can provide your certified shop with Freeze Frame data. Access to these important data points will help your shop deliver important information about warranty and unrelated prior damage. This information is critical to your insurance partners.
• Certified Collision Centers using the patented asTech process can diagnose and repair vehicles while they remain in the production lane at the collision center. This process will help ensure fixed right first time, improve cycle time, reduce comebacks, and boost customer satisfaction and confidence in the repair. (Minor formatting edits.)
More information:
"Revised Pre- and Post-Repair Scanning, Calibrations"
Nissan, July 12, 2019
"Revised Pre- and Post-Repair Scanning, Calibration"
Infiniti, July 12, 2019
Nissan collision repair procedures website (use Internet Explorer)
Infiniti collision repair procedures website (use Internet Explorer)
"Making Scanning a No-Brainer: Request Your Complimentary asTech Device Today!"
Nissan (converted to PDF, redacted by Repairer Driven News), July 15, 2019
Nissan, July 15, 2019
Nissan, July 15, 2019
Featured image: A 2019 Nissan Altima is shown. (Provided by Nissan)
Share This: