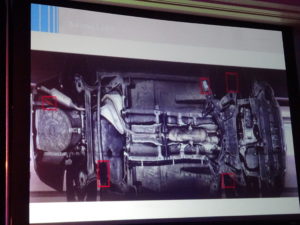 Artificial intelligence vehicle inspector UVeye on Monday said Volvo Cars, a trading company affiliated with Toyota and a major commercial insurer were among the major investors within a pool of $31 million collected since 2017.
The injection of capital from the auto and insurance industries reinforces that UVeye is likely a tech company mechanical and collision repairers should watch. CEO Amir Hever spoke directly to the collision repair industry last year about aftermarket applications for the company's 3-D vehicle scanning technology.
UVeye originally focused on developing a way to automatically scan Israeli vehicles for terrorist bombs. After one threat scan also noticed an oil leak, the company tweaked its artifical intelligence and found it could also spot cracks, dents and rust on the chassis, Hever said.
By adding more views, the company could generate three-dimensional models and capture details about the vehicle in seconds.
"This year, UVeye introduced its latest line of products to the Automotive market with the 360° system, enabling automatic detection of a wide variety of mechanical issues, as well as damages to the outer frame of any vehicle," UVeye's website stated in 2018. Another page describes capturing damage on panels and other parts relevant to collision repair.
The system has a way to inspect tires, looking for damage, measuring air pressure, and capturing tire specs and manufacturer off the writing on the wheel, Hever told the Society of Collision Repair Specialists IDEAS Collide event at SEMA 2018. (Registration is now open for the 2019 TEDlike rapid-fire event; get your ticket here.)
The technology had potential on manufacturing lines, dealerships or a rental car company, according to Hever. Rather than the renter spending time marking prior damage, you could instead just drive the rental car through a UVeye station and have all of the damage automatically recorded, Hever said.
"UVeye's drive-through systems can detect external and mechanical flaws and identify anomalies, modifications or foreign objects – both along the undercarriage and around the exterior of the vehicle," UVeye wrote in a news release Monday. "The scanning process completes within a matter of seconds and can be used throughout the entire lifecycle of the vehicle. The technology is being actively deployed today across many use cases, from the vehicle manufacturing line – the moment components are placed on the conveyor belt through end-of-line inspection – to logistics, maintenance and beyond.
"Since inception, UVeye has generated millions of vehicle scans across dozens of countries. UVeye's anomaly detection accuracy rate has exceeded client thresholds in all case studies to date."
Volvo on Monday said that in addition to investing in UVeye, it was considering "using UVeye's technology for conducting full exterior inspection of cars after they roll out from production lines." The OEM planned to pilot this at a Torslanda, Sweden, factory and said it felt the tech would "ensure that even tiny faults are detected."
UVeye said Volvo would also use the technology at "dealerships and in the aftermarket," and the OEM confirmed it "could" use the system "during the various steps of the logistics flow and at dealerships."
"Premium quality standards are at the core of the Volvo brand and we are intrigued by the possibilities that UVeye's technology offers," Volvo Cars tech fund CEO Zaki Fasihuddin said in a statement. "This type of advanced scanning technology could allow us to take the next step in quality."
The beauty here for a dealership or collision repairer lies in UVeye's business model. You don't actually have to buy their mobile full-vehicle scanner, Hever said last year. The company will install it for free and just charge you per scan.
Hever also said in 2018 an insurer had approached UVeye about potentially capturing the size and number of hail dents on a vehicle — a use case demonstrated by other companies already. At the time, Hever said UVeye would hopefully be ready for this by "mid-next year."
The news release Monday announced funding from commercial insurer W.R. Berkley; it was unclear if this was the insurer to which Hever was referring.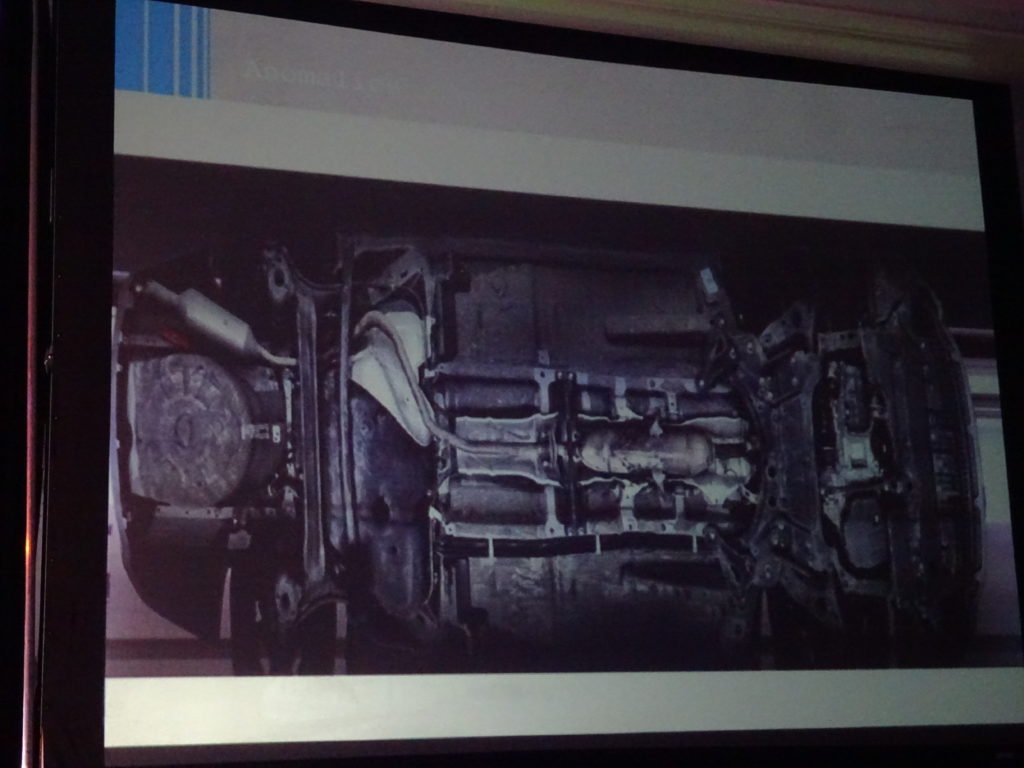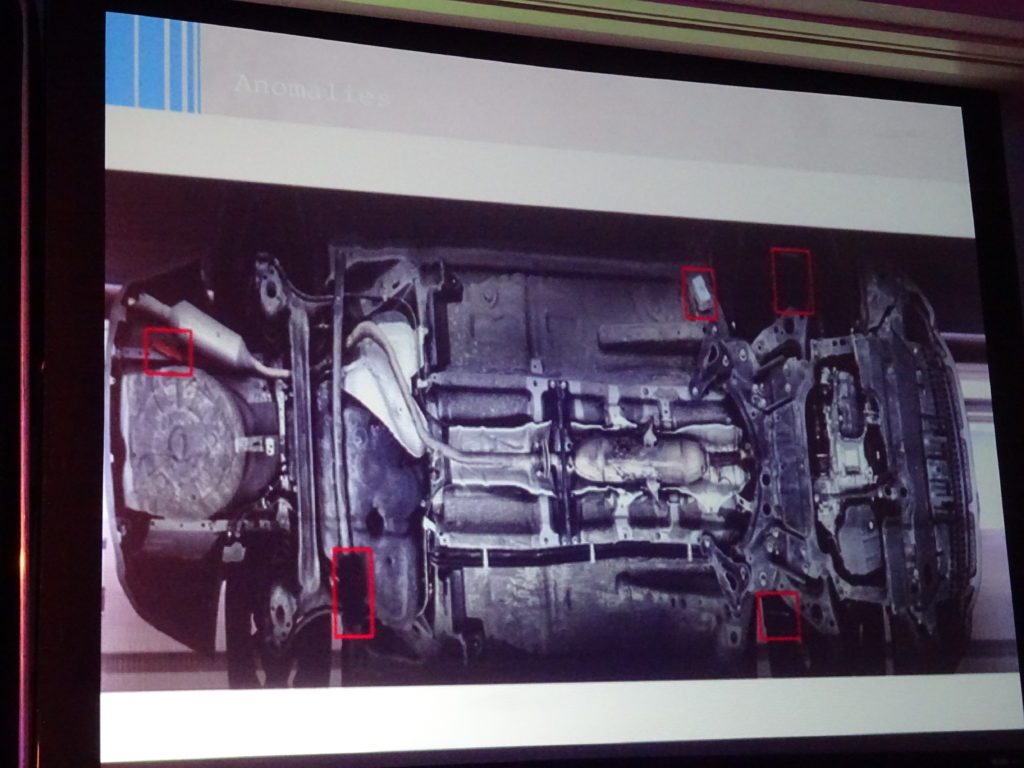 UVeye said Monday that Toyota Tsusho would "support distribution to used-car centers and throughout the company's footprint within the Japanese auto market."
"The system will be deployed in auction sites and used on Toyota's used cars," UVeye wrote Nov. 15 in announcing a relationship with the company. (It was unclear if this referred to the same deal announced Monday.) "It will reduce the cost of today's vehicle inspection and will increase accuracy. UVeye will contribute to the evaluation of the life cycle of vehicles by detecting any anomaly such as an oil leak, rust, dents, etc."
UVeye also has OEM partnerships with Skoda and Mercedes parent Daimler.
The Volvo, Toyota and W.R. Berkley investments were major parts of a new $31 million burst joining another $4 million in capital raised since 2017.
"This latest investment including leading automotive strategic partners is an important signal that we believe paves the way for UVeye to become the standard of automotive inspection and safety," Hever said in a statement Monday. "We are delighted to have world-class companies in their respective sectors endorse our game-changing auto-scanning solution."
MDGo is a company specialising in what it calls medical artificial intelligence. By using advanced machine learning technology it aims to save numerous lives by making sure that people are treated according to their specific injury following an accident with their car.
Volvo on Monday also said it had invested in another interesting company that would seem to fulfill the often-discussed concept of using telematic crash data to immediately predict damaged parts — but this time, on humans.
It said it had put money into MDGo, which "will combine real-time data from the car during an accident with medical knowledge with the aim to make automated early and immediate predictions on the type of injuries emergency personnel are likely to encounter at the scene of the accident."
This is the bodily injury version of the idea that the car could predict its own property damage and immediately put in an associated parts order for a collision repairer.
Volvo said MDGo's data could be sent to doctors as well as first responders and "has the potential to reduce the likelihood of complications and by extension serious injuries and fatalities."
And speaking of IDEAS Collide, check out other 10-minute presentations from the 2018 event on the SCRSCollision YouTube channel.
More information:
"AI-led start-up UVEYE raises $31m led by Toyota Tsusho, Volvo Cars, and W. R. Berkley Corporation"
UVeye, July 22, 2019
Featured images: A UVeye slide from the 2018 IDEAS Collide shows anomalies which might be hard or time-consuming to detect with the naked eye but might be seen by the company's technology, which 3-D scans vehicles and detects anomalies ranging from terrorist bombs to oil leaks to dents. (UVeye slide; photo by John Huetter/Repairer Driven News)
Share This: