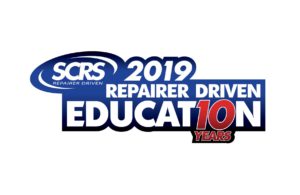 Early registration is underway for the 10th annual Society of Collision Repair Specialists Repairer Driven Education series at SEMA, and attendees should take care not to arrive too late or leave too early that week.
2019's series will feature the return of Monday afternoon courses, preceded by a special 1 p.m. workshop featuring Paul Webb and Elle Artison of Paul Webb Training.
"With ample attendee recommendations to SCRS after their appearance during the BMW Group Certified Collision Repair Center Conference, the association arranged this session to help our audience focus on Advanced Business Communications – The A-B-C's Of Building Trust," SCRS wrote in a news release Aug. 1.
SCRS said SEMA exhibitors as well as collision repairers can benefit from Webb and Artison's session.
"With a premise of developing 'easy to use skills' that build trust with co-workers and customers, and a focus on understanding communication styles, this program is suited for a wide audience, from collision repair professionals to exhibitor staff members who will be manning the booths for the week-long Show," SCRS wrote. "This year's program –starting with this kickoff workshop – is one you won't want to miss!"
The 2019 show will also mark the second edition of SCRS' fast-paced "TED Talks"-esque IDEAS Collide Showcase on Friday morning. The format involves 10 speakers presenting 10-minute talks on "brash, outspoken and provoking concepts," as SCRS puts it. Here's the opening act and closer from 2018:
Courses and sessions like IDEAS Collide and the three parts of the OEM Collision Repair Technology Summit on Thursday, Nov. 7, are $75 if you register in advance. The popular Sky Villa After Party on the night of Nov. 7 is $85 in advance.
The best bang for your buck is the full series pass for $375, which lets you into absolutely everything offered the entire week. If you only go to the three parts of the OEM Summit, the Sky Villa party and IDEAS Collide, you've already saved $10 with the pass. Go to a class or two prior to those events and you're really in the black. (Particularly if it's one with a topic like Monday's "Make more money: Improve overall gross profit.")
Register at www.SCRS.com/rde. Registration for the SEMA Show proper can be done at www.semashow.com.
Following is the lineup to date and some copy from the course descriptions. Keep checking SCRS.com/rde, SCRS.com, and here on RDN for reveals of the OEM Collision Repair Technology Summit and IDEAS Collide topics and speakers.
Monday, Nov. 4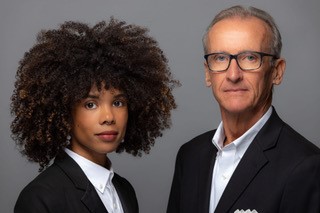 1-3 p.m.: "Advanced Business Communications – The A-B-C's Of Building Trust," Paul Webb and Elle Artison, Paul Webb Training
When you build trust YOU INCREASE SALES! Learn easy to use skills that build trust with co-workers and customers. There are three main themes in communication: 1- Building trust with the sales staff; 2- Matching co-worker strengths with job responsibilities to reduce employee turnover; 3- Self-testing forms that determine learning and buying styles in both co-workers and customers. Increase skills in these areas and you'll increase sales!
3:30-5 p.m.: "Make more money: Improve overall gross profit," Steve Trapp, Axalta
We will be reviewing the basic formula and then going into process enhancements to drive improved overall gross profit per department. We will use a model financial statement and ask them to assess what the shop might be able to do with a manual worksheet they can take home and fill in for themselves compared to an industry standard.
3:30-5 p.m:  "Is there a future in DRP?", Pete Tagliapietra, NuGen IT
Insurers continue to reduce DRP infrastructure and rely more on MSOs. Vehicle manufacturers are well into Certified Repair Shop Networks and telematics to control where and how their brand vehicles get repaired. How will independent repair shops stay formidable with these paradigm shifts? This session provides insight on what independent repairers must consider to remain viable in their local markets.
3:30-5 p.m.: "Position yourself for sustainability," John Shoemaker, BASF
An interactive discussion about the changes in the collision industry and how they affect shop owners, the need to adapt to these changes and the consequences if shop owners do not move past status quo. We will discuss how shop owners must adapt their environment to allow them to keep their business operating over a period of time. So, what does this really mean? The environment seen in some of todays shops is not the environment needed to continue doing business in the collision industry. Status quo is not positioning you for sustainability; it's treading water in a rising river.
Tuesday, Nov. 5
9:30-11:30 a.m.: "CRUSHING IT!", Matthew McDonnell, Big Sky Collision Center; Ryan Taylor, Bodyshop Booster
In this fast paced high energy class we are going directly for the vitals of what will grow your shop into the future. Have you invested in OEM certifications and then never saw the benefits? We will show you how to fix that. Have you spent money on advertising but it didn't seem to work? This class will show you how to effectively target your ideal customers and cherry pick the high paying work. The fact is the "lifetime value of a customer" has grown to $147,000 but less than 2% of shops have cracked the code to unlock this massive growth opportunity.
9:30-11:30 a.m.: "Repair process 2020," Doug Craig, LORD Corporation; Kelly Logan, Car-O-Liner; Jake Rodenroth, asTech; Jason Bartanen, Collision Hub
This session will have a panel of experts deliver a message to help technicians prepare for what repair processes will look like in 2020.
The panel will review all of the proper processes needed for technicians. By the end of the panel, we would have 20 practical takeaways to get ready for the repair process in 2020. 
9:30 a.m.-11:30 a.m.: "Why your collision center should be texting," Brett Steele, Podium
Instead of focusing on slides, this session will feature a highly interactive learning experience that will educate shop owners on how to modernize their communication channels. This will help shop owners to earn and retain new customers, improve online reputation, and ultimately strengthen the business.
12:30-2:30 p.m.: "Be your own Berkshire," Scott Broaddus, Virginia Asset Management
Warren Buffett is famous for using the profits from GEICO to diversify Berkshire Hathaway when another opportunity looks more attractive than internal re-investment.
This session will ask you to stop and think of your company the same way Warren Buffett does with the 65+ businesses that make up Berkshire Hathaway.
This includes:
Calculating internal vs. external return on investment
Just because I earn money in the business does that means it needs to stay there?
What opportunities do I have to invest outside my business?
Can this help increase the value of my business when Im ready to sell?
12:30-2:30 p.m.: "Completing 'Thorough and Workmanlike' repairs," David Smith, Auto Damage Experts
We will go through the process and expectations of a thorough and workmanlike repair, from repair planning to final quality control and how to get paid for the procedures necessary to complete the repair to the best of human ability.
12:30-2:30 p.m.: "Sick and tired of collision management the old way?", Lee Rush, Sherwin-Williams
This session will connect the dots between high-minded management concepts and real-world results. Change in our industry today is accelerating, and so must the development of our management of people and processes. "Collision management" is for those collision repair operators, owners, and managers who understand that being successful moving forward will demand a great deal more than just business as usual. It will demand accelerated development and a desire to strengthen their management skills and the skills of their teams.
3-5 p.m.: "Mobility: The Future of Automotive Protection and Beautification," Jennifer Boros, Gareth Hughes, Greg Bausch, PPG
Many current vehicles and those of the future – will require specialized coatings and considerations for the variety of sensors that allow them to communicate with each other, see the roadway, and detect obstacles in its way. This evolving technology will impact the way in which vehicles are repaired. This panel will explore:
The impact autonomous, electric and shared vehicles will have on vehicle coatings
The evolution of exterior and interior coatings
Timing of expected technology change – smart infrastructure is also required and is a factor in its adoption.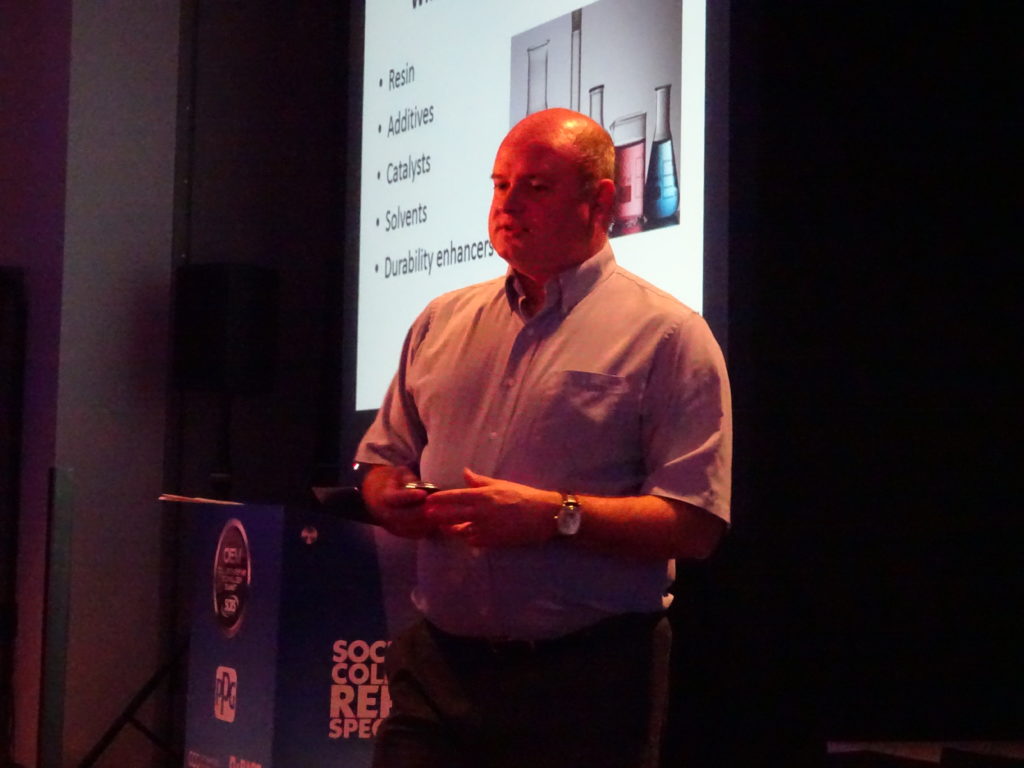 3-5 p.m.: "Create an in-house technician development program," Tim Ronak, Charlie Whitaker, Jeff Baker, AkzoNobel
Embrace the idea that you can control your current and future labor resource needs by creating your own self developing workforce. Take the first step in becoming an employer of choice by creating a transparent internal self-directed development plan and define the career path for all production technicians regardless of their individual level of proficiency when they enter your organization.
3-5 p.m.: "Educate consumers on safe repairs with owner's manuals," Danny Gredinberg, Database Enhancement Gateway; Mike Anderson, Collision Advice
In this session, Mike Anderson of Collision Advice and Danny Gredinberg of the DEG will share with the attendees how critical it is to review the owners manual with the prospective customer to gain their trust as well educate them what it is required for a SAFE and Proper repair. 
Wednesday, Nov. 6
9:30-11:30 a.m.: "Offset tech shortages with improved efficiency," Shelia Principio, BASF; DeWayen White, Tom Bush Auto-Plex; Tommy Daniels, BMW
The key is to improve efficiencies to do more with less, offsetting the technician shortage and, therefore, improving profitability.
This panel will discuss strategies to streamline your shop, how to maximize your current resources, adapt staffing requirements, and what to expect during implementation, as well as the value of new technology available today. We want to work on your business, not in your business.
9:30-11:30 a.m.: "Auto industry disruption: Win despite change!", Frank Terlep, asTech
In this session, attendees will learn:
The major technology disruptions occurring in the automotive industry
5 ideas on what your collision repair business can do to survive and thrive!
9:30-11:30 a.m.: "Glue Pull Repair: less-invasive repairs," Chris White, KECO
There is a new & better way to remove body panel dents. Stud welding is just too invasive. … GPR (Glue Pull Repair) is a noninvasive solution that creates none of the collateral damage that stud welding does to a panel. … This solution has a low capital cost and a lightning quick ROI. The challenge is only behavior change within the collision industry. In the session, we will outline the process and its merits and tackle the behavior change issue.
12:30-2:30 p.m.: "Capturing Every Procedure: What are you missing?" Toby Chess, Kent Automotive; Ron Reichen, Precision Body & Paint; Danny Gredinberg, Database Enhancement Gateway
The repair blueprint is the foundation of how your company documents procedural approach to the technician, and accounts for profit, in the repair process. A weak blueprint will impact efficiency, profitability and even morale. This session is going to take owners, managers and estimators through a systematic approach to building comprehensive repair plans that account for OEM documented procedures, non-included operations, and items that cost you money when forgotten or overlooked.

12:30-2:30 p.m.: "How to mitigate risks and thrive," David Willett, Intrepid Direct
Collision Repair Business Owners are working harder than ever to achieve their financial and personal goals for being in business. This presentation is designed to help you protect your profits, assets, liability and reputation. Risks come in all shapes and sizes. After identifying them we will exam how the nine risk management techniques can be used to mitigate your risk. Many of them are used against you today by DRPs, Banks, Insurance Companies and Property Owners just to name a few. …
Should walk away with at least five immediate actions to improve risk.
12:30-2:30 p.m.: "Unraveling the Mystery of Structural Bonding Adhesives," Shawn Collins, 3M
This session will alleviate confusion surrounding structural adhesives, addressing questions surrounding where they should or should not be used, and which OEMs recommend their use; and confusion around "equivalents" and substitutions. Instructors will demonstrate test methods that will show why structural adhesives are different than panel bonding adhesives. We will use a weld-bonded UHSS Honda B-pillar repair procedure to demonstrate some of the complications and unique situations a technician will encounter during repairs.
3-5 p.m.: "Do I, or don't I? OEM certifications," Jeff Wildman, BASF; Tim Kilkeary, Kilkeary's Auto Body; Austin Fife, Bentley Motors
The collision industry is shifting towards OEM certifications, but the truth is, OEM certifications are not the answer for every business. This panel includes a variety of industry professionals involved of different aspects of the certification process from OEM to collision shop and will describe the ins and outs. What was it like to decide which certification program to join? Why? What are the costs involved and are they worth it? What is the ROI on different OEM certifications? How does becoming certified shape your business and what other effects does it create? And is your team prepared?
3-5 p.m.: "Overcoming objections to scanning," Jake Rodenroth, asTech; Mike Anderson, Collision Advice
In this SEMA session, Mike Anderson of Collision Advice and Jake Rodenroth of AsTech will address some of the common objections that Collision Repairers hear in the market place in regards to Scanning. In addition Mike will share with the attendees some considerations they must make in regards to Diagnostics and Calibrations. This session will include but is not limited to the following:
Recommended versus Required
What about the OEMs that do not have a position statement …
The differences between OEM and Aftermarket Scan Tools …
What are the "Required Steps" to performing a proper scan
3-5 p.m.: "Using wheel alignment to diagnose suspension," John Shewbridge , Hunter Engineering Company
This session will describe in detail the Diagnostic Alignment Angles available on modern wheel alignment equipment, including how they are measured, and what each measurement means. Diagnostic Alignment Measurements can be very helpful during the estimating process to locate potentially hidden suspension damage up front, reducing supplements and cycle time.
Thursday, Nov. 7
9-10:30 a.m., 11 a.m.-12:30 p.m., 3-5 p.m.: OEM Collision Repair Technology Summit Parts I-III
The OEM Collision Repair Technology Summit is designed to put SEMA show attendees in a room with innovators in automotive structural design and technology. The Summit's three session times will feature distinctly different topics that host discussion between companies and individuals with rich histories of producing sophisticated advancements in the automotive and collision repair fields. The event content will highlight developments in modern vehicles, with a focus on emerging trends that influence vehicle repairability and collision industry preparation.
9-11:59 p.m.: Sky Villa After Party
The premiere collision industry networking event during SEMA Week. The RDE Sky Villa After Party affords guests with some of the most amazing sights of the city from one of the most luxurious and famed suites on the strip. Tickets are limited, and early registration is encouraged. Aside from education, networking is one of the key benefits attendees gain from attending events such as the SEMA Show. This evening event provides not only a special experience that so many look forward to each year, but that aims at building relationships and connections. The networking event has become a night-time destination for high-profile individuals within the collision repair communities from across the globe.
Friday, Nov. 8
10:30 a.m.-12:30 p.m: IDEAS Collide Showcase
The IDEAS Collide Showcase is a one-of-a-kind event featuring 10 fast-paced presentations designed to stimulate thought, innovation and resolution of business challenges with brash, outspoken and provoking concepts from thought leaders both in and out of the industry.
Audience members will be intrigued by individuals and companies with an eye on the future, willing to take center stage with innovative ideas, business models and concepts that have the potential to revolutionize the future of the collision repair industry.
Topics could rattle the status quo with ambitious ideas that have a transformative effect on the industry, or offer conceptual keys to resolving existing market challenges, business considerations, resources or solutions that stem from great minds and efforts.
More information:
"Registration Open for SCRS' Repairer Driven Education Series at 2019 SEMA Show"
Society of Collision Repair Specialists, Aug. 1, 2019
SCRS Repairer Driven Education registration
Images:
The 2019 SCRS Repairer Driven Education logo. (Provided via SCRS)
PPG Americas Technical Director Gareth Hughes speaks Nov. 2, 2017, at the Society of Collision Repair OEM Collision Repair Summit at SEMA 2017. (John Huetter/Repairer Driven News)
Share This: