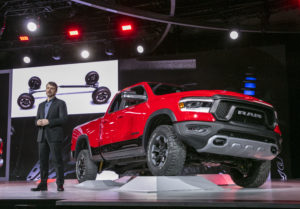 Various higher-strength steel components on the next-generation 2019 Ram 1500 must be replaced as complete assemblies, not sectioned, a collision repair expert confirmed earlier this month.
FCA in 2018 said that the 2019 Ram 1500 cut nearly 225 pounds out of the vehicle through lightweighting, including building the frame out of 98 percent high-strength or stronger steels. It said 54 percent of the body used those lighter and stronger grades.
During an Aug. 8 VeriFacts Guild 21 call, advanced body development and collision repair manager Dan Black noted that any advanced high-strength steel parts, ultra-high-strength parts and press-hardened steels — seen in a FCA diagram below in pinks and purples — couldn't be sectioned. They must be replaced as an assembly, Black said. (As always, we're just giving you some of the broad strokes. You must still research the full, official OEM repair procedures before performing any repair operation.)
Black's presentation indicated the door rings and front roof bow connecting them are all press-hardened steel. He called it critical to replace those press-hardened parts because they absorb "so much energy" in an impact. "They're beyond use at that point," he said.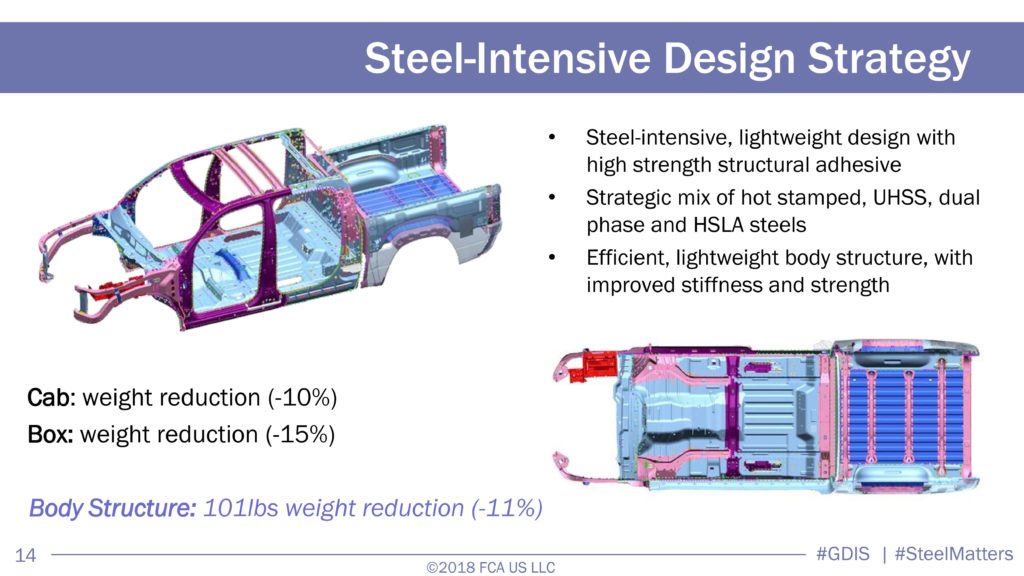 The front fender rails are hydroformed steel, but a specific sectioning area exists, according to Black's presentation. Black said FCA wanted shops to section at that spot and preferred shops use a reciprocating saw to do so and keep heat minimal. He warned shops not to use a plasma cutter or an open flame.
Black said a repairer could also apply heat to an area of the fender rail — as long as the heated area would ultimately be thrown away and replaced. As he described it, you would heat up the damaged area and pull it back to spec to cold-straighten another area located "far beyond" the heat zone. The heated portion would be cut off and discarded.
Extensive measuring should occur during the process of attaching the new part at the sectioning point, according to Black. Measure, then test-fit the part before tack-welding it in place, he said. Then measure again, and only then if within spec proceed with the formal joining procedure, he said.
The repairer should use a skip-stitch method to reattach the part, Black said. Weld a "minor" area of the joint, then move to the opposite side and weld another small part of the joint — maybe a half-inch or 13 mm at a time, he said. Continuously rotate from side to side in this fashion until the entire joint is complete, he said. The idea was to minimize the heat applied to the repair zone, Black said.
As noted above, certain structural items like the B-pillar can't be sectioned. However, the mild steel bodyside outer can be sectioned in certain points, according to Black. He said these locations would be areas away from components like hinge mounts, strikers or safety components like a seat belt.
The heavy-duty Ram 2500's hydroformed fender rails could also be sectioned in a particular location, according to a slide. However, the repairer "must use MIG brazing" to attach the new part, Black said. MIG welding wasn't acceptable, he said.
Black demonstrated the significant amount of advanced high-strength steel in various pickup box configurations. He said that while the high-strength steel in the boxes could be welded like mild steel, the advanced high-strength steel could "only" be plug-welded at factory seams in locations where a squeeze-type resistance spot welder couldn't reach.
The 6.4-foot pickup box variant has advanced high-strength steel "exclusively," Black said.
Black also pointed out the advanced high-strength steel rear frame portion reinforcing the tailgate on the 6.4-footer, calling it a "large load zone area" for heavy-duty boxes. A similar C-shaped advanced high-strength steel reinforcement could also be seen on the 5.7-foot and RAMBOX box diagrams he showed.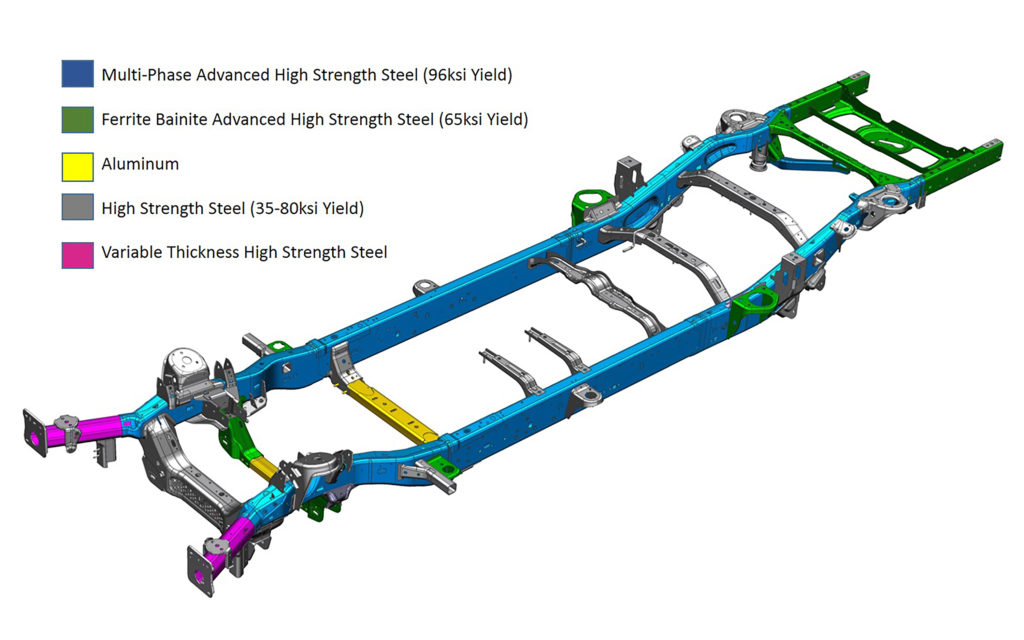 Black said FCA claimed the most advanced frame in the segment and showed the new front splayed frame rails which help with crash safety. However, he said the front frame rails can still be sleeved, and the front frame rail tips can still be replaced with MIG welding.
Other frame features highlighted in the Guild 21 talk included tire blockers — high-strength steel parts whose "sole function" is to keep tires forward of the door so it can be opened after a crash — and the bolted-on aluminum crossmembers.
The next VeriFacts Guild 21 call will be Sept. 12 at 2 p.m.
More information:
Images:
Then-Ram head Mike Manley presents the 2019 Ram 1500 at the North American International Auto Show on Jan. 15, 2018. (Provided by FCA)
Various materials used in the 2019 Ram 1500 are shown in different colors. The pinks and purples designate advanced or even stronger high-strength steels. (FCA slide provided by Great Designs in Steel)
The 2019 Ram 1500's frame is 98 percent high-strength steel. (Provided by FCA)
Share This: