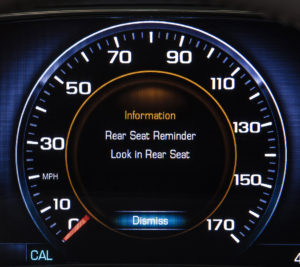 Two trade groups representing nearly every major U.S. automaker announced Wednesday their respective OEMs would make rear seat reminders standard by the 2025 model year.
The Association of Global Automakers and the Alliance of Automobile Manufacturers combined represent basically every luxury and mainstream manufacturer of significant volume, with the notable exception of Tesla.
The groups said their voluntary commitment "will give new car buyers access to the safety features faster than would have been possible under a government rulemaking process," estimating the latter as taking 4-8 years.
The OEMs also might dodge rulemaking forcing them into systems they don't wish to install. The agreement announced Wednesday gives them a great deal of latitude.
"At a minimum, these prompts will include a combination of auditory and visual alerts that will activate after a driver turns off the vehicle," the trade groups wrote.
That minimum would be less advanced and potentially less impactful on collision repair  than a system able to detect rear seat occupation — something proposed in the new U.S. House Bill 3593 and coming as an option to some Hyundais.
The baseline sounds like the "door logic" systems in use or announced by OEMs like General Motors, Nissan and Hyundai. Broadly speaking, the concept works like this: If a motorist opens a rear door prior to starting the car, the car assumes that something was placed there and issues a reminder to check the back at the conclusion of the trip.
Individual OEM systems might vary, obviously. For example, Nissan in 2018 said its version only sounds the alarm if the door wasn't reopened, while GM in 2016 said its system also looks for door openings while the vehicle is running.
The formal agreement holds automakers to deliver that minimum by either the "Realization Year" running from Sept. 1, 2024, to Aug. 31, 2025, or the 2025 model year. They must install the system on 95 percent of vehicles that have rear seats in combination with a rear door.
According to the Auto Alliance and Global Automakers, a vehicle interior can rise 20 degrees in just 10 minutes, and child bodies heat up 3-5 times faster than adult frames. H. 3593 reports that at least 52 children and 57 animals died in 2018 because of being left unattended or gaining access to a vehicle.
"Children die each year from heatstroke suffered when left unattended in the back seat of passenger vehicles," Global Automakers CEO John Bozzella said in a statement. "As most of these deaths are caused by children being unintentionally left in vehicles, our members are taking action to help prevent these tragic losses by adding rear-seat reminder systems to prompt parents and caregivers to check the back seat before exiting their car."
At least 889 kids have died of hyperthermia inside vehicles between 1990 and 2018.
"Of those deaths, where the circumstances were known, 27 percent were the result of the child accessing the vehicle independently," the bill states of the 1990-2018 statistic — a point which would seem to make a sales pitch to parents for true occupant detection over mere inferment.
The two OEM groups predicted "automakers will innovate by introducing a wide range of approaches to help parents and caregivers remember to check the back seat as they leave a vehicle."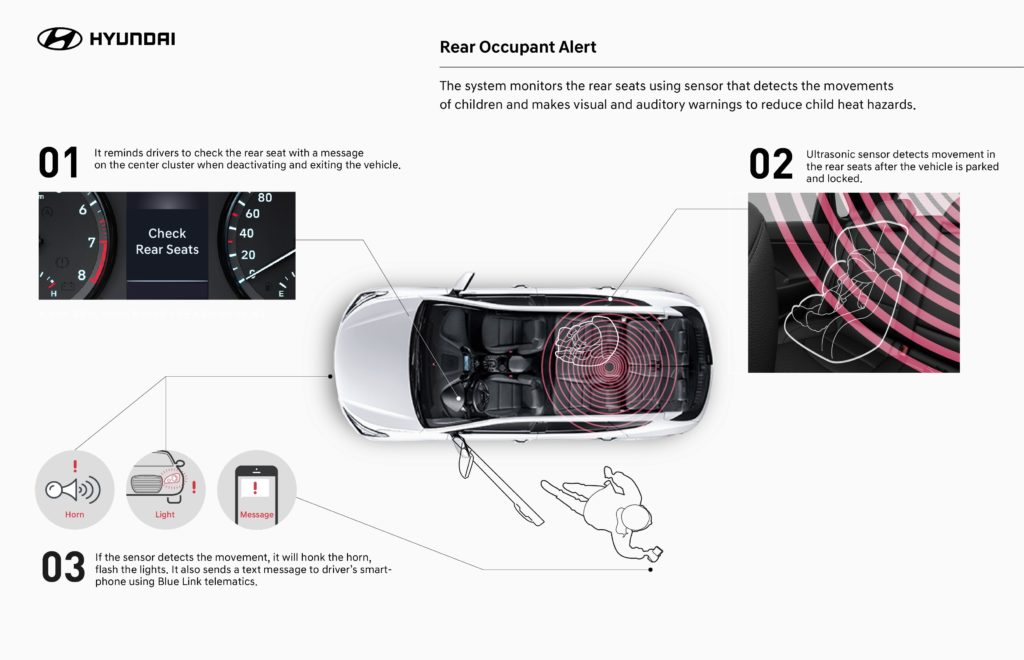 "Automakers have been exploring ways to address this safety issue and this commitment underscores how such innovations and increased awareness can help children right now," Auto Alliance interim CEO David Schwietert said in a statement. "Automakers have come together to develop a pathway forward, which not only incorporates existing systems, but also supports new, innovative approaches."
Across the Atlantic, Euro NCAP has set a 2022 date for scoring OEMs on their ability to keep kids from being left in the backseat.
"Leaving an unattended child in a parked car, even for a few minutes, can cause heat-stroke and death," Euro NCAP wrote in its 2017 roadmap through 2025. "Child deaths from vehicle-related heat-stroke happen less frequently than those resulting from crashes, but the nature of these entirely avoidable deaths deserves special attention.
"A child's inability to exit the vehicle on his/her, own combined with a low tolerance for high temperatures, requires that children never be left unattended in a car. Technological solutions are available that can monitor a child's presence in the vehicle and alert the car owner or emergency services should the situation become dangerous. Euro NCAP will reward manufacturers that offer such solutions as standard."
A 2018 Euro NCAP ratings review reports that in 2022, "Child Presence Detection (CPD) technology rewarded as part of a revised Vehicle Based Assessment. Point allocation is as follows: 4 points for COPD, 9 points for other vehicle provisions."
More information:
"Helping to Combat Child Heatstroke, Automakers Commit to Introducing New Vehicles with Rear Seat Reminder Systems"
Alliance of Automobile Manufacturers, Sept. 4, 2019
"Leading Automakers' Commitment to Implement Rear Seat Reminder Systems"
Alliance of Automobile Manufacturers and Association of Global Automakers, Sept. 4, 2019
"Automakers Announce Commitment to Help Combat Child Heatstroke"
Global Automakers, Sept. 4, 2019
Images:
The rear seat alert system — standard on the 2017 GMC Acadia and coming to more General Motors models — is actually tied to the crossover's rear doors and engine, not the seat, GM said Monday. (Provided by General Motors/© General Motors)
Hyundai will offer door-logic rear seat reminders standard on most of its vehicles by 2022. It also has an optional ultrasonic rear-seat reminder system too. (Provided by Hyundai)
Share This: