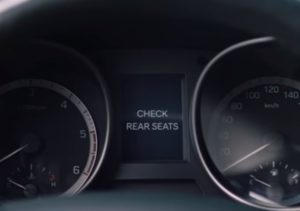 Shortly after the introduction of congressional bills related to preventing deaths of rear-seat occupants in hot cars, Hyundai announced it would make "door-logic" rear seat reminders standard on most of its new vehicles by 2022.
The OEM also said in July it would offer a more advanced detection system as an option on more vehicles.
Systems from Hyundai and at least two other automakers, the bipartisan congressional proposals and an incentive from Euro NCAP to offer the technology in 2022 make these concepts worth watching by collision repairers.
Automotive News drew attention to this trend in an Aug. 17 article that reported the bill and Euro NCAP activity "has suppliers scrambling to develop new systems for automakers, according to interviews with several high-tech suppliers at a recent industry conference."
Door-logic technology works how the name implies. The car keeps tabs on if someone opened the rear door before a trip and then issues a reminder to check the back seat once the trip ends. It doesn't actually know if anything is in the back seat.
"The (Rear Occupant Alert) door-logic system detects if a rear door was opened or closed before the car was started, then reminds the driver to check the rear seat with a message on the center cluster when exiting the vehicle," Hyundai wrote in a July 31 news release. It said the door-logic ROA will come standard on the 2020 Hyundai Palisade, Santa Fe and Sonata.
General Motors debuted a similar system standard on most 2017 GMC Acadia trims.
"The Rear Seat Reminder works by monitoring the Acadia's rear doors," GM wrote in 2016. "The feature is intended to activate when either rear door is opened and closed within 10 minutes before the vehicle is started, or if they are opened and closed while the vehicle is running. Under these circumstances, the next time the vehicle is turned off after a door activation, the Acadia is designed to sound five audible chimes and display a message in the driver information center that reads, "Rear Seat Reminder / Look in Rear Seat."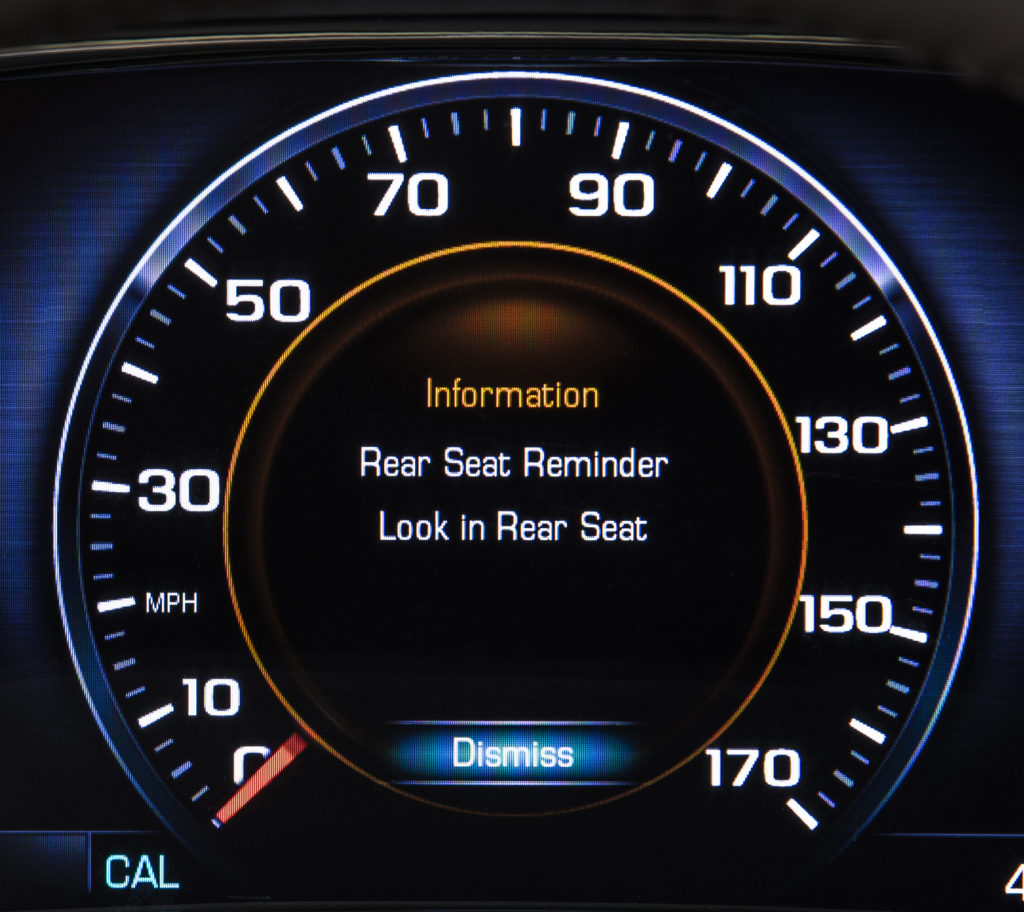 The OEM's 2016 news release called the system an industry first. Later that year, GM said it "will be offered across many Buick, Cadillac, Chevrolet and GMC vehicles by the 2018 model year." It's unclear what proportion of those vehicles' trims carry it standard outright like the Acadia.
In 2018, Nissan announced another door-logic system it called the first to incorporate a horn.
"(Rear Door Alert), which currently is standard equipment on the 2018 Nissan Pathfinder, monitors when the rear door is opened and closed before and after the vehicle is in motion," Nissan wrote July 31, 2018. "The system responds with a series of notifications if a rear door was used prior to a trip, but was not re-opened after the trip. Once the vehicle is in park and the ignition is turned off, the system will first display a notification in the instrument panel and progresses to subtle, distinctive chirps of the horn."
Nissan announced then that it would for the 2019 model year make the system standard on eight other models — including the popular Rogue and Altima. By the 2022 model year, it'll be standard on every Nissan truck, SUV and sedan with four doors.
As noted above, Hyundai also offers a system that takes it a step further and monitors the back seat area itself. Repairers, estimators and insurers will need to understand the differences and follow the appropriate repair procedures.
According to Hyundai quality, service and technology public relations senior manager Miles Johnson, what Hyundai calls the "Ultrasonic ROA" involves an ultrasonic sensor "located in the roof… just behind the second row of seats."
Hyundai sells the technology as an option on the 2019 and 2020 Santa Fe and the 2020 Palisade.
"The Ultrasonic ROA has the door-logic technology and an ultrasonic sensor that helps to detect the movements of children and pets in the second-row seats," Hyundai wrote. "If the system detects movement in the second-row seats after the driver leaves the vehicle and locks the doors, it will honk the horn and send an alert to the driver's smartphone via Hyundai's Blue Link connected car system (if equipped with Blue Link and the Blue Link service is active)."
"Heatstroke in vehicles is preventable and we are doing our part to prevent this," Hyundai America product, corporate and digital planning Vice President Mike O'Brien said in a statement. "We have great systems that use both door logic memory and motion sensors to help prevent children and pets from being forgotten in the car, but it also helps in case children accidentally lock themselves in."
Repairers might find other OEMs using more perceptive systems than the base door-logic concept too. As Automotive News wrote:
In the mushrooming Israeli auto technology sector, where some companies have roots in national defense and advanced security industries, still-more sophisticated systems are now in development. Instead of relying on door sensors, newer approaches incorporate visual or radar-type sensors in the front-seat headliner that detect the presence of a person in the back seat. The sensors are so precise they can identify an occupant by detecting a heartbeat. That will mean the safety system is aware of a person's presence even if their face isn't visible, for instance when a baby is quietly sleeping in a rear-facing child seat.
OEMs might need to order that kind of fancier tech to comply with U.S. law.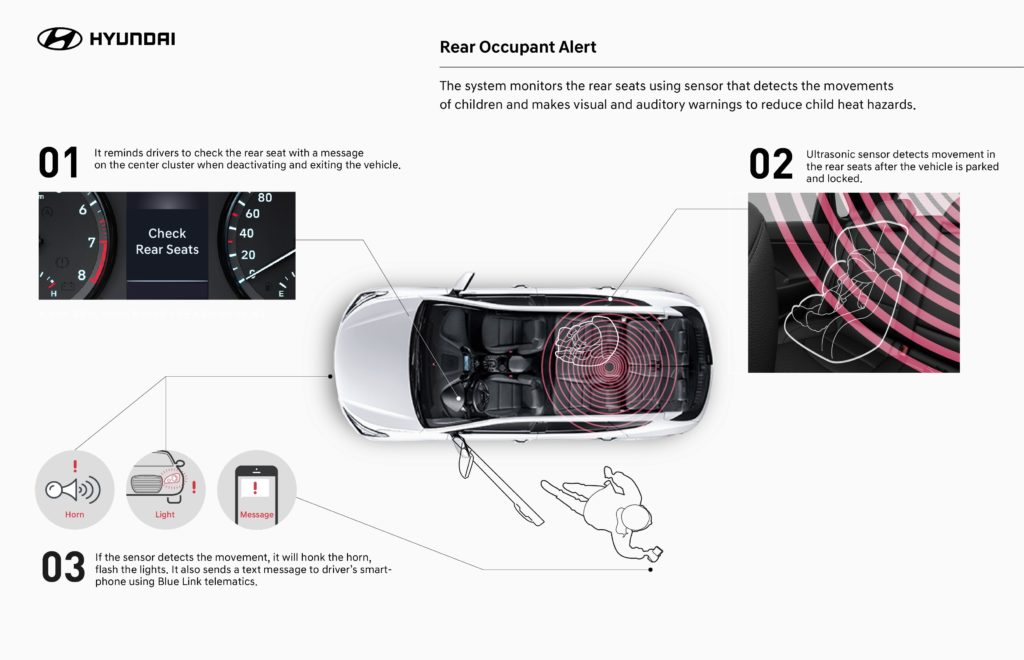 U.S. Senate Bill 1601, the "Helping Overcome Trauma for Children Alone in Rear Seats Act of 2019" (which works out to "HOT CARS Act" and suggests that congressional aides have too much free time), would allow OEMs to get by with merely door-logic systems.
"Not later than 2 years after the date of the enactment of the HOT CARS Act of 2019, the Secretary (of Transportation) shall issue a final rule requiring all new passenger motor vehicles weighing less than 10,000 pounds gross vehicle weight to be equipped with a system to alert the operator to check rear designated seating positions after the vehicle engine or motor is deactivated by the operator," it states.
But House Bill 3593, which mercifully skips the acroynm and just calls itself the "Hot Cars Act of 2019," seeks more advanced technology.
"Not later than 2 years after the date of the enactment of the Hot Cars Act of 2019, the Secretary shall issue a final rule requiring all new passenger motor vehicles with a gross vehicle weight of 10,000 pounds or less to be equipped with a system to detect the presence of an occupant in a rear designated seating position after the vehicle engine or motor is deactivated and engage a warning," it states. "In developing the rule required under this subsection, the Secretary shall consider requiring systems that also detect the presence of any occupant unable to independently exit the vehicle as well as detect the presence of a child who has entered an unoccupied vehicle independently." (Emphasis ours.)
Both bills also call for an independent third-party study of retrofitting vehicles to solve the issue of unattended rear seat occupants. This includes asking the researcher to "make recommendations for manufacturers of such technology or products to undergo a functional safety performance to ensure that the products perform as designed by the manufacturer under a variety of real world conditions." This could be interesting if the "real world conditions" also includes improperly calibrated or uncalibrated technology following a mechanical or collision repair.
Across the Atlantic, Euro NCAP has set a 2022 date for scoring OEMs on their ability to keep kids from being left in the backseat.
"Leaving an unattended child in a parked car, even for a few minutes, can cause heat-stroke and death," Euro NCAP wrote in its 2017 roadmap through 2025. "Child deaths from vehicle-related heat-stroke happen less frequently than those resulting from crashes, but the nature of these entirely avoidable deaths deserves special attention.
"A child's inability to exit the vehicle on his/her, own combined with a low tolerance for high temperatures, requires that children never be left unattended in a car. Technological solutions are available that can monitor a child's presence in the vehicle and alert the car owner or emergency services should the situation become dangerous. Euro NCAP will reward manufacturers that offer such solutions as standard."
A 2018 Euro NCAP ratings review reports that in 2022, "Child Presence Detection (CPD) technology rewarded as part of a revised Vehicle Based Assessment. Point allocation is as follows: 4 points for COPD, 9 points for other vehicle provisions."
Be heard: Congressional contact information can be found here.
More information:
"Hyundai to Make Rear Occupant Alert Standard By 2022"
Hyundai, July 31, 2019
"Rear Door Alert technology to become standard on all four-door Nissan nameplates"
Nissan, July 31, 2018
"GM Expands Availability of Rear Seat Reminder Technology"
General Motors, Dec. 6, 2016
Images:
Images 1, 3: Hyundai will offer door-logic rear seat reminders standard on most of its vehicles by 2022. It also has an optional ultrasonic rear-seat reminder system too. (Provided by Hyundai)
Image 2: The rear seat alert system — standard on the 2017 GMC Acadia and coming to more General Motors models — is actually tied to the crossover's rear doors and engine, not the seat, GM said Monday. (Provided by General Motors/© General Motors)
Share This: