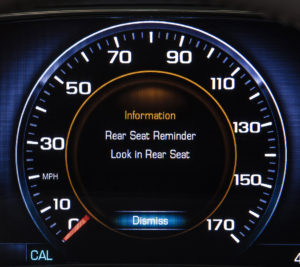 Though it doesn't change the need to ensure it works properly following a collision, auto body shops might be interested in a bit of technical trivia regarding the 2017 GMC Acadia's kid-in-the-back-seat alert.
The system — standard on the Acadia and coming to more General Motors models — is actually tied to the crossover's rear doors and engine, not the seat, GM said Monday.
"The feature is intended to activate when either rear door is opened and closed within 10 minutes before the vehicle is started, or if they are opened and closed while the vehicle is running," GMC wrote in a news release Monday. "Under these circumstances, the next time the vehicle is turned off after a door activation, the Acadia is designed to sound five audible chimes and display a message in the driver information center that reads, 'Rear Seat Reminder / Look in Rear Seat.'"
GM sold 96,393 Acadias in 2015. A GM spokeswoman said she didn't know the exact timeline for when the technology would spread to the other GM models or if it'd be offered standard on those other vehicles.
Unlike an passenger-side airbag sensor, the system can't determine if there's something atop the rear seats — the technology doesn't translate as easily, according to a spokeswoman.
"It's not something that can work in the back seat," General Motors communications manager for safety Rebecca White said Tuesday.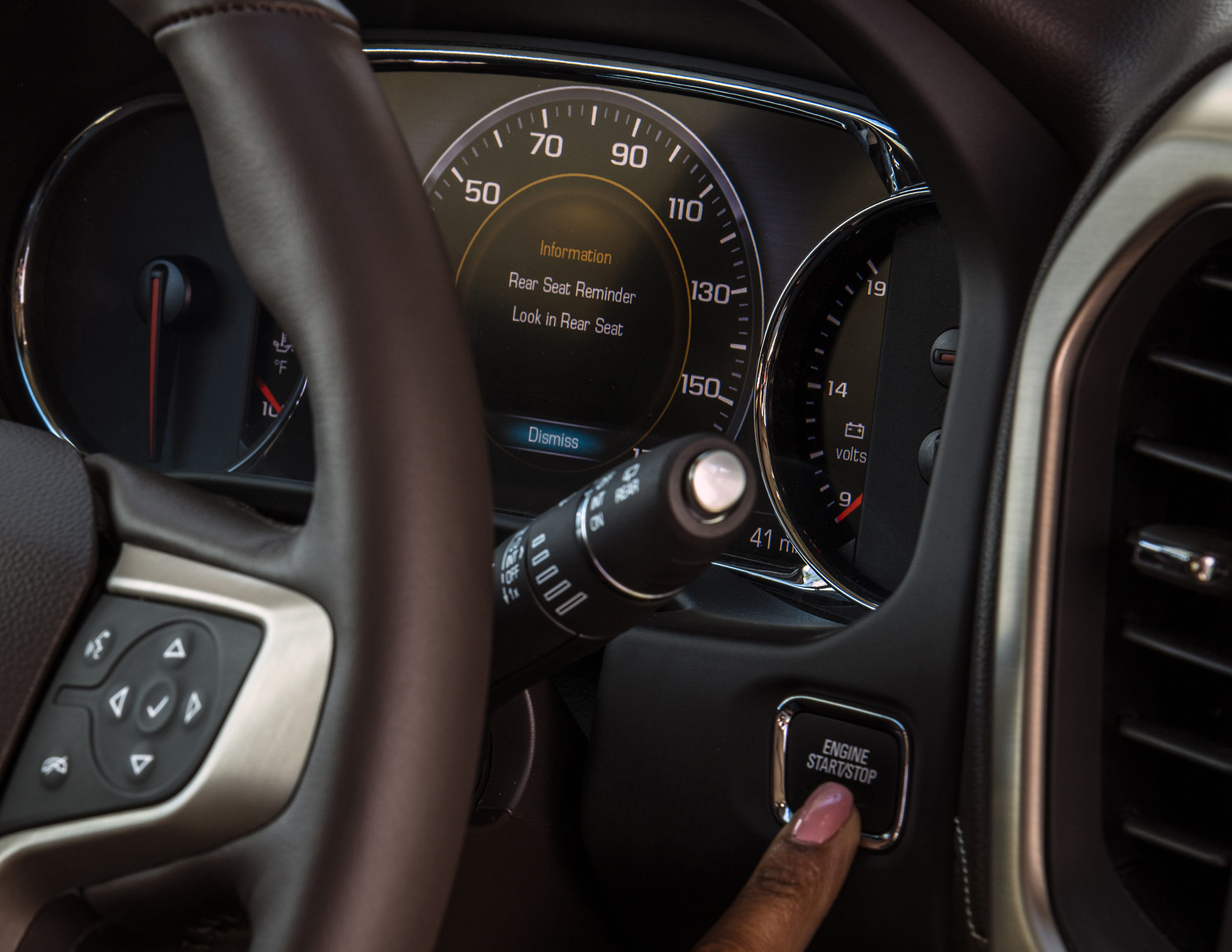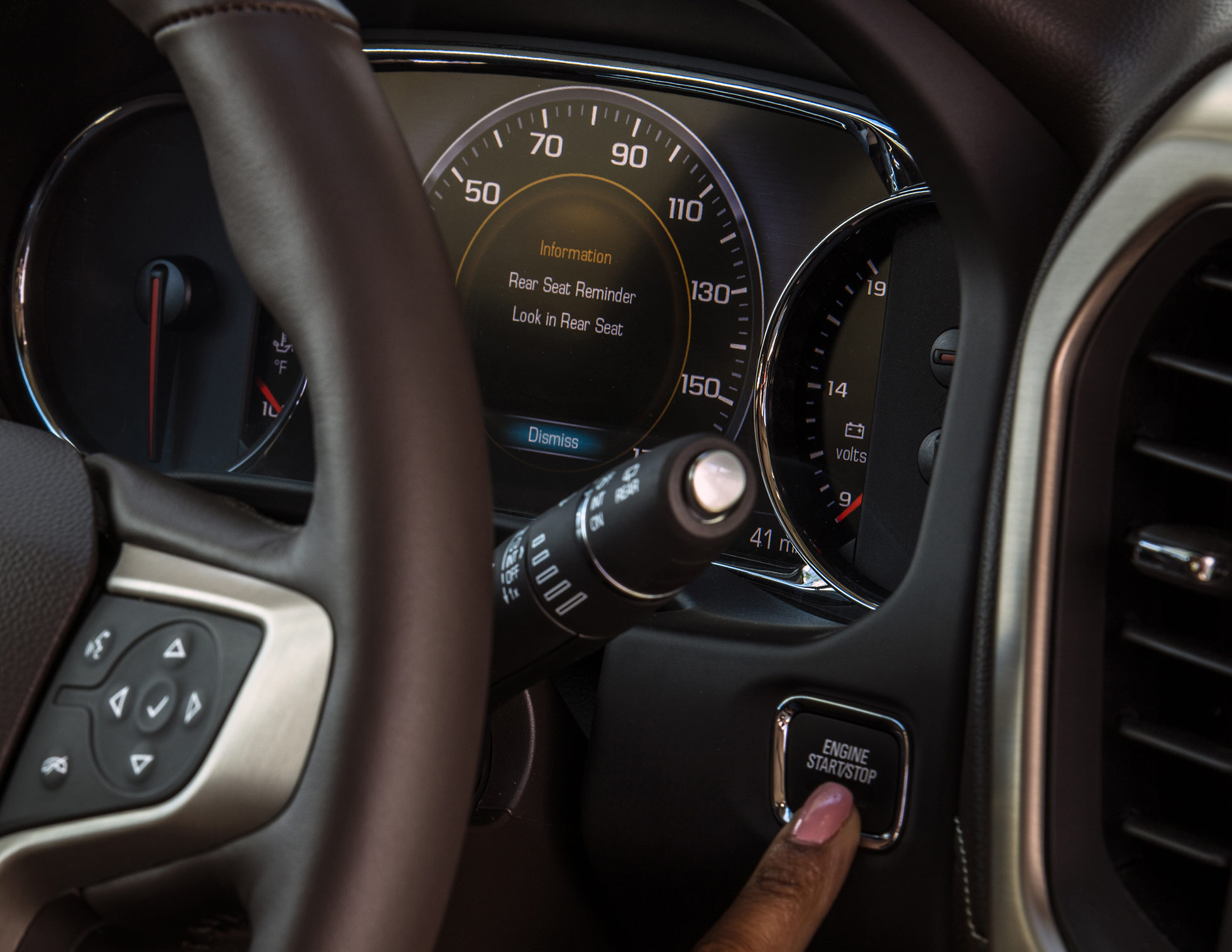 This might have something to do with the other point of the system — reminding someone there's an expensive item in the back.
"Acadia drivers live busy lives with demanding schedules, and the Rear Seat Reminder helps protect the things we care about most," GM global safety strategy engineer Tricia Morrow said in a statement. "Whether it's your lunch, laptop, pet or most importantly, your child, it's easier than it seems to forget what's in the back seat when moving between life's events. With this new feature, we are leading the charge to address this ongoing problem."
White said she didn't think any new technology was added to the door since the system just detects that it's been opened and the engine was turned on within 10 minutes of that point. So while that might keep door repair costs down (and Acadia manufacturing costs — somebody just has to write code leveraging presumably existing capabilities like "see if a door is open" "tell the time" and "know if the engine is running") it likely makes scanning and calibration even more necessary.
Of course, we're just spitballing; you'll have to check the actual repair procedures when the Acadia hits the market. But make sure to do so, for this technology raises an interesting legal and ethical question: Is a collision repairer or mechanic partially responsible if they fail to properly calibrate/repair the alert system, and the driver isn't warned when they forget their child in a hot car?
Fortunately, not a lot of kids die in hot cars (673 since 1998), according to research by Jan Null of San Jose State University cited by General Motors. But when such tragedies occur, it's because somebody forgot them there more than half of the time. Less tragic but still a blow to the property owner, theft of objects from a motor vehicle accounted for 22.9 percent of larceny in 2014, according to FBI data cited by GM. (The FBI has better things to do with your tax dollars and didn't break the statistics down by seating row, but you get the idea.)
While you're checking the repair procedures about the technology's demands, don't forget to bone up on the body materials.  The 2017 GMC Acadia dropped 700 pounds thanks to high-strength and ultra-high-strength steel. Find out more here.
More information:
"GMC Leads Industry with New Rear Seat Reminder"
GMC, June 13, 2016
Featured images: The rear seat alert system — standard on the 2017 GMC Acadia and coming to more General Motors models — is actually tied to the crossover's rear doors and engine, not the seat, GM said Monday. (Provided by General Motors/© General Motors)
Share This: