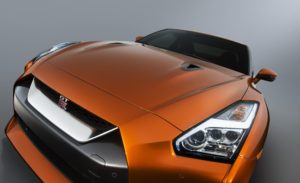 Nissan will feature a special certification network for its refreshed GT-R supercar, Assured Performance announced Monday.
The new program, which Assured Performance described as a "re-launch," will be open to both dealerships and unaffiliated collision repair companies.
Those already certified for Nissan's collision repair network won't automatically receive GT-R credentials. The GT-R certification website references a two-day, hands-on technician training program required for repairers, and auto body shops certified for regular Nissans would also likely need new equipment to work on the mixed-materials body of Nissan's $109,990 baby.
According to Assured Performance, technicians at the GT-R course will:
learn about the design and construction that is unique to the GT-R.
take a detailed look at the GT-R body repair manual and procedures.
identify the construction materials on the GT-R.
understand the repairability of the GT-R structural materials.
be measuring to find damage using electronic measuring.
develop a repair plan on a damaged GT-R.
perform hands-on aluminum panel repair.
setup a repair bench to understand anchoring and pulling options.
perform hands-on steel joining using (GMA) MIG and spot welding.
understand the unique refinish processes for the GT-R.
complete a post-test
Assured Performance already requires particular training for another class of certified shops: those on Ford's F-150 aluminum body repair network. Those shops must have received I-CAR aluminum welding certification and taken I-CAR's FOR06 F-150 structural repair class. (All Assured shops must also be I-CAR Gold Class, which requires employee training.)
"Nissan is committed to all our vehicle owners in being able to provide a quality repair option in the marketplace validated to have the right training, tools, and equipment to maintain performance and safety of their vehicles after a collision," Nissan Certified Collision Network manager Mark Zoba said in a statement. "This is equally important for our GT-R owners.  The GT-R being a high performance vehicle developed with materials not typical in the everyday vehicle, requires special equipment and training of shops to ensure a proper repair.  Assured Performance is a proven and trusted partner with Nissan for our collision repair provider Certification, and a perfect choice to help Nissan drive the new elite GT-R Certification program as well."
Besides new training, not all shops would make the cut simply because Nissan is likely to have an even narrower GT-R network than it does for normal Nissans. The OEM differs from other Assured Performance partners in that it already restricts the number of repairers granted mainstream certification in a market area, and it probably needs even fewer shops nationwide to fix a supercar that only sold 1,105 in 2015. (Nissan had more than 1,200 certified shops at the end of that year.)
Interestingly, Nissan won't restrict parts or details like measurements for the vehicles, a split from some other high-end OEMs.
"There are currently no parts restrictions on Nissan GT-R service parts and there has not been any parts restrictions for this vehicle in the past," Assured Performance technical compliance Vice President Aaron Clark wrote in an email.
"The owners of this vehicle are very loyal to Nissan, the GT-R Certified Network, and GT-R owner clubs.
"Repair information is not restricted and has always been available through https://www.nissan-techinfo.com/"
Details/get certified: Visit GetGT-Rcertified.com or call 949-221-0010.
Body details
The latest generation of the GT-R appeared in 2009, and Nissan described the body as carbon fiber, aluminum and steel then.
"GT-R's hybrid body construction combines steel, carbon fiber and die-cast aluminum, and features a low coefficient of drag of 0.27, while achieving high front and rear downforce," Nissan wrote then. "GT-R's four-passenger cabin features a sloping 'aero blade canopy' roofline and curved C-pillar 'sword edge,' as well as GT-R's hallmark four-ring taillights, functional rear carbon fiber underbody diffuser, rear spoiler and large, integrated quad exhaust tips."
Nissan in March said a major 2017 model year refresh included a "more rigid body structure" and "new sound absorption materials, including an acoustic glass windshield" that'll probably affect collision repair.
The vehicle is also apparently pretty awesome, based on this fun and illuminating Automotive News article released the same day as the Assured Performance news release.
"We are proud to partner once again with Nissan North America to repackage and relaunch the GT-R Certification program," Assured Performance CEO Scott Biggs said in a statement. "The GT-R vehicle is a beautifully designed super car that can go as fast as 193 MPH with amazing cornering abilities.  Our Certified network provides the best choice for GT-R vehicle owners should they need a proper and safe repair."
More information:
"2009 Nissan GT-R Press Kit: Overview"
Nissan, 2009
"Nissan GT-R undergoes significant transformation, armed with a fresh new look and more power"
Nissan, March 23, 2016
"World changes, but Nissan's GT-R still screams"
Automotive News, June 13, 2016
Share This: