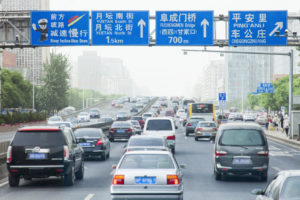 Aftermarket parts certification groups CAPA and NSF recently announced progress in two key international markets — China and South Korea.
NSF in late May said that components certified by the organization had been OK'd as able to meet the Korean Automobile Parts Association's standards, and NSF-tested items would be acceptable for substitution in South Korea. It joins CAPA, which received that blessing in 2014.
"We are pleased to provide high-quality certified aftermarket automotive parts to the Korean market," NSF auto certification Global Managing Director Bob Frayer said in a statement. "Manufacturers of NSF International certified parts will qualify for KAPA certification and as a result increase the availability of certified parts throughout Korea. For parts manufactured outside of Korea, KAPA will accept NSF certified parts and both the NSF mark and KAPA mark will be displayed on those parts."
"We expect that as we develop this well-structured certification program, high-quality aftermarket parts can be distributed though this MOU with NSF International," KAPA Chairman Seok-Won Kim said in a statement.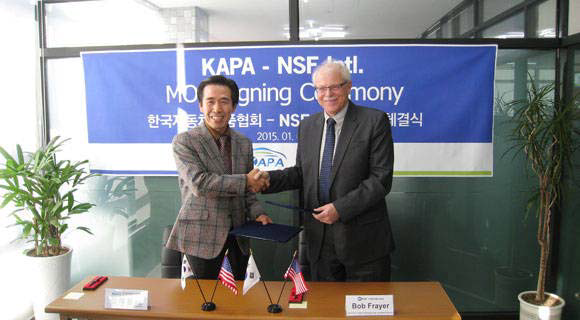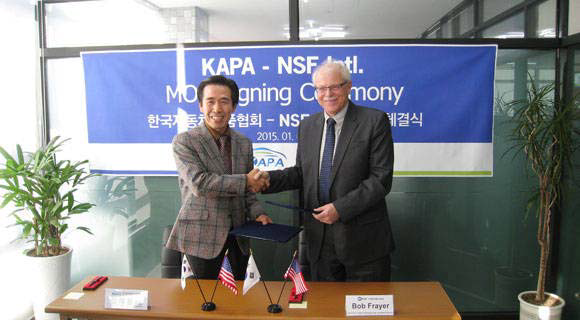 And CAPA announced this month a memorandum of understanding with the China Automotive Technology and Research Center to help develop standards for aftermarket parts in that nation.
"CAPA's vision, openness and expertise, along with that of Intertek, is greatly appreciated by the Chinese aftermarket industry," CATARC Automotive Engineering Research Institute Vice Director Jie Ma said in a statement. "We look forward to working with both groups to promote the development of part certification standards in China and providing more options for our domestic automobile industry."
"We are pleased to support the efforts to make high quality, certified aftermarket automotive parts available to Chinese consumers, collision shops and insurers," CAPA Executive Director Jack Gillis said in a statement. "We look forward to working with CATARC and Intertek to exchange information and ideas that will help develop a certification program in China."
Interestingly, unlike in the United States, the two nations' recent approval of aftermarket parts carry a level of government oversight, though of course with China nobody quite knows what that means.
The public-private CATARC administers auto standards and regulations for the Chinese government. It also runs the C-NCAP safety program, which Automotive World reported in November 2015 has made "immense progress" in closing the safety gap seen in developing countries, a sentiment echoed by TRW.
In Korea, parts must meet the Korean Automobile Parts Association's standards, which we couldn't find. However, the government-affiliated Korea Automobile Testing and Research Institute, which tests for the KNCAP safety standards, will also keep an eye on aftermarket parts.
"The Korea Automobile Testing and Research Institute(KATRI) will monitor whether the performance and quality of certified parts comply with Article 40-11 of the Enforcement Decree of the Automobile Management Act," Korea's Ministry of Land, Interior and Transport wrote in July 2015. "If certified parts fail the KATRI tests, then their certification will be forfeited."
Also unlike in the United States, only certified aftermarket parts may be used in China. CAPA reported that no aftermarket parts were allowed at all in China for insurer repairs until Jan. 1, 2015.
"Since then, the market has opened up to aftermarket parts—parts made by independent manufacturers—provided they are certified to be comparable to those made by the OEM," CAPA wrote. "Currently, several Chinese agencies are working to define those certification standards, including CATARC."
It's more difficult to ascertain the regulations on such parts in Korea, but it appears that certified aftermarket parts are the only option for imported cars — and the Korean government only loosed that restriction Jan. 1, 2015. (For domestic cars, it's
"So far in Korea, OEM parts have been dominating the repair parts market, and imported cars have been criticized for charging car owners too much to replace parts," Korea's MOLIT wrote in heralding the first certified part approved under the new system: a fender for a BMW 5-Series.
"… As a result, the Ministry of Land, Infrastructure and Transport … amended the Automobile Management Act (January 2014), and in January this year implemented the system to examine and certify the quality of competitive aftermarket parts. The change is to promote the replacement parts market so that customers can use less expensive but reliable non-OEM replacement parts."
Korea and China might discover before the U.S. flaws in the hypothesis such parts are irrelevant for safety — a hot debate in American collision repair — is flawed depending on how closely the two government-affiliated entities observe the part.
"Manufacturers of imported vehicles oppose the plan, citing safety concerns," the Korean Times reported in 2014. "But KAPA said aftermarket auto parts would be limited to fenders, hoods and covers that are not directly essential to driver safety."
However, some OEMs do treat hoods as a safety feature — if not to protect the driver, then for pedestrian safety. Korea already tracks this quality, and TRW reports that China is planning to do so. (See this great chart from World Auto Steel of international and U.S. crash test regulations.)
In any case, it appears that at least on paper, Korea and China are taking a harder line on aftermarket collision parts than the U.S., which at a governmental level doesn't formally monitor such parts — or even always require certified ones on insurance repairs.
More information:
"Korea Recognizes NSF International Automotive Parts Testing and Certification as Compliant With KAPA"
NSF, May 23, 2016
"CAPA, Intertek and China's Automotive Technology and Research Center Sign Agreement Regarding Aftermarket Parts"
Certified Automotive Parts Association, June 3, 2016
"1st certified replacement car part released"
Ministry of Land, Infrastructure and Transport, July 23, 2015
"Consumers find carmakers' parts price disclosure unsatisfying"
Korea Times, Aug. 11, 2014
Images:
Traffic in Beijing. (powerofforever/iStock)
NSF and the Korea Automobile Parts Association hold a signing ceremony to commemorate NSF parts' approval as up to KAPA standards. (Provided by NSF)
Share This: