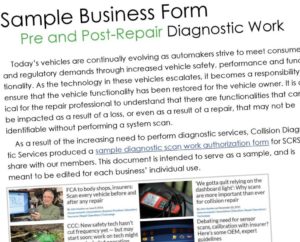 Did you see FCA's recent position statement that all vehicles must be scanned pre- and post-repair or hear about the necessity of the procedure from other collision repair experts? Wondering how to convey this to a vehicle owner (or adjuster) who doesn't grasp that a vehicle with more than a mile of wiring and millions of lines of code might need greater scrutiny than checking dash lights?
You're in luck. Collision Diagnostic Services has for a while provided a handy sample authorization form, and a copy can now be found in the June Society of Collision Repair Specialists newsletter released Wednesday (Page 20).
You'll want to discuss the precise wording your shop will use with an attorney qualified in these sorts of releases. But the document from CDS at least gives you an idea of some of the considerations involved, including:
Sometimes, there's a false diagnostic trouble code.
The collision repair facility will follow OEM procedures, and can't take responsibility for what happens if the car has aftermarket parts or mods.
The collision repairer will obtain "collect important historical vehicle data, including in some cases, the date, time and mileage of when a DTC was created." That can help tell if "a problem is accident related or pre-existing," and this could be shared with an insurer — which is only fair considering they're not liable for pre-existing damage.
Scans are recommended for every vehicle (diagnostics have been possible for more than three decades on some models, and the feds mandated OBD by 1996) and they are really recommended for "newer, highly optioned, heavily damaged vehicles," according to the diagnostic template. "Failure to do so significantly increases the risk to the vehicle owner and occupants."
"As the technology in these vehicles escalates, it becomes a responsibility to ensure that the vehicle functionality has been restored for the vehicle owner," SCRS wrote. "It is critical for the repair professional to understand that there are functionalities that can be impacted, or even as a result of a repair, that may not be identifiable without performing a system scan."
---
More RDN scan, calibration coverage
---
A shop and its technicians are responsible for ensuring a complete repair following OEM procedures and best practices. Customers rely on your expertise to restore their vehicle safely, just as they'd count on a doctor to keep their bodies running properly and safely. But as with a patient, sometimes a customer just doesn't grasp the seriousness of what you're telling them or ignores your medical opinion.
This kind of thing — again, run it by a qualified lawyer before putting it into play — can help ensure a shop is paid for the former and covered for the latter.
Other newsletter items
Besides the authorization template, check out the newsletter for a few other features of interest to shops, including remembrances of James Moy and Greg Coccaro Sr., a look at newly elected SCRS board members Dave Gruskos, Tim Ronak and Jeff Kallemeyn, and the annual SCRS award winners.
More information:
"Sample Business Form: Pre and Post-Repair Diagnostic Work"
Collision Diagnostic Services via Society of Collision Repair Specialists Newsletter, June 2016
Featured image: Collision Diagnostic Services has for a while provided a handy sample scan authorization form, and a copy can now be found in the June Society of Collision Repair Specialists newsletter released Wednesday. (Provided by SCRS)
Share This: