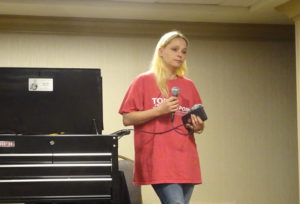 A March Taylor Memorial Fund toolbox recipient last month educated the industry about the challenges a collision vocational teacher might face in 2019.
Collision instructor Samantha McCauley's powerful acceptance speech to the Indianapolis Collision Industry Conference revealed some of the issues that might hinder educators from sending repairers technicians to fill the industrywide shortage. However, both McCauley and fund administrators also suggested ways repairers could support high school and college collision programs.
McCauley teaches high school juniors and seniors at Hammond, Ind.-based Area Career Center and is one of just five female collision instructors in the country, according to fund committee member Jeff Hendler (J.D. Hendler / Associates).
"She's a champion for her students," said Hendler, who told the CIC that the fund was giving her a toolbox and a second one for her students. Fund committee member Toby Chess said a regional manager at his employer Kent Automotive agreed to cover the second box.
Give a toolbox
The boxes contain a sander, screwdrivers, multiple pliers, a 60-piece socket set, wrenches and an impact driver, Chess told the audience.
Chess told the audience to apply online if they knew someone who wanted and deserved a toolbox. He said the fund would give them out at two Collision Industry Conferences but also throughout the year.
It was easy to donate, Chess said. Just visit www.marchtaylorfund.org and buy a toolbox, and the fund would give them out, he said.
Hendler said the fund had made it possible for a donor to buy both the box and tool set inside or just donate enough to cover one or the other. Hendler described a desire to give "hundreds, if not thousands" of toolboxes over the next feaw years
CIC Chairman Jeff Peevy (Automotive Management Institute) announced later that day that two more people had since McCauley's presentation donated enough to cover another toolbox.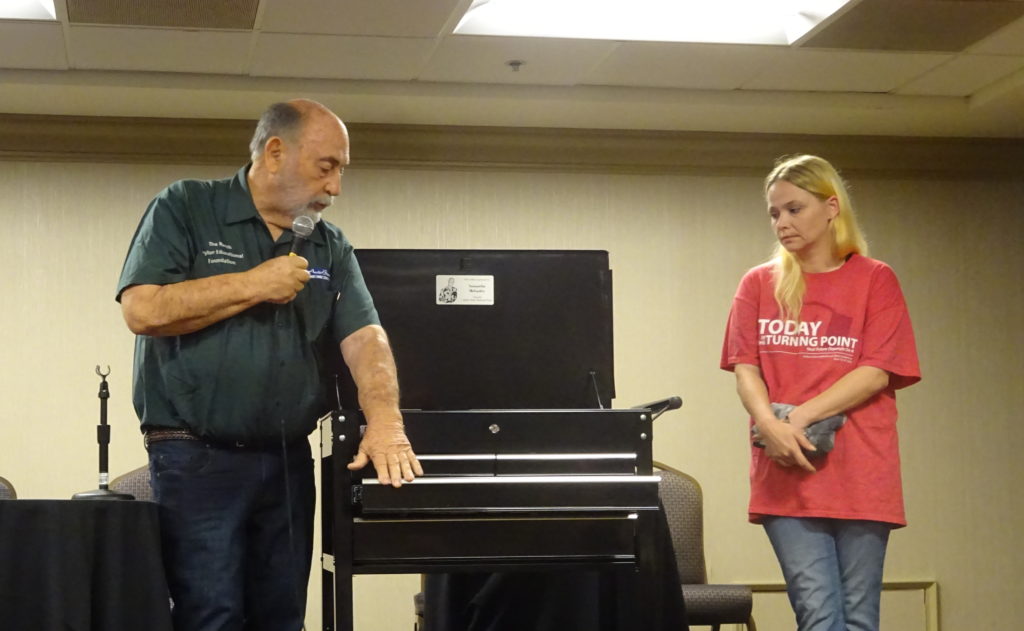 Educator's story
McCauley thanked the audience for their time and contributions to the industry.
"It's really difficult," she said. She said she teaches at her alma mater, and she's seen the collision program and programs for other industries "slowly declining."
She said the collision industry needed to expose itself to students "as much as they possibly can." She also encouraged nurturing recent hires, for many students entering classrooms are unsure if they truly want such a career.
"Employers seriously need to be more considerate when taking a student in, or a fresh graduate," she said. "A lot of 'em have a hard time making it."
McCauley she said she applied for the grant on behalf of students. The equipment wouldn't be used by just one or two students, but "possibly hundreds," she said.
It's hard to have success with equipment requisitions, she said, observing that other teachers nationwide were probably facing a similar situation.
"It gets a little bit ridiculous" trying to acquire necessities like supplies, guest speakers or companies willing to allow her collision students to visit for a tour or one-day job shadow, according to McCauley. Many teachers have difficulty finding time to request help, and they're so swamped it's difficult to make the effort, she said.
"Thank you guys so much," she said.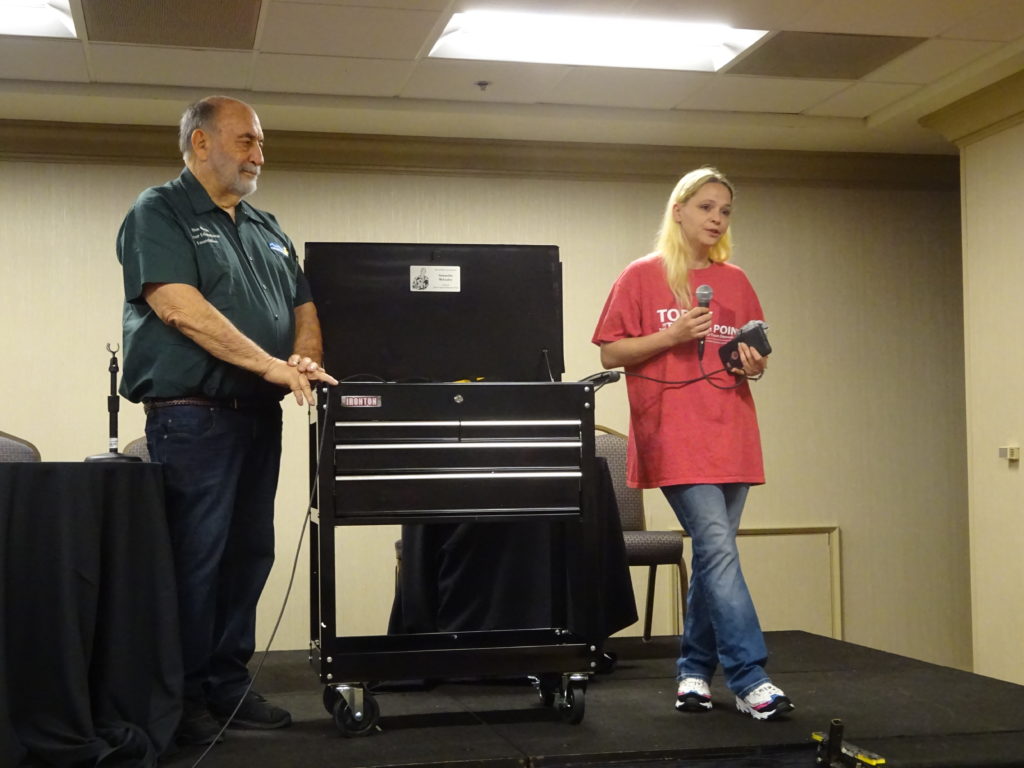 Other schools hurting
The Collision Repair Education Foundation has also described vo-tech schools facing enrollment concerns, run-down facilities (which can curtail enrollment) and insufficient lack of metal and plastic parts to practice upon. Tool and equipment donations are also welcome, collision Repair Education Foundation development director Brandon Eckenrode has said.
Eckenrode in November 2018 said his organization was receiving more calls from quality trade programs facing shutdown if enrollment doesn't grow.
"I can't tell you guys enough" that these CREF calls are "unfortunately happening more and more," Eckenrode told the Collision Industry Conference audience.
"It's almost, we're in a crisis mode," Eckenrode said then.
He said CREF planned to help make the schools more "attractive programs to learn in." Many markets are starting with tours by middle schoolers, and a "clean, professional-looking program" can go a long way towards fostering interest in the trade program, according to Eckenrode. In many technical schools, there's not enough money for such upgrades — evoking the need for a "tetanus shot" in one's mind instead, according to Eckenrode.
More information:
Collision Repair Education Foundation
Images:
Samantha McCauley of Hammond, Ind.-based Area Career Center speaks July 25, 2019, during a Collision Industry Conference event celebrating the March Taylor Memorial Fund having provided her and students with two toolboxes. (John Huetter/Repairer Driven News)
March Taylor Memorial Fund committee member Toby Chess (Kent Automotive), left, speaks during a July 25, 2019, session celebrating the fund presenting two toolboxes to Samantha McCauley and her students at Hammond, Ind.-based Area Career Center. (John Huetter/Repairer Driven News)
March Taylor Memorial Fund committee member Toby Chess (Kent Automotive) listens as fund toolbox recipient Samantha McCauley of Hammond, Ind.-based Area Career Center speaks July 25, 2019. The fund provided her and students with two toolboxes. (John Huetter/Repairer Driven News)
Share This: