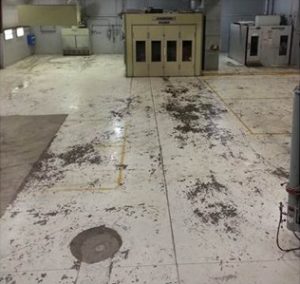 The Collision Repair Education Foundation last month announced an industrywide initiative to refinish 100 vo-tech collision program floors in 75 days.
The "#100Floors75Days" effort is meant to redo the floors on the campuses with epoxy coatings while students are away for the summer. CREF said it would also work on floors during winter break.
"The freshly refinished floors will increase the professional appearance of school collision programs, helping to attract students to careers in the collision industry," CREF wrote in a news release June 18.
CREF said the work would continue during winter break too.
The 100 floors are spread across 23 states. See if a school in your area needs a floor by checking CREF's list here. Some of your competitors might have already claimed a facility, but many locations remained unsponsored as of Tuesday.
CREF development director Brandon Eckenrode told the Collision Industry Conference last year that many vo-tech schools haven't been touched since the 1960s-80s, he said. "They honestly look like dungeons," he said in April.
That doesn't sound likely to make a student want to sign up for a collision repair class or degree or convince a parent that either would be a good career move.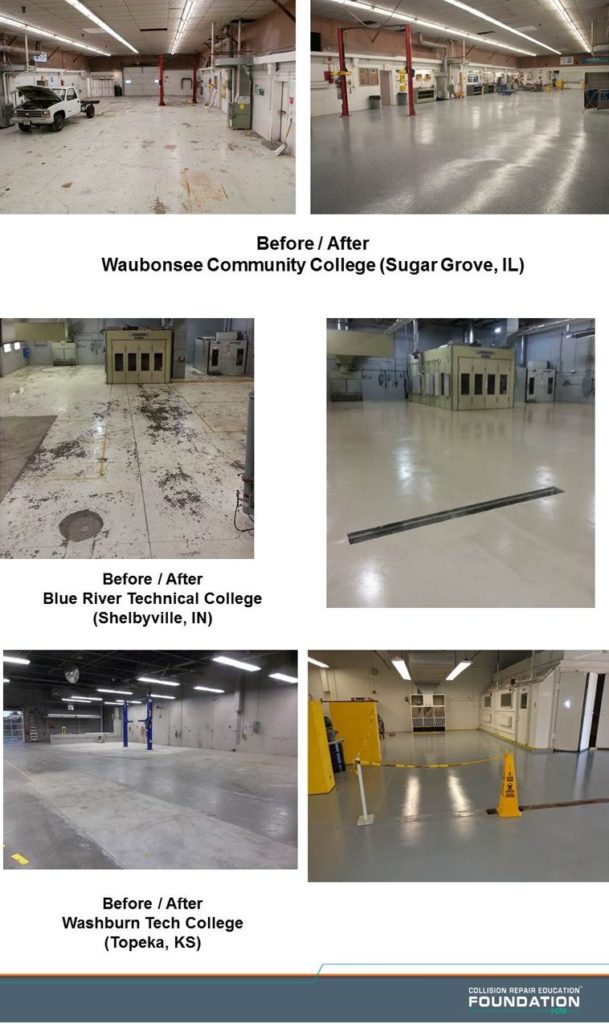 Before-and-after photos posted on CREF's website show a remarkable difference in the floors of Blue River Technical College (Shelbyville, Ind.), Washburn Tech College (Topeka, Kan.), Waubonsee Community College (Sugar Grove, Ill.)
CREF said the school will receive a banner with sponsors' names upon it.
If you're hurting for techs and a nearby school is hurting for a floor, sponsoring the latter might help pitch your workplace to the students. Floor costs as of Tuesday ranged from $500 for individual schools in Florida, Pennsylvania and New Hampshire to $21,300 for the Prosser Career Education Center in New Albany, Ind. Many are just a few thousand dollars.
More information:
"COLLISION REPAIR EDUCATION FOUNDATION LAUNCHES #100FLOORS75DAYS SCHOOL IMPROVEMENT PROJECT"
Collision Repair Education Foundation, June 18, 2019
#100Floors75Days summer 2019 list of facilities and sponsors
Collision Repair Education Foundation, June 12, 2019
Images:
The Collision Repair Education Foundation last month announced an industrywide initiative to refinish 100 vo-tech collision program floors in 75 days. Before-and-after photos posted on CREF's website show what kind of difference a sponsor might make. Seen here is the "before" of Blue River Technical College in Shelbyville, Ind. (Provided by CREF)
The Collision Repair Education Foundation last month announced an industrywide initiative to refinish 100 vo-tech collision program floors in 75 days. Before-and-after photos posted on CREF's website show a remarkable difference in the floors of Blue River Technical College (Shelbyville, Ind.), Washburn Tech College (Topeka, Kan.), Waubonsee Community College (Sugar Grove, Ill.) (Provided by CREF)
Share This: