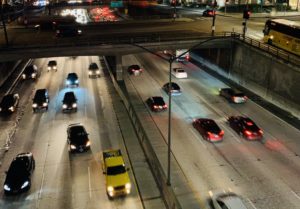 More vehicles are on the road, but they're getting older, according to IHS Markit data released last week.
The average light vehicle age rose again to 11.8 years, though the aging process has slowed over the past few years, IHS Markit said June 27.
"Better technology and overall vehicle quality improvements continue to be key drivers of the rising average vehicle age over time," IHS Markit global automotive aftermarket practice director Mark Seng said in a statement. "The 40 percent drop in new vehicle sales due to the recession created an acceleration in average age like we've never seen before. In the last couple of years, however, average age has returned to its more traditional rate of increase."
Older vehicles are great for mechanics but more likely to be worth less than the cost to perform a collision repair, and CCC director and analyst Susanna Gotsch on Wednesday said the information provider expected more totals.
"Data from IHS Automotive does show the average vehicle age growing again, and the vehicle fleet continues to shift older, with over 44% of the vehicles-in-use (VIU) aged 12-years plus in 2019 versus 40% in CY2014," Gotsch wrote in an email when asked about the recent IHS Markit statistics and sales data from Edmunds. "… With more vehicles in the older segment, and repair costs rising faster than residual values are, we expect to see further but smaller increases in total loss frequency than what we've seen over the past 4 years."
She did note that more people are filing claims on older vehicles, however.
"Claims and repair mix tends to be newer (many people don't bother to insure/fix the oldest vehicles), but claims have also has seen that 12+ year old segment of vehicles grow," she wrote. Claims involving 12-year or older vehicles have grown from 17 percent of the pool five years ago to what is estimated to be 19 percent this year, according to Gotsch.
The average totaled vehicle in 2018 was 9.66 years old, according to Gotsch and CCC's 2019 "Crash Course." The average repairable vehicle was 5.9 years old last year.
IHS predicted significant growth in vehicles six years and older.
"According to IHS Markit, the shifting dynamic of the age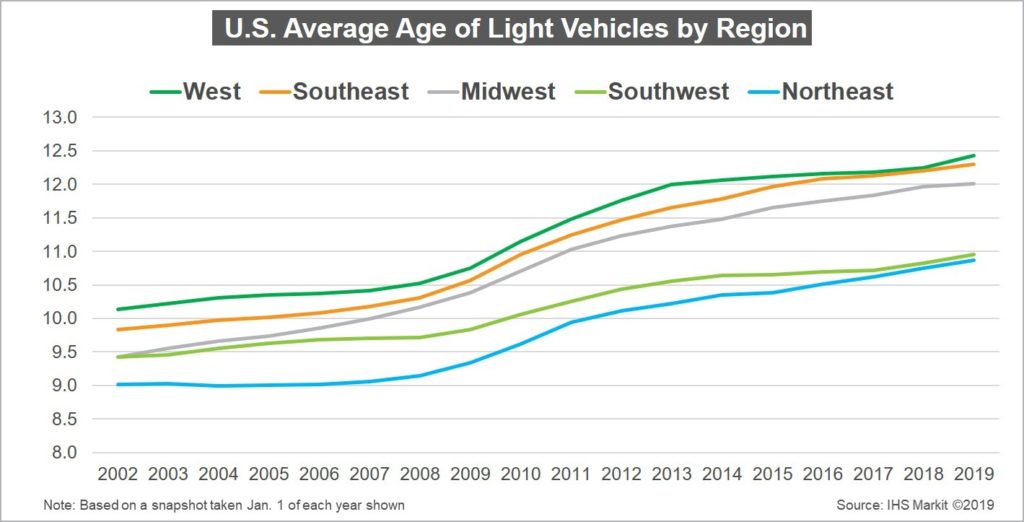 of vehicles in operation indicates the volumes of vehicles in the new to five-year old category will grow 2 percent from 2018-2023, while vehicles in the 6-11 year old range will grow 27 percent," IHS Markit wrote. Vehicles 12-15 years old were forecast to drop 27 percent, but that just reflects the recession, according the research firm.
"While the decrease in light vehicles 12-15 years of age looks alarming, it relates to the drop in sales due to the recession," Seng said in a statement. "There is simply a lack of 2008 and 2009 model year vehicles due to the lower sales numbers during that timeframe. Even the model years from early in the recovery are lower in number. This disruption simply needs time to work its way through the fleet."
Light truck sales (which include crossovers and SUVs under IHS Markit's definition) are so hot right now that their segment only aged 0.1 percent. Cars, meanwhile grew older by 2.2 percent.
IHS Markit said it broke down trends by region for the first time this year. The West's vehicles were the oldest at 12.4 years, up 1.5 percent from 2018, while the Northeast was youngest at 10.9 years.
Older vehicles and auto sales brought the light vehicle fleet to what IHS Markit called a record more than 278 million cars, trucks and SUVs in operation — a gain of 2.2 percent.
"This represents one of the highest annual increases the U.S. auto industry has seen since IHS Markit began tracking VIO growth – second only to the 2.3 percent growth in 2016," IHS Markit wrote.
OEMs sold 17.3 million new vehicles in 2018, up 0.4 percent from 2017, according to Edmunds. But sales are down 2.4 percent through May 2019, Edmunds said just one day before the IHS Markit report.
Edmunds' Midyear Report still predicted 16.9 million new vehicles would be sold in 2019, the same forecast it had Jan. 1.
"Automakers are fighting a war on multiple fronts right now: Old cars are piling up on dealer lots, a glut of affordable off-lease vehicles are luring shoppers into the used market, and even with the Fed anticipated to lower rates in July, higher interest rates are here to stay," Edmunds industry analysis manager Jeremy Acevedo said in a statement. "Strong economic indicators such as consumer confidence and low unemployment are keeping sales at historically elevated levels, but automakers have also been relying a little too heavily on fleet sales to keep these numbers up as well, which isn't a sustainable model."
Gotsch said CCC predicted claims to fall because of vehicle sales and other macroeconomic statistics — as weil as a "small but meaningful" contribution from advanced driver assistance systems.
"Overall we expect claims volume to continue to fall slowly – based on the insurance Fast Track data as well as what we see across our customers," Gotsch wrote.
She said car sales peaked at 17.55 million in 2016, with possibly 1.2 million fewer new vehicles entering  the market from 2017 through the end of 2019.
"Miles driven is not seeing the big increases like those in 2015-2016, and data on miles driven annually per vehicle as well as e-commerce sales suggest much of the growth in miles driven may be coming from commercial travel, not personal," Gotsch wrote. "And we believe ADAS is starting to help reduce accident frequency in small but meaningful manner."
"However, the U.S. market still added 17M or more vehicles annually over the last 4 years; sales are expected to come close to that in 2019; and the number of vehicles scrapped compared to the new passenger vehicles registered annually hit its lowest number since 2018.  So, the overall population of vehicles is still growing, so even a small decline in frequency (# of claims per 100 vehicles insured) should be tempered and not lead to a huge decline in accidents."
In other interesting tidbits, Edmunds also reported that lease penetration hit 32.2 percent through May 2019 — "the highest Edmunds has on record since 2002."
More information:
"Average Age of Cars and Light Trucks in U.S. Rises Again in 2019 to 11.8 Years, IHS Markit Says"
IHS Markit, June 27, 2019
"Automakers Confront an Uncertain New Vehicle Market in 2019, According to New Edmunds Report"
Edmunds, June 26, 2019
Images:
Traffic moves in Los Angeles in December 2018. (anouchka/iStock)
IHS Markit in June 2019 reported average light vehicle ages in various U.S. regions. The West proved the oldest with an average of 12.4 years. (Provided by IHS Markit)
Share This: