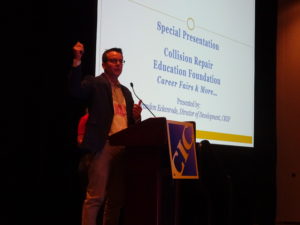 Collision Repair Education Foundation development director Brandon Eckenrode on Tuesday said his organization is receiving more calls from quality trade programs facing shutdown if collision enrollment doesn't grow.
"I can't tell you guys enough" that these CREF calls are "unfortunately happening more and more," Eckenrode told the Collision Industry Conference audience.
"Now, more than ever," industry charitable support is needed, he said.
"It's almost, we're in a crisis mode," Eckenrode said.
He touched on ways collision repairers and others could help.
One way would be to donate to CREF, which could funnel aid to schools. Eckenrode said the organization planned to help make the schools more "attractive programs to learn in."
He said it's amazing how even a new coat of paint "goes a long way."
Many markets are starting with tours by middle schoolers, and a "clean, professional-looking program" can go a long way towards fostering interest in the trade program, according to Eckenrode. In many technical schools, there's not enough money for such upgrades — evoking the need for a "tetanus shot" in one's mind instead, according to Eckenrode.
We don't want "the leftovers" to be the only ones who enter these trade programs, he said; we want the best of the best.
Donated parts, equipment and tools can also help, according to Eckenrode.
Eckenrode brought a symbol of the kind of students and schools that need the industry's help: Jo Boden, a collision repair and refinish student at Aims Community College in Colorado.
Boden said she started working on muscle cars at an early age — buying her first project car, a 1982 Chevrolet K5 Blazer, at the age of 14.
Working on the Blazer, "I fell in love with restoration," she said.
She enrolled at Aims her senior year in high school despite having "no clue" what collision repair was, picking the school in part because of its drag racing team.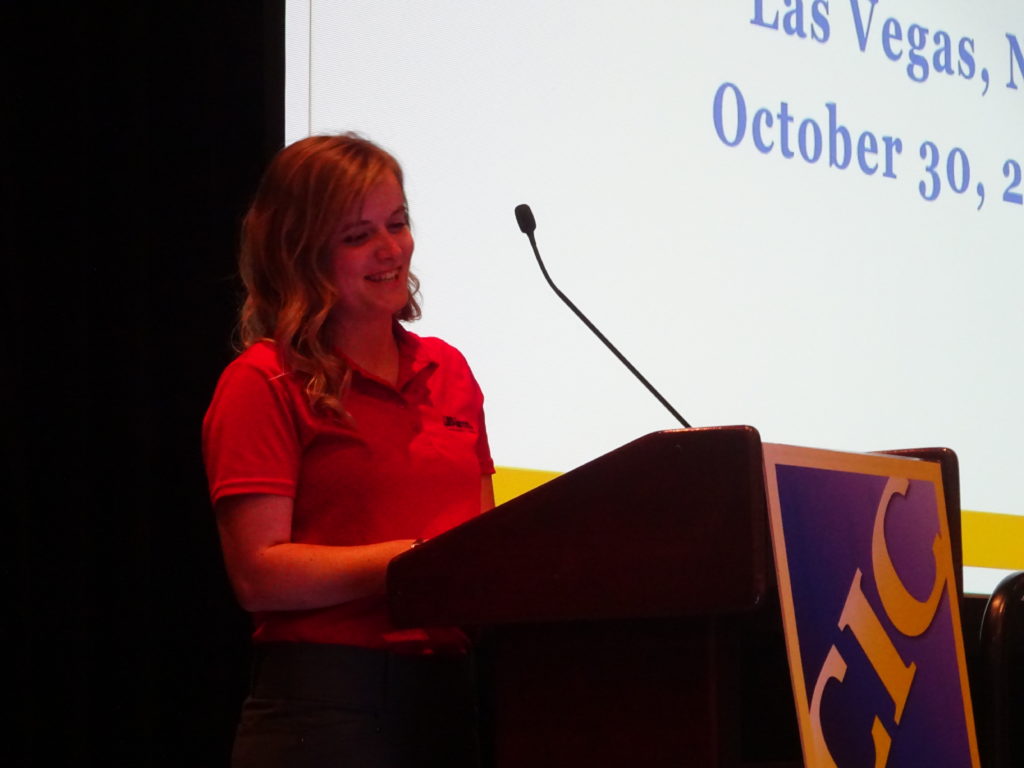 Boden decided to compete in SkillsUSA, winning her state-level first place in high school collision repair with a higher score than the college state winner. At nationals, she took home the bronze and was the only female on the podium at either the high school or college level.
She said she seeks to get her associate's at Aims and someday become "nationally known" in muscle car restorations and custom work.
The 3M and CREF Hire Our Heroes scholarship helped her continue school. "I would not be able to do so without it," she said.
Career fairs
Eckenrode also provided an update on the CREF career fairs, another important technician resource he indicated could use more collision industry assistance.
CREF hosts about 20 career fairs throughout the year, and two more are planned before the end of the year: Nov. 27 in New York and Dec. 6 in Ohio. He said they're expected to average close to 500-600 students.
Confronted with a tech shortage, auto body shops had told the organization they wanted a bigger candidate pool at the career fairs. CREF obliged by expanding the scope of the fair from collision-only to "transportation," inviting students from mechanical repair, auto service, heavy-duty and diesel vo-tech programs to attend.
Unfortunately, amid all the talk of tech shortages, Eckenrode also noted Tuesday that CREF doesn't see as much collision industry participation at the career fairs as it would like. He asked shops who couldn't make it to the job events to at least help promote them.
"That's gonna be a good starting ground," he said.
2019 career fairs scheduled to date include events in Miami, Fla., on Feb. 27, 2019; Tampa and Orlando, Fla, Feb. 28, 2019; San Antonio, Texas, March 6, 2019; Phoeniz, Ariz., April 6, 2019; Nashville, Tenn. (during CIC Week!), April 17, 2019; Philadelphia, Pa., May 8, 2019. Other fair locations announced so far are Dallas and Houston, Texas; both Northern and Southern California; Atlanta, Ga.; Detroit, Mich.; and Chicago, Ill.
Attendance and promotion of the career fairs would be "greatly appreciated," Eckenrode said.
There's one cool way you can help CREF without really having to do anything at all. Don't forget that the organization is one of the charities recognized by AmazonSmile.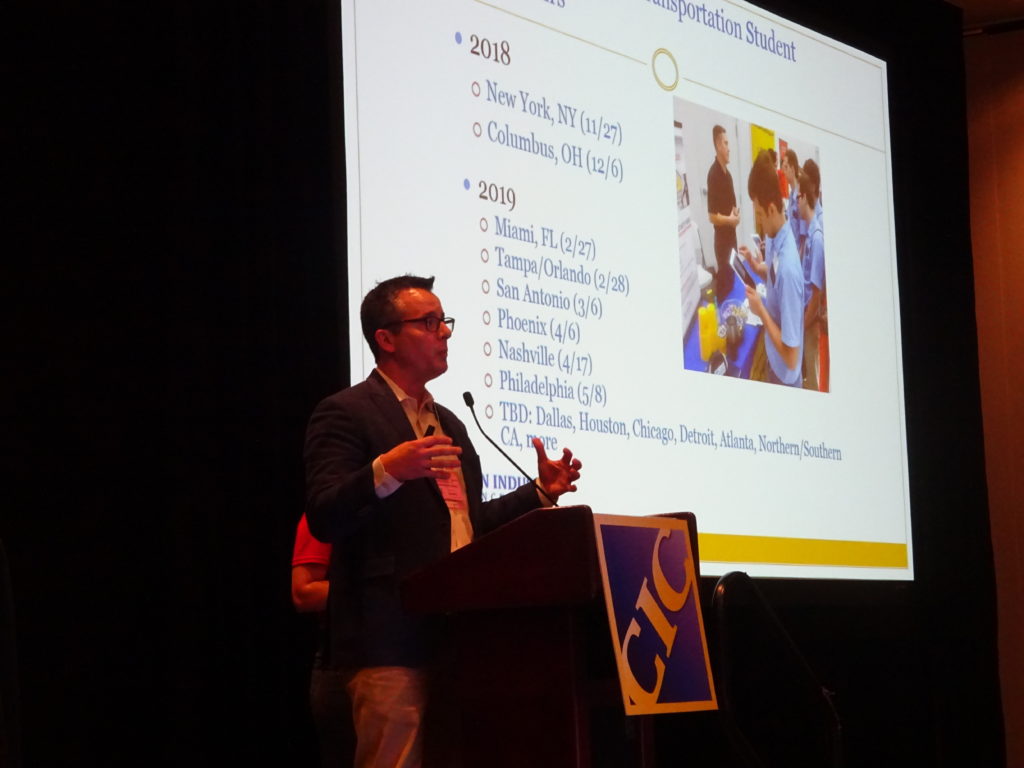 Instead of shopping on www.amazon.com or the Amazon app, use smile.amazon.com as your URL. Amazon set it up as identical to its traditional website, except the online retail giant donates 0.5 percent of your spending to your preferred charity. (You're not spending more; Amazon's just keeping less for itself.)
Here's how to set up your account so Amazon will donate to CREF:
Visit smile.amazon.com.
Sign in with your Amazon login or create a new login.
Hover over your account, select "Your AmazonSmile," and then "Change charity."
Search for "Collision Repair Education Foundation" and select it.
Then buy stuff on Amazon like you normally would, and Amazon will start funneling money to CREF.
More information:
AmazonSmile version of Amazon site
Collision Repair Education Foundation website
Collision Repair Education Foundation donations
Images:
Collision Repair Education Foundation development director Brandon Eckenrode on Oct. 30, 2018, used the metaphor of a soccer warning yellow card to discuss the threat to vo-tech collision programs before the Collision Industry Conference. (John Huetter/Repairer Driven News)
Aims Community College collision repair student and 2018 SkillsUSA bronze medalist Jo Boden spoke Oct. 30, 2018, to the Collision Industry Conference. (John Huetter/Repairer Driven News)
Collision Repair Education Foundation development director Brandon Eckenrode spoke Oct. 30, 2018, to the Collision Industry Conference. (John Huetter/Repairer Driven News)
Share This: