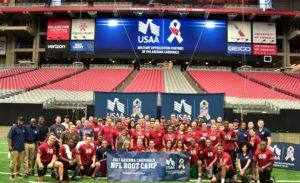 USAA has told direct repair program auto body shops to expect "a greater number of change requests" as it begins to review more estimates.
The insurer outlined the new policy in a memo to its "STARS" network. A copy of the document was shared with Repairer Driven News.
USAA said Thursday it had no comment on the contents of the document.
According to the document, the push to review more estimates was to have begun this month.
"Estimate accuracy is a very important aspect of the service we provide to our membership, ensuring they get their vehicles repaired quickly and correctly," USAA wrote. "Beginning in September, USAA will be increasing the number of estimates that are routed for review. This is being done to identify trends and other opportunities for improvement across the STARS network, with the ultimate goal of improving the overall estimate accuracy rate for USAA auto claim estimates."
However, USAA then said any change requests would involve line items "that violate internal USAA vehicle repair guidelines," a concept which might not be synonymous with what a consumer would consider accuracy. (As noted above, USAA declined to comment on what it viewed as guideline violations or what change requests would be common.)
"As more estimates are routed for review, you should expect to receive a greater number of change requests," USAA wrote. The individuals performing the reviews have clear specifications to assess when reviewing estimates, and the changes requested are due to items on the estimate that violate internal USAA vehicle repair guidelines."
---
Learn more about OEM, insurer networks at Repairer Driven Education
Find out more at SEMA about joining automaker or insurer collision repair networks by attending "Is there a future in DRP?" with Pete Tagliapietra of NuGen IT and "Do I, or don't I? OEM certifications" with Jeff Wildman of BASF, Tim Kilkeary of Kilkeary's Auto Body and Austin Fife of Bentley. The sessions are part of the Society of Collision Repair Specialists Repairer Driven Education Series running Nov. 4-8. Register here for individual courses or the series pass package deal, which includes the entire week of classes, all three parts of the OEM Summit, IDEAS Collide and the Nov. 7 Sky Villa afterparty.

---
USAA told the body shops to accept the changes quickly and correct their practices if necessary to "prevent future error."
"Timely acceptance of these changes is expected to prevent delays in payment and completion of repairs," the insurer wrote. "Any questions regarding USAA guidelines can be directed to the USAA Physical Damage Specialists (PDS) assigned to your shop. In addition to accepting the requested changes, you should also review your shop procedures to determine training, procedure corrections, or other activities that will prevent future errors."
It said compliance would help USAA and the shops while giving policyholders "optimum value."
"The relationship between USAA and STARS Shops is a critical part of the unique and specialized service we deliver to our members, and a key driver in their satisfaction and loyalty," USAA wrote. "As we work together to deliver optimum value to these members, we will see a reduction of errors in the estimate writing process and will result in benefits to both USAA and our valued STARS partners."
Featured image: Participants and facilitators pose Aug. 14, 2019, at a "boot camp" event for service members hosted by the Arizona Cardinals and USAA. (Tech. Sgt. Louis Vega Jr./U.S. Air Force)
Share This: