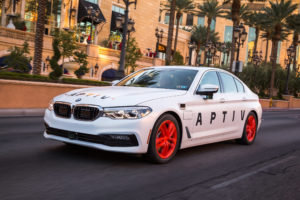 Hyundai on Monday said a new $4 billion joint venture with Aptiv would produce a "production-ready autonomous driving platform available for robotaxi providers, fleet operators, and automotive manufacturers" by 2022.
Hyundai and Aptiv will each own half the company, which Hyundai predicted would start testing autonomous vehicles next year. The agreement on the new company was expected to close in the second quarter of 2020.
Hyundai said it would put up $1.6 billion and $400 million worth of intellectual property, engineering and R&D. Aptiv will put up its technology, intellectual property, and about 700 employees.
Aurora
The announcement of Hyundai's $2 billion investment in the new company came just a few months after the OEM in June announced it and Kia would invest more money into autonomy partner Aurora. Aurora said June 12 the funding was part of more than $600 million raised during a Series B round.
Hyundai and Kia had been working with Aurora since 2018 on self-driving fuel-cell NEXOs, and Hyundai in June repeated its 2018 prediction that this effort would yield commercialized Level 4 autonomous vehicles by 2021.
"With the new investment, the companies have agreed to expand research to a wide range of models and to build an optimal platform for Hyundai and Kia's autonomous vehicles," Hyundai wrote June 12.
The Aurora Driver system "comprises the lidar, radar, and cameras that perceive the world around it and the computer that runs the software modules, enabling it to make sense of the world and plan a safe path through it."
We asked Hyundai if this 2021 target date had been changed to 2022, given its Monday reference to a commercial platform in the latter year.
"The JV's (and Hyundai's) current timeline for production of driving platforms for robotaxi providers, fleet operators, and automotive manufacturers is 2022," spokesman Brian Im wrote in an email Tuesday. (Emphasis his.)
"Meanwhile, Hyundai Motor Group's timeline for full-scale mass production of autonomous vehicles is 2024, and we believe the newly established JV will help accelerate our effort toward this goal."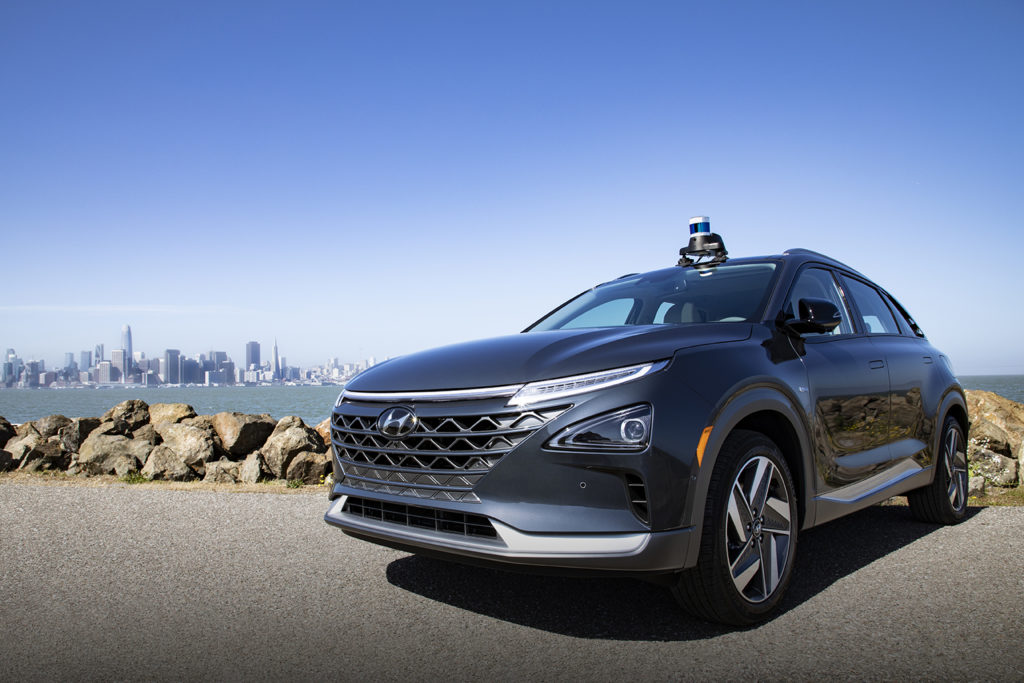 Aptiv and architecture
Reuters on Monday reported a Navigant analysis ranked Aptiv No. 4 among autonomous system designers, behind Google/Waymo, General Motors and Ford. The company has more than 100 self-driving cars across the world, including in what Hyundai called "the largest commercial deployment of autonomous vehicles in Las Vegas with a ride-hailing network."
Aptiv offers a self-driving vehicle architecture and in 2018 described being able to integrate a massive amount of sensors more aesthetically than competing self-driving systems. The latter could have an effect on collision repair if that's the route Hyundai and Kia ultimately take.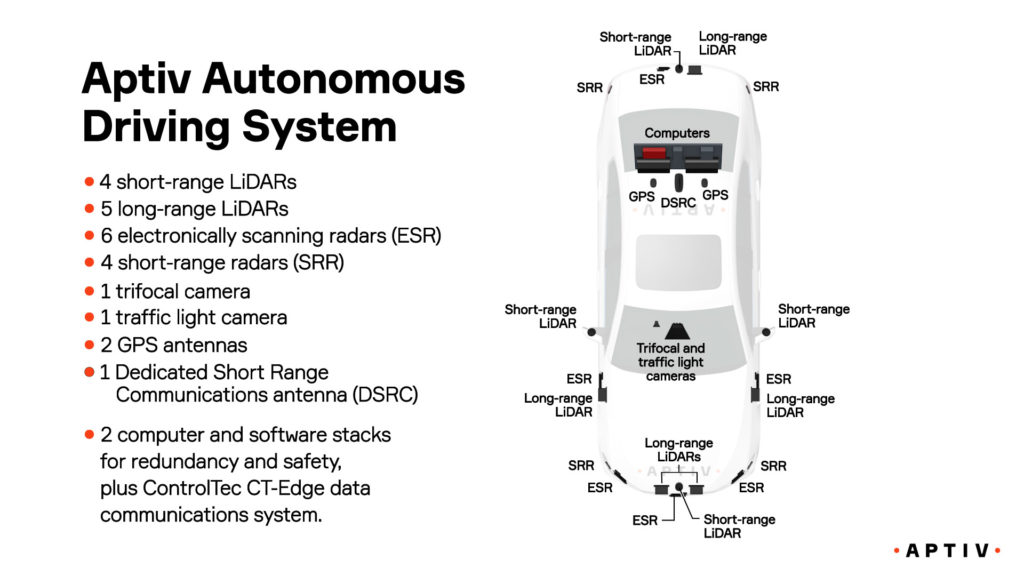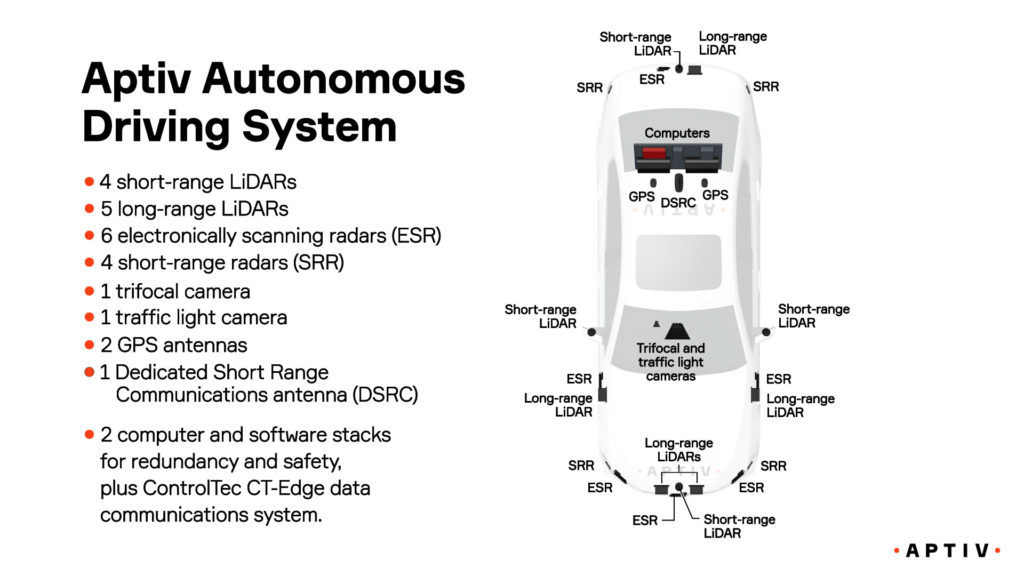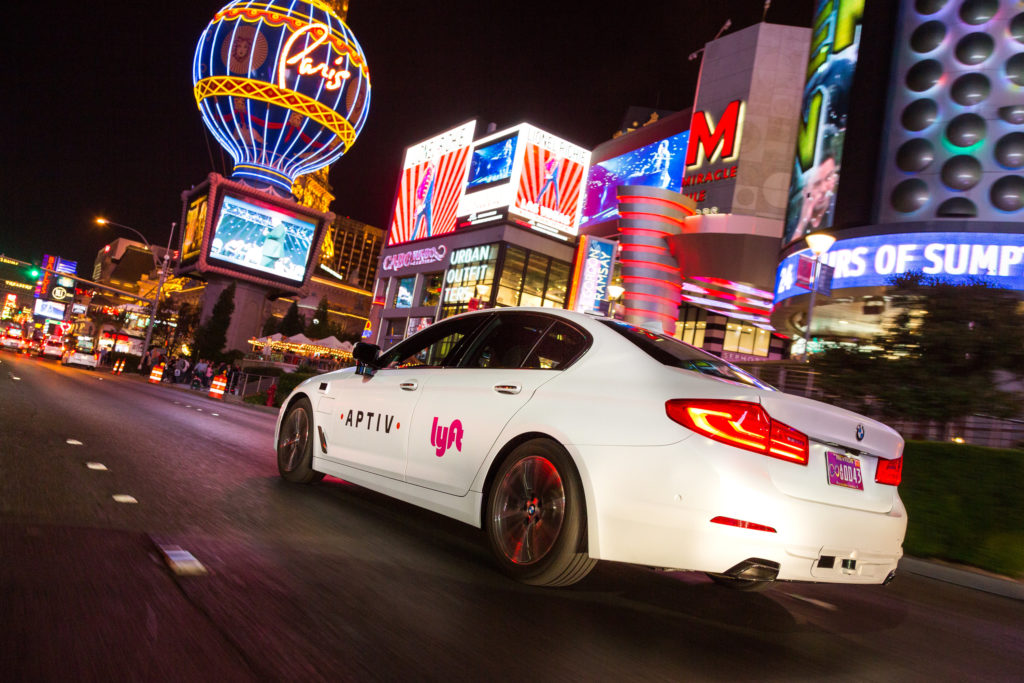 It's also interesting to read Aptiv's June 21, 2018, recap of the growth of electrical architecture in vehicles and what it perceives as the scope of electrical architecture needed to pull off a self-driving car.
It shows the level of care repairers might need on modern vehicles, to say nothing of autonomous ones.  (For example, protecting outlets and removing even more items when welding.)
In the 2000s, low-voltage architecture, connectors and cut leads (circuits) increased, but high-voltage systems were nonexistent and data was relatively minimal, according to Aptiv. But by the 2010s, high-voltage systems and data skyrocketed. These and other systems intensify in the 2020s, according to the manufacturer.
"Jump ahead to 2018 where the car needs to transfer 15,000 pieces of data in the blink of an eye," Aptiv wrote in 2018. "Within just a couple of years, by 2020, that will jump to 100,000 pieces of data."
Aptiv said wire was just one way to transmit data, and "we may also use WiFi, fiber optics, coax cables, wireless, Bluetooth, automotive Ethernet, HDBaseT – you name it."
The company said its system offered significant redundancy — redundancy a collision repairer would have to preserve should they work on such a vehicle.
"Aptiv's smart vehicle architecture has a three-layer fail operational design," the manufacturer wrote. "This approach to system design considers power failure, network failure and even compute failure. It also has the ability to dynamically re-route power, network traffic and even decision making to bring an autonomous car to a safe stop. Our extensive system design expertise covering all three layers delivers the necessary IP for fail-safe operation, the foundation for any smart vehicle architecture."
Aptiv last week predicted autonomy without a backup safety driver would be possible by 2022, "in limited geo-fenced areas and under the strictest of operating conditions."
It felt conditions where self-driving cars could operate safely would start to expand as early as 2025, and OEMs would start selling autonomous vehicles to the public by 2030.
More information:
"Hyundai Motor Group and Aptiv to Form Autonomous Driving Joint Venture"
Hyundai, Sept. 23, 2019
"Hyundai and Kia Announce Investment in Aurora"
Hyundai, June 13, 2019
Aptiv, Sept. 18, 2019
"Evolution of Vehicle Architecture"
Aptiv, June 21, 2018
Images:
An autonomous Aptiv car is seen in Las Vegas Dec. 1, 2017. (Photo by John F. Martin for APTIV)
"Aptiv's automated driving technology is seamlessly integrated into any design without cumbersome sensors on the top or sides of the vehicle, unlike many other automated vehicles on the road today," Aptiv wrote in a January 2018 news release. (Provided by Aptiv)
A Hyundai NEXO sports Aurora self-driving technology. (Provided by Hyundai)
Share This: