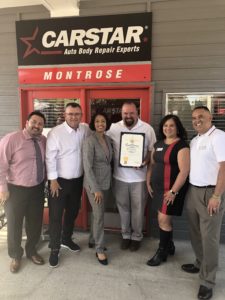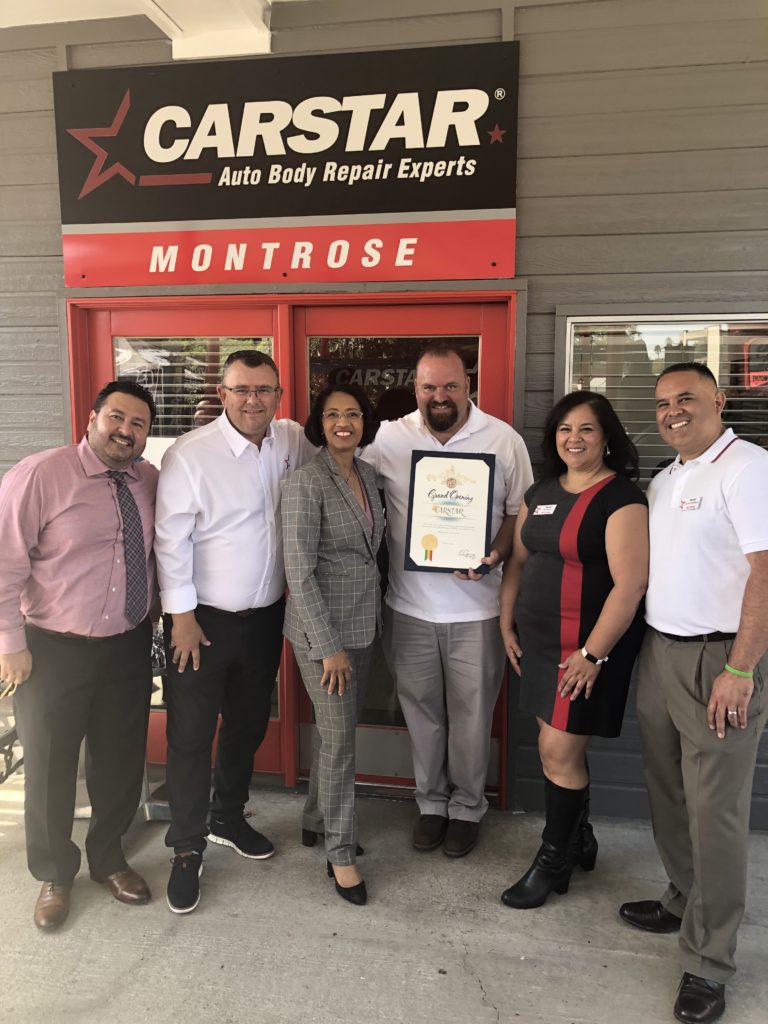 CARSTAR on Wednesday celebrated reaching 700 shops at California's CARSTAR Montrose and described the potential for significant future expansion within the Golden State.
CARSTAR director of West Coast development Brian Newberry said the chain had "52 and counting" locations in California and called growth there "remarkable." Asked what kind of market penetration that represented, Newberry said the company still felt like there was "quite a large opportunity ahead" in the state.
"We feel like almost every community should have a CARSTAR body shop within it, a trade area," Newberry said. "… We see growth well over a hundred stores in California."
CARSTAR spokeswoman Debby Robinson noted that CARSTAR development Vice President Dave Foster had said at the beginning of the year that CARSTAR would grow in California.
Foster said CARSTAR made a "strategic decision" to enter California "in the right way."
He said the franchise wanted to grow in the right way with the right partners, rather than grow at any cost.
"We're putting our foot on the accelerator," Foster said, calling the company's momentum in California "massive."
The three-shop World Class Management MSO whose addition brought CARSTAR to the 700-shop benchmark hinted it might contribute to that growth itself.
As California is one of the largest collision markets of the country or perhaps the world, "we saw a huge opportunity to join with the CARSTAR family and see the market really grow over the next couple years, and really do everything we can (at) our locations — and potentially a couple more in the near future — to just do our part,"  Daniel Panduro, one of the owners of CARSTAR North Glendale, CARSTAR Sun Valley and CARSTAR Montrose, said Wednesday.
Fellow owner Sandy Panduro said they were "very honored" to be part of CARSTAR and the "the growth that we see coming to California."
Owner Brian Frame said he was very excited to partner with CARSTAR and use the tools it provided to franchisees to grow the market and expand World Class' operations.
"They really understand what we need to do that," he said.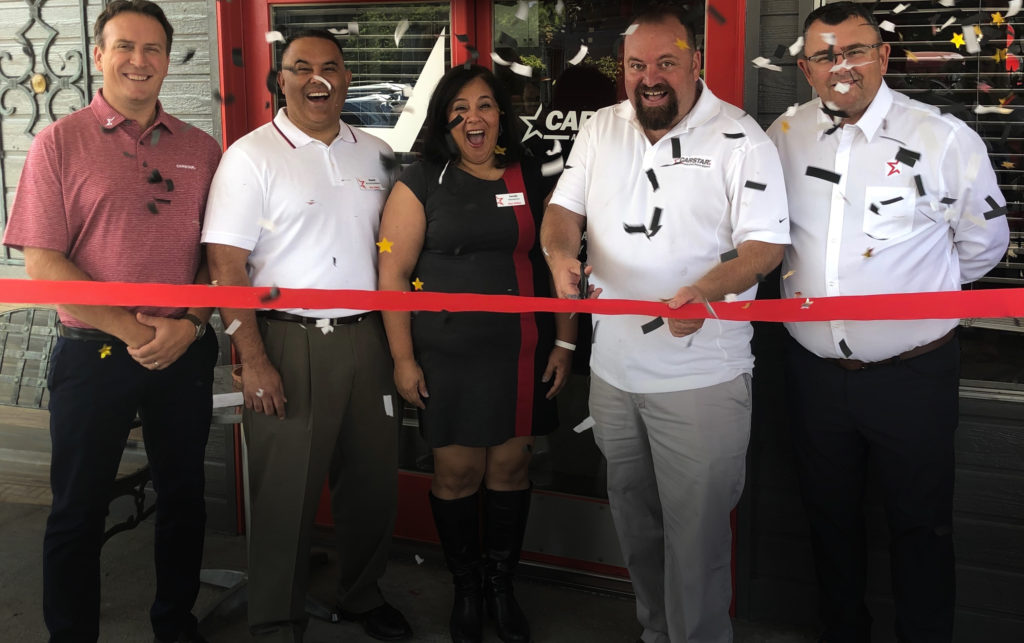 1,000 shops
Michael Macaluso, president of parent Driven Brands' Collision Group, said reaching 700 shops was "something truly special" and an "incredible milestone."
It also puts CARSTAR 300 away from its goal of 1,000 shops in the U.S. and Canada combined by 2021. The company has more than 8,000 employees and a presence in 35 states and 10 provinces.
At around the 500-shop benchmark, CARSTAR's facilities were fairly split between the U.S. and Canada. Asked Wednesday if this was still the case at 700 shops, Foster said it was "more U.S.-based now." He anticipated 80 percent of growth or more would come from the U.S. in the future.
Foster projected CARSTAR to reach 1,000 shops in late 2021, though it could be sooner. "We're growing fast," he said.
Macaluso said the target was 2021 and CARSTAR saw more than 80 percent of this growth from the U.S., where "remarkable opportunity" existed. Insurers showed support, and MSOs looked to join the system, and this could indeed bring CARSTAR to 1,000 shops "even sooner," Macaluso said.
---
Learn how to keep competitive amid growing MSOs at Repairer Driven Education
Consolidation is a reality. Get tips at SEMA on how to stay competitive as an independent with "Position yourself for sustainability" by John Shoemaker, BASF; "CRUSHING IT!" with Matthew McDonnell, Big Sky Collision Center, and Ryan Taylor, Bodyshop Booster; "Why your collision center should be texting," with Tyler Brunatti, Podium; and "Be your own Berkshire" with Scott Broaddus, Virginia Asset Management. The sessions are part of the Society of Collision Repair Specialists Repairer Driven Education Series running Nov. 4-8. Register here for individual courses or the series pass package deal, which includes the entire week of classes, all three parts of the OEM Summit, IDEAS Collide and the Nov. 7 Sky Villa afterparty.

---
Scale
A larger footprint can make it easier for CARSTAR's franchised owners to do business because of factors like economies of scale and volume discounts.
Asked for perspective on what growth thresholds triggered better conditions for CARSTAR's individual shops (for example, at 100 shops, paint becomes cheaper), both Newberry and CARSTAR President Dean Fisher discussed the concept on more macro terms.
Newberry said every shop added across all Driven Brands companies but particularly CARSTAR increased scale to all franchisees. He called it important to build density around existing shops so they can collaborate in a local business group to further growth.
"I think that we continue to see strength in numbers," Fisher said.
He said Driven Brands had a collision repair vertical that worked in a shared service platform. The company strengthened vendor relationships throughout the network and even by leveraging some of the other Driven Brands franchises.
Fisher said "there's definitely opportunities for" an independent CARSTAR store to receive the help of certain vendor, management and insurance controls.
Regarding scale, Fisher said sometimes the company will scale when stores or the industry present demand, and it might also scale to meet insurer needs in a particular market. "And then of course there's other markets that we identify that we feel might benefit from our opportunity," he said.
CARSTAR commemorated its 700th location at CARSTAR Montrose on Oct. 9, 2019. (Provided by CARSTAR)
From left, CARSTAR West Coast development director Brian Newberry; Daniel Panduro, Sandy Panduro and Brian Frame of CARSTAR Montrose; and CARSTAR development Vice President Dave Foster pose at a CARSTAR Montrose event commemorating CARSTAR's 700th store. (Provided by CARSTAR)
Share This: