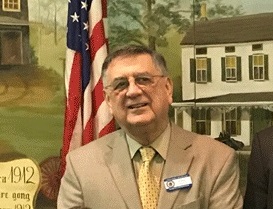 Ferdinand Gonzales, one of the founders of the Coalition for Collision Repair Excellence and Pennsylvania Collision Trade Guild, died late last month after a battle with cancer.
He was 75.
Gonzales was the former owner of Ferdi's Autobody, Juniata Park Collision Center and High Tech Autobody, according to an obituary on the Campbell Funeral Homes website. Most recently, he worked for the Southeastern Pennsylvania Transportation Authority, retiring in 2018.
"Long time collision repair industry advocate and activist Ferdie Gonzales has left our world to pursue greater challenges in a higher universe," CCRE wrote in a newsletter Wednesday. "Most people involved in collision repair throughout the Philadelphia area and nationally knew Ferdie for being a consumer activist always looking out for the unaware consumer. …
"Ferdie will be missed by many, especially those still working to protect the unaware consumer and the repair industry that Ferdie Gonzales safeguarded with every breath."
Stephen Behrndt, owner of Crawford Auto Center and affiliated with both trade groups, said Gonzales years ago contacted him about getting involved in the industry. He called Gonzales a member of the "core group" active in the PCTG.
Behrndt recalled traveling to Harrisburg, Pa., with Gonzales years ago to campaign for independent body shops. Their goal was to get Pennsylvania's shop choice law enforced.
"He was a fighter," Behrndt said.
Repairers on the Campbell Funeral Home webpage remembered Gonzales' work.
"I met Ferdie about 30 years ago," Bob and Judy Isham wrote. "A mutual collision shop owner friend introduced me and they both visited my home in Arizona after testifying at a trail to help Lou Russo in Nevada. His smile and laugh was infectious and he had a real caring for people. We all meet a lot of people during our lifetimes and Ferdie was someone you wanted to share time and stories with. He loved his family and always cared about others. Heaven has a new soul who is surely sharing stories and making it a better place for everyone. I was blessed to meet and know him and I have many fond memories of those encounters."
"Ferdie was one of a kind in a very special way," Russo wrote. "He was SO instrumental in assisting owners & consumers within the auto body repair industry, always giving his time & knowledge as a consumer and industry advocate. I first met him back in the late 80's while managing a repair shop in Sparks, Nevada where Ferdie flew out here to help the owner fight a large insurance company who was not being ethical at that time. I considered him a GOOD friend a mentor and had the utmost respect for him, he was an all around good guy. People may not have seen the dedication & devotion this wonderful man had for others as he gave so much of himself. May he rest in peace he will be missed. My sincere love & condolences to the family."
Jack Aigner, former owner of Mastercraft Collision and Paint and another CCRE and PCTG founder, recalled years ago that he and Gonzales were trying to do good work, yet insurers tried to chase business away from them. He said they thought they could form a guild to get collision repairers to realize they were "all having the same problem."
Aigner said that he and Gonzales in trying to stand up drew attention from repairers in Illinois and Ohio and seemed to have some national momentum. However, he felt their efforts were ultimately "all for naught."
"It's a shame," Aigner said: Someone who worked as hard as Gonzales did, who helped as many people as he did, and at the end of the day, the issues remained unchanged, he said.
Insurers also ultimately steered enough business away from Gonzales that it "pretty much closed him down," Behrndt said.
Behrndt observed repairers today "have no idea" about such battles of 20-25 years ago. They want to "lie in bed with the insurance industry," not realizing that they're not making any money, he said.
Gonzales' obituary said his other automotive-related work included teaching at the Eastern Center for Arts and Technology and helping fight auto insurance fraud with the Pennsylvania Attorney General's Office.
Gonzales also fought for consumers on issues entirely unrelated to collision, according to Behrndt, who called him a "big" advocate for them. The obituary noted his work with the Consumers Education Protective Association.
Gonzales also is notable in being an elected official who'd been a collision repairer. The Republican was a longtime Lower Moreland, Pa., township commissioner, stepping down shortly before his Sept. 21 death.
"The Board of Commissioners and staff of Lower Moreland Township are heartbroken to lose the input of a man who loves his community and who always brings a smile and warmth to every interaction with all of us and with the people of Ward 4 whom he represents," the township wrote on Facebook Sept. 16 in announcing his resignation. "We wish our friend only the best."
The town said it had a "a collective heavy heart" upon his death.
Gonzales was survived by his children, Loretta Bassion, Paula Cammilleri, Mark Gonzales and Vincent Gonzales, as well as 11 grandchildren and four great-grandchildren. He was preceded in death by his wife, Geraldine.
Funeral services have been conducted. In lieu of flowers, donations may be made to Saint Jude Children's Research Hospital or the Special Olympics.
More information:
Ferdinand Gonzales obituary on Campbell Funeral Home
Coalition for Collision Repair Excellence
Pennsylvania Collision Trade Guild
Share This: