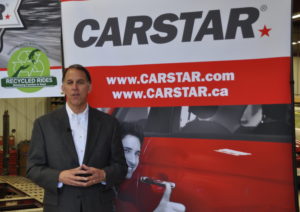 OEM certification will become significantly more relevant, CARSTAR President Dean Fisher predicted earlier this month.
Automakers are entering the industry at an "unprecedented rate," he said on a CARSTAR-sponsored BodyShop Business webinar Dec. 12.
Fisher said they're even taking an interest in which rental car a consumer is assigned while their vehicle is in a body shop: Why would they want a customer placed in a competing brand, particularly in a total loss situation, he said.
The automakers will try to control this more and more, he predicted.
OEMs are in a "very good place" to intercept first notice of loss and the first communication with the customer immediately after a crash using telematics platforms like OnStar, according to Fisher. Literally every vehicle would have such a feature, he said.
Where the automaker would handle the actual claim was "up for debate," Fisher said. He said he thought insurers and OEMs would start to "embrace each other," with the automaker handling the first notice of loss and then handing the customer over to the insurer for the claim.
Certification would be "very important," Fisher said. At some point, the "dial will turn on" he said, in what appeared to be a reference to OEMs aggressively recommending certified shops to consumers. He said this would occur when the OEM hits a national coverage saturation — say, 3,000-5,000 shops.
At some point, "those (OEM certification programs) will become your next DRP, to some degree," Fisher said.
The return on investment on becoming certified might not immediately arise, he said. But he encouraged repairers to think along the lines of the "Field of Dreams"  quote "If you build it, he will come."
Eventually, "they will come," Fisher said. Repairers will do much more business through OEM certification and OEM first notice of loss than today, he said.
Thinking about automakers and OEM processes will be "very important to you," he said.
"We should not be repairing a vehicle without examining the OE repair guidelines," Fisher also observed. He made what appeared to be a pitch for referencing the live OEM procedures online, rather than just printing them out once.
Fisher recounted how Ford moved a sleeve on a vehicle 6-8 inches eight months after building the vehicle. The change was significant enough to reduce injuries in a collision exceeding 45 mph, he said.
"We need to recognize: They're looking at that," Fisher said. OEMs are building this into vehicles and constantly crash modeling, and "they want us to make sure that we're fixing those vehicles in relation to that," he said.
Fisher said he recognized that collision repairers were for now in a "crossfire" and "hybrid moment" between insurer and OEM demands.
More information:
"How to Drive More Cars to Your Collision Repair Facility"
CARSTAR and BodyShop Business, Dec. 12, 2019
Featured image: CARSTAR Chief Operations Officer Dean Fisher celebrates the chain's 500th North American store, located in Ohio. (Provided by CARSTAR)
Share This: