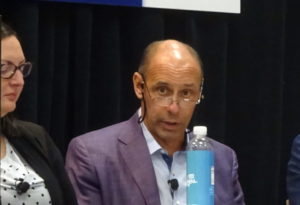 You don't need to wait for the OEMs to market your certified auto body shop to consumers. A repairer can leverage OEM certification into a lucrative business model today if they're willing to cultivate relationships with dealerships, a shop leader with credentials from multiple OEMs said last month.
Tim Kilkeary Jr., president of Eighty-Four, Pa.-based Kilkeary's Auto Body, told a SEMA audience that while certification wasn't right for everybody, it has "absolutely" proven a "game-changer" for his business.
"I wouldn't do it any other way," said Kilkeary, who said he discarded all direct repair programs 15 years ago.
Kilkeary said peers laughed when he dropped DRPs and told him why aligning with a dealership was a bad idea. But those relationships proved "much stronger" than any relationship with an insurer.
Kilkeary's can control the client, repair and repair decision, Kilkeary said. The shop also makes quadruple the average industry profit, he estimated.
Dealer relationships
The first step in making certification work was to develop dealer relationships, Kilkeary told the audience during the Society of Collision Repair Specialists Repairer Driven Education panel Nov. 6.
"That's where the business comes from," he said.
The OEMs will provide information if your shop desires to be certified, but starting with a dealership makes the process much easier, Kilkeary said.
The dealership won't just invite you in; get your foot in the door and develop the relationship from there, according to Kilkeary. Tell a dealership you're willing to invest the money and time to properly fix their vehicles, he said.
"They should have some interest in that," he said — dealers know how complex their vehicles are.
Kilkeary said his Mercedes-certified shop has relationships with two of the three Mercedes dealership in his area. The third dealership doesn't send him any work, but the two with ties to Kilkeary's each contribute about 10 cars a week, he said.
He said he thought that legally, OEMs can't demand retailers send work to a certain location, though they can refuse to pay for warranty work performed by unauthorized parties. That's why you need to "build that relationship," he said.
Jaguar Land Rover aftersales retail technology senior specialist Liz Willard, another panelist, said Jaguar Land Rover did restrict structural parts to certified repairers. However, it was up to retailers who they would recommend for other auto body work, she said.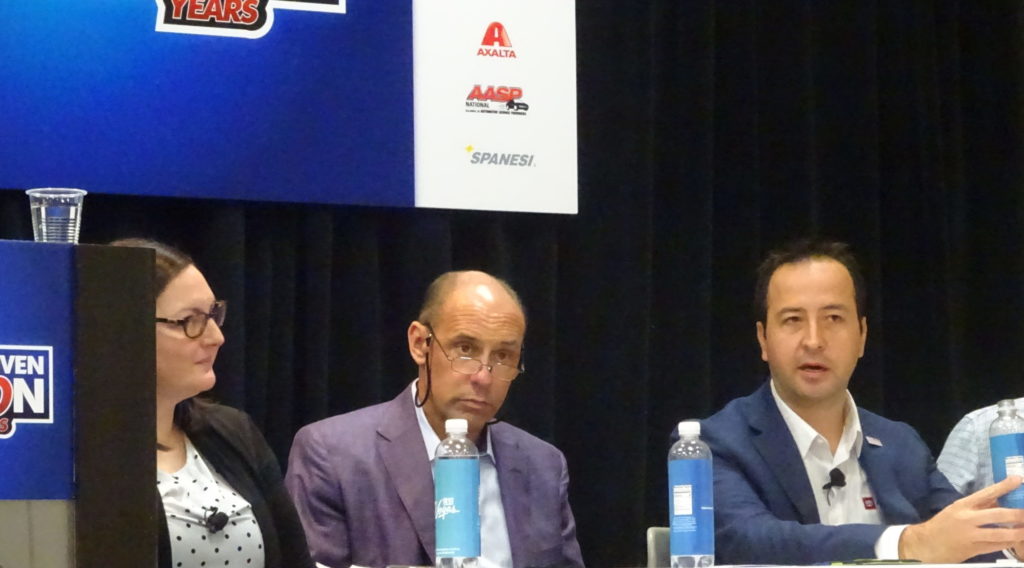 "That's why you should have that relationship with them," Willard said. Certification and that relationship ought to drive 100 percent of such work to your shop, she said.
Kilkeary said dealers need to improve at educating customers about certified shops at the point of sale, calling this a "real source of frustration for me." Dealerships say they don't want to raise the idea of the customer crashing their car, like it's some sort of "taboo thing," he said.
It should be part of the delivery presentation, Kilkeary suggested.
Wildman said some OEMs are looking at that. Panelist Jeff Pabst, general manager of Vaughan, Canada-based Pfaff Autoworks, said BMW Canada had a education initiative for dealers on the certified network, calling it a "really good positive step."
Kilkeary said his shop has comarketing posters and brochures in dealership service departments — all of which would have to be approved by the dealer.
Willard said that if a certified Jaguar Land Rover shop works closely with a retailer and to bring in traffic, the certification should be valuable. The absence of that relationship will make the investment in certification more difficult, according to Willard.
Even noncertified shops can benefit from a relationship with a dealership.
Eric Mendoza of Toyota collision operations said that while Toyota only certifies body shops at least 51 percent owned by a dealership, dealers can designate independents as an "affiliate shop." This permits the independent repairer facility's technicians to attend the same classes required of certified collision technicians.
Go up the food chain
An audience member raised the issue of dealerships turning a blind eye to improper repairs, mentioning a Mercedes dealer with a wheel repairer in their lot daily.
If the dealership is neglecting proper repairs, keep going up the ladder, Kilkeary said. Someone will listen to you — and perhaps it won't be the service manager, Kilkeary said. Explain that "'this is a big deal,'" he said.
Mendoza said he agreed with the sentiment of reaching the right person at a dealership.
Not many dealerships end up losing certification, according to Mendoza. He explained that if the collision center manager is the problem, Toyota will notify the general manager and dealer principal.
The "right people" at a dealer won't want to lose certification, he said. "They will step it up," he said.
Reach out higher up the food chain to those with money invested in the business if the service adviser won't help, Mendoza said.
Show the repair manual documentation that says you can't repair wheels, Mendoza said. "They care more," he said.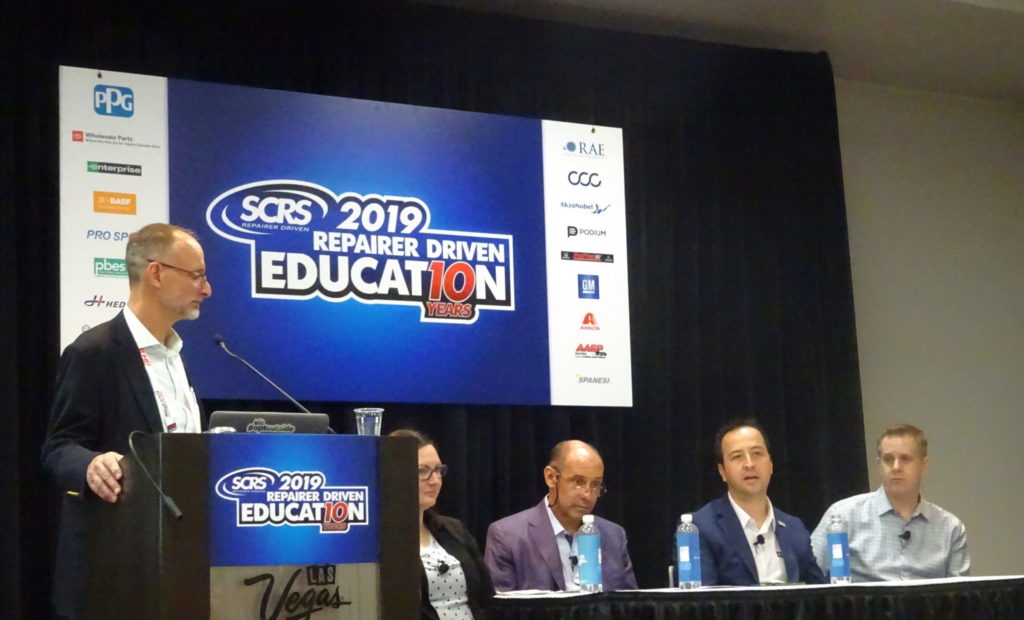 Marketing
Repairers also need to market their shop to be successful with certification, Kilkeary said. Many in the industry have "fallen into the trap" of neglecting marketing in favor of relying on insurers to drive vehicles to their door. A body shop must be able to get their name out to customers themselves. He said the company is seeing more business arrive because of customer Internet searches.
One audience member holding an OEM certification expressed frustration with a local dealership fixing vehicles despite lacking that automaker credential. Customers in the rural area by default take vehicles to the dealership.
"You need to market your strength," Kilkeary said. "Nobody's gonna do it for you."
Waiting for the OEMs
Without those relationships and marketing, a shop might be waiting to realize a return on the investment of becoming certified.
Both Pabst and Kilkeary said different certifications yield different value.
Pabst, for example, described a Porsche certification yielding 35 percent of business compared to a Volkswagen credential worth only about 5 percent.
OEMs who restrict parts are "always, always more valuable," Kilkeary said. OEMs marketing to consumers will always be "way more valuable," even though no automaker has proven that great at doing so, he said. Any certification not linked to a dealership relationship won't be nearly as valuable as one with that tie, he said.
Pabst said eventually, the manufactuer will have the "upper arm" in directing vehicles to shops through in-vehicle communication options.
Kilkeary agreed that this was "very, very much the case," and insurers are realizing they were losing control over who repaired vehicles. The market "slowly is turning," and while it was not 100 percent that way today, "it's coming."
Moderator Jeff Wildman, BASF North America OEM and industry relations region manager, said it's not there yet. Earlier in the week, Romans Group founder Vincent Romans told the MSO Symposium that out of 22 OEM certification programs, "none of them" were pushing vehicles to shops yet.
Willard said JLR tries to educate consumers about why they should patronize an authorized facility, but it can't force them to go there. She also described initiatives to promote certified shops with roadside assistance programs and vehicle technology.
Mendoza said Toyota hadn't had a vehicle to drive customers to qualified shops, but it would in the "near future." He said the OEM's call center recommends certified dealerships before uncertified dealers.
Images:
Right, Tim Kilkeary Jr., president of Eighty-Four, Pa.-based Kilkeary's Auto Body, speaks during an SCRS Repairer Driven Education panel Nov. 6, 2019, at SEMA. (John Huetter/Repairer Driven News)
From left, Jaguar Land Rover aftersales retail technology senior specialist Liz Willard; Tim Kilkeary Jr., president of Eighty-Four, Pa.-based Kilkeary's Auto Body; and Eric Mendoza of Toyota collision operations participate Nov. 6, 2019, on an SCRS Repairer Driven Education panel. (John Huetter/Repairer Driven News)
From left, Jeff Wildman, BASF North America OEM and industry relations region manager, on Nov. 6, 2019, served as moderator on an SCRS Repairer Driven Education panel composed of Jaguar Land Rover aftersales retail technology senior specialist Liz Willard; Tim Kilkeary Jr., president of Eighty-Four, Pa.-based Kilkeary's Auto Body; Eric Mendoza of Toyota collision operations; and Jeff Pabst, general manager of Vaughan, Canada-based Pfaff Autoworks. (John Huetter/Repairer Driven News)
Share This: