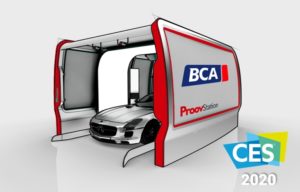 ProovStation announced earlier this month it would deploy up to 40 automated inspection portals for auto auction provider BCA Group across 13 European countries starting in February.
The artificial intelligence technology can study the exterior and underside of a vehicle and detect blemishes "within 3 seconds," according to ProovStation.
"As the car drives through the portal, even millimeter-large scratches can be spotted, increasing precision and cost-efficiency," ProovStation wrote in a news release.
"The system generates a 360-degree photo scan of the vehicle in less than 3 seconds and increases the accuracy of damage recognition while reducing inspection costs and greatly improving trust during the transfer of liability," ProovStation wrote about its damage detection system Jan 9. "It also offers extra services from a user-friendly dashboard including repair estimate, inspection comparison log, used car pricing, integration and KPI tracking, insurance report and other fully customized options." (Emphasis ours.)
ProovStation declared it traveled to CES with "the determination to win more contracts."
"We are proud to have been chosen by BCA Group as their site based volume inspection partner," ProovStation CEO Cédric Bernard said in a statement. "The trust from Europe's largest seller of used cars is a strong signal of legitimacy for ProovStation and confirms the value of our solutions for the automotive industry in its widest definition. This first large contract is a motivation booster for our team, and we will continue to work hard at revolutionising the vehicle inspection process. We want to turn ProovStation into the international standard in the inspection process for the main market segments: OEM, dealers, rental and logistics service providers."
"As the leading marketplace for used vehicles across Europe, BCA is providing the power of accurate real-time decision intelligence capability that connects every aspect of buying and selling with BCA, Europe's largest used vehicle marketplace," BCA Divisional CEO Jean-Roch Piat said in a statement. "ProovStation AI-powered inspection technology allows us to further increase the accuracy of the damage recognition, at unprecedented levels of speed and unit cost to benefit our customers."
UVeye
The ProovStation announcement followed news that competitor UVeye — whom repairers might remember from a 2018 presentation at SCRS' IDEAS Collide SEMA event — had been working with yet another OEM on similar technology.
Honda last month announced its Xcelerator had been collaborating with UVeye. It said UVeye's technology "promises to dramatically change how auto makers and dealerships inspect vehicles for quality issues."
"The company's systems can check chassis components, bodywork and tires for external and mechanical flaws and detect other quality issues," Honda continued. "The scanning, detecting and alerting process completes within seconds and can be used throughout the entire lifecycle of a vehicle." (Emphasis ours.)
UVeye this month at CES showed off its AI Atlas vehicle inspection system for the first time in North America.
"The Atlas inspection system uses multiple high-resolution cameras to capture exterior assembly defects, post-production damage, missing components and other quality-related issues," UVeye wrote Jan. 2. "Atlas generates thousands of images per second at multiple angles to detect scratches or dents as small as two millimeters in diameter."
UVeye also sells the underside-studying AI tech Helios and the tire-inspecting Artemis system.
"Our new deep-learning technology will dramatically change how car makers, their suppliers, dealers and major fleet operators inspect vehicles," UVeye CEO Amir Hever said in a statement. "We currently are working with a number of vehicle manufacturers to provide inspection systems on assembly lines and at dealerships around the world."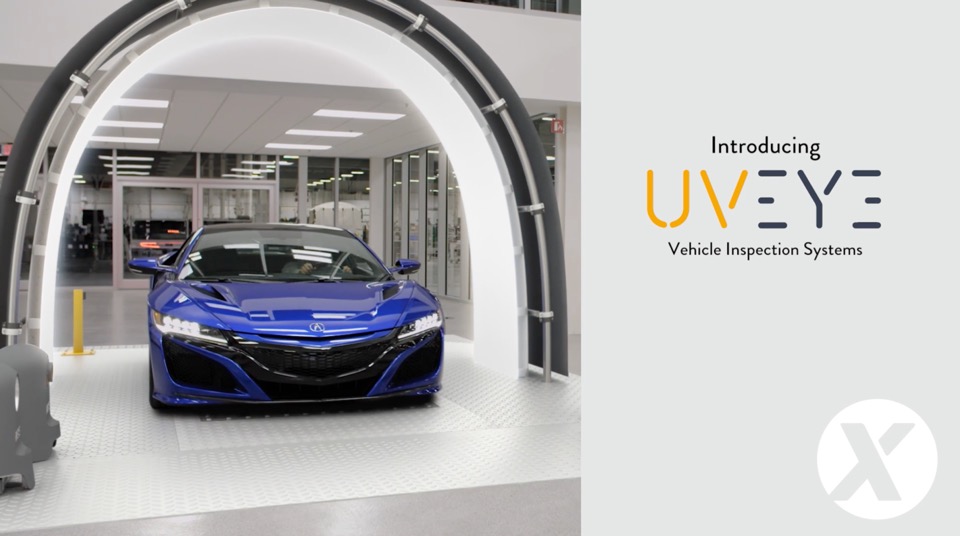 Hever said working with Honda brought the company up to six partnerships with major OEMs.
"We're especially excited to have a presence in Honda's CES Xcelerator exhibit area," Hever said in a statement. "UVeye's AI-driven vehicle inspection systems are designed to help our OEM partners work more efficiently, augmenting their human capabilities to produce vehicles faster without comprising quality standards."
Like ProovStation, UVeye described an application for insurers, too.
"UVeye's deep-learning-driven 'Inspection as a Service' unified platform provides an objective, scalable and efficient standard practice for identifying issues in vehicles as they move throughout the Automotive Lifecycle," the manufacturer wrote. "UVeye's anomaly detection and alerting solutions offer support from a manufacturer's paint shop or assembly line to the automotive aftermarket with insurance providers, fleet managers, rental agencies, dealerships and more."
More information:
"CES 2020 : BCA Group to Adopt ProovStation Across Europe"
ProovStation via Business Wire, Jan. 9, 2020
"Honda Xcelerator to Debut Industrial Innovation Collaborations at CES 2020 Along with New Technologies Coming Soon to Market"
Honda, Dec. 16, 2019
"UVeye to Unveil Industry-Leading Vehicle-Inspection Technology at CES"
UVeye via PR Newswire, Jan. 2, 2020
Images:
ProovStation has cut a deal to deploy up to 40 of its artificial intelligence estimating stations across Europe for BCA. (Provided by ProovStation via Business Wire)
Honda announced its Xcelerator is working with AI vehicle inspection firm UVeye. (Provided by Honda)
Share This: