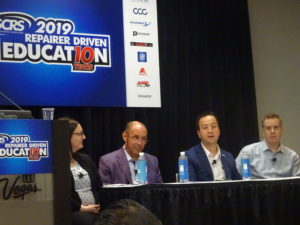 Experts interested in teaching the nation's collision repairers how to improve themselves should hurry and apply to the Society of Collision Repair Specialists by Feb. 23.
The national trade group on Monday announced the deadline for candidates seeking to helm a classroom at one of the industry's most popular and highest-profile events: the Repairer Driven Education series at SEMA. SCRS said speakers who submit applications after Feb. 23 might not qualify for the 2020 event.
SCRS said it sought "fresh new ideas" for the series, which celebrated its 10th anniversary at SEMA 2019.
"RDE isn't intended to be a typical conference track," SCRS wrote in a news release Monday. "We encourage our presenters to tap into their creativity and rethink both topics and presentation format. We encourage unconventional submissions that will surprise our audience base and challenge what they expect out of a trade show education program."
Speakers should expect an audience predominantly comprised of collision repairers, SCRS said. It wrote in the news release that Repairer Driven Education "consists of sessions focused on educating those in the collision repair industry on how to better themselves, their business, and their approach to current challenges."
For example, here's our coverage of a 2019 RDE panel on OEM certification
"While the audience is largely comprised of owners, managers, estimators and technicians from collision repair businesses, as a speaker you may find a diverse group in your session," SCRS wrote in its online application. "We often have students attend many of the tracks, looking to learn more about the industry, or members of other automotive businesses who see a general education value for their business segment."
Repairer Driven Education runs Monday-Friday of SEMA Week. The first three days (Nov. 2-4 this year) feature classroom-style courses. The headliner OEM Collision Repair Technology Summit event fills the day Thursday (Nov. 5), and Friday morning (Nov. 6) sees the rapid-fire, 10-minutes-per-speaker IDEAS Collide event.
Those interested in the OEM Summit and IDEAS Collide should also apply online by Feb. 23.
"RDE has proven to be one of the most dynamic and well-attended education series the industry has to offer, and we have found that with a continually evolving curriculum, and a focus on unique sessions that find compelling ways to deliver ROI, that each year gets better and goes further to inspire and inform the industry's best and brightest," SCRS wrote in the application.
Got two great ideas for presentations? No problem. SCRS said would-be speakers and panelists can submit multiple applications. It said it would give preference to "unique proposals that have not been delivered in other venues."
SCRS also on Monday encouraged companies to exhibit in the SEMA Show proper and to consider sponsorship of the Repairer Driven Education series. "As a RDE sponsor, your exhibiting company will receive highly visible recognition before, during, and after the Show," the organization wrote.
For more information about the 2020 Repairer Driven Education, contact SCRS Executive Director Aaron Schulenburg at aaron@scrs.com or 302-423-3537.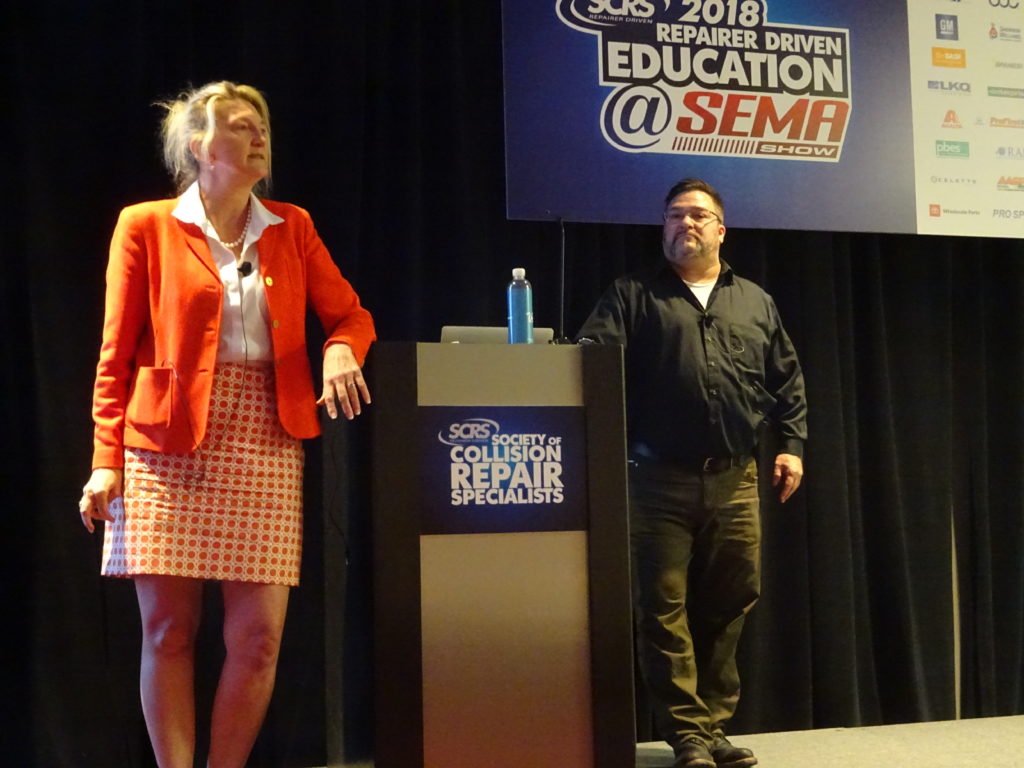 FAQ for speakers
SCRS also offered prospective speakers a FAQ on Monday:
Can I deliver the same presentation at another event?
Priority will be given to seminars and material that is specifically crafted to be presented at RDE and is unavailable in other forums. We can't stress this enough. We hope that our speakers wish to use RDE as the launch pad for their newest, most inspiring material. Consider developing a special session just for the RDE audience at the SEMA Show this fall.
What topics are you looking for?
We want sessions that will generate the most direct benefit to the collision repair business. They should target current issues, challenge conventional thinking for better results, and provide tangible takeaways that attendees can introduce into their businesses. Additionally, we are looking for audience engagement. Share with us how you intend to engage the participants and make your session uniquely interactive.
Can my presentation be about my brand or product?
Participants in SCRS programs are seeking educational sessions, and we have found that feedback is more critical of presenters or sessions that are self-promotional. Therefore, presentations should be aimed at advancing the educational process and be brand-neutral.
How long are the sessions?
Most Repairer Driven Education General sessions are 2 hours long (including time for both presentation and audience Q&A), and delivered in a classroom setting on Monday, Tuesday and Wednesday of the Show. We would ask that your submission be on a topic that can adequately engage the audience in that time frame. There are some scenarios where SCRS may approach you with a specialized time frame on a case by case basis. 
The OEM Collision Repair Technology Summit on Thursday is a mix of specially designed panels and presentations. These sessions are delivered in 90 – 120-minute time blocks, and may be broken up into smaller segments.
The IDEAS Collide Showcase on Friday is a 2 hour-long event, featuring ten, 10-minute TED Talks-styled presentations from individuals with a focused idea they wish to share with the audience.
Can I submit multiple topic proposals?
Absolutely! Content is the key. If you feel you have multiple compelling presentation ideas, we would love to hear them!
Is there a deadline for registering?
Yes, the proposals must be submitted by Sunday, February 23rd to be considered for inclusion in the 2020 RDE series. We accept topic suggestions all the time, but they would be considered for future years.
What will be provided onsite?
The speaker will be provided with a microphone, screen, projector and basic AV assistance to get set up to deliver the presentation. All speakers will be expected to bring their presentation on a laptop capable of connecting with a standard projector.
Can I promote my involvement through our social media channels?
Once selected, we encourage it! SCRS will provide session-specific links that allow you to promote your own segments. Tell us how many people are in your social media network and how you intend to promote to them!
I know a great speaker; can I share this invitation with them and encourage them to submit?
Please! We want the opportunity to review the best available to the industry. If there is someone you know that provides unique and engaging content, we would love to hear from them! Just send them this link: http://bit.ly/RDE2020Application
How do I suggest a speaker?
Send them this email and let them know you think they would be great! Encourage them to respond to aaron@scrs.com with their content submission.
Will I be guaranteed that I can present if my company becomes a sponsor?
No. We would love to promote your brand as a sponsor, and sponsoring RDE has many benefits, but a guaranteed speaking slot is not one of them. For more information on becoming a sponsor, contact aaron@scrs.com.
Do you pay your presenters?
No, presenters are participating on a volunteer basis.
More information:
"SCRS Requests 2020 Repairer Driven Education Applications by February 23"
Society of Collision Repair Specialists, Jan. 27, 2020
Apply for 2020 Repairer Driven Education series
Images:
From left, an SCRS Repairer Driven Education panel Nov. 6, 2019, included Jaguar Land Rover aftersales retail technology senior specialist Liz Willard; Tim Kilkeary Jr., president of Eighty-Four, Pa.-based Kilkeary's Auto Body; Eric Mendoza of Toyota collision operations; and Jeff Pabst, general manager of Vaughan, Canada-based Pfaff Autoworks. (John Huetter/Repairer Driven News)
From left, collision attorney Erica Eversman of Vehicle Information Services and Wade Ebert, former owner of American Auto Body, gave a presentation during the 2018 SCRS Repairer Driven Education series on documents a collision repairer could use in their business. (John Huetter/Repairer Driven News)
Share This: