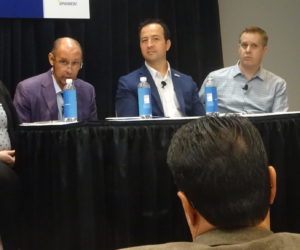 Training and equipment requirements for OEM certification can be a cost and logistical issue, according to two collision repairers who provided insight into managing both.
"It's expensive," said Tim Kilkeary Jr., president of Eighty-Four, Pa.-based Kilkeary's Auto Body.
The training and tooling requirements are "virtually endless," and it's a nonstop job to stay on top of it, he said.
Nevertheless, "I wouldn't do it any other way," Kilkeary told an SCRS Repairer Driven Education panel earlier this winter. He called certification a "game-changer" for his shop, which ended DRPs 15 years ago and makes what Kilkeary estimated to be four times the industry average profit.
Panelist Jeff Pabst, general manager of Vaughan, Canada-based Pfaff Autoworks, agreed that the cost and commitment were "massive," depending on which OEM affiliations a shop sought. Some weren't as expensive, he said.
Equipment
Pabst said his shop held seven certifications and owns three squeeze-type resistance spot welders and two plastic welders, but "thankfully," a "fair amount of overlap" existed between OEM requirements. He said his company discusses the topic of duplicate equipment often with OEMs — why doesn't the manufacturer pick a tool approved by other OEMs too? — and things had grown a "little bit better" over the past couple of years.
Pabst said Pfaff Autoworks also has to service all the equipment once or twice a year. (A state-of-the-art piece of equipment is meaningless without proper upkeep, experts have pointed out, and Jaguar Land Rover aftersales retail technology senior specialist Liz Willard, a fellow panelist Nov. 6, 2019, said maintenance is part of JLR's certification audits.)
Eric Mendoza of Toyota collision operations, another panelist at the SEMA event, said Toyota doesn't require specific equipment brands, just specifications. It's telling shops, "'Follow the book,'" he said.
Using a "lower standard" than the OEM specifies "doesn't even make sense," he said.
The shop's foreman and lead disassembler is in charge of keeping up with tooling and equipment requirements, Kilkeary said. That foreman ensures all the necessary gear exists in the shop and is in proper working order; he's also in charge of researching equipment and informing management what needs to be purchased, according to Kilkeary.
"The cost is the cost," Kilkeary said. Proper billing and being willing to fight for the revenue to cover the expense makes it possible, he said.
In terms of keeping up with OEM audits, Kilkeary's keeps the equipment maintained and creates a culture where something missing or broken is handled immediately. The shop also stays committed to using OEM procedures and installs 100 percent OEM parts, he said.
These steps make it easy to pass automaker audits; you "just gotta be organized," Kilkeary said.
Training
In terms of training, Kilkeary said his shop trains two technicians for every certification, though other employees will also work on that particular brand.
Pabst said each of Pfaff's certifying automakers requires two technicians credentialed for their brand, and the company has qualified a foreman for all seven OEMs. Pfaff plans to dedicate teams to specific OEMs in the future, and Pabst said he thought anyone with multiple certifications might have to consider doing so, depending on shop size.
The two OEMs on the panel confirmed they want technicians trained in that brand working on their cars.
Willard said this doesn't "completely exclude" another staffer from "learning about it."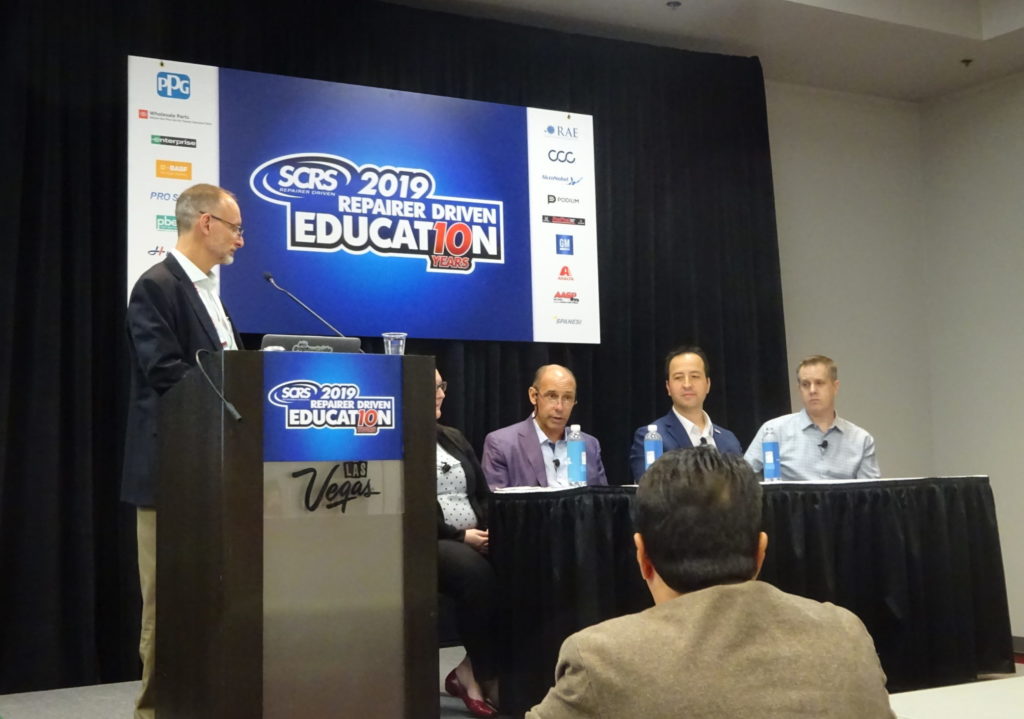 Mendoza said the "ideal state" is always to have a fully trained and certified technician working on a Toyota, but he didn't know if the issue of delivering that every time had been solved.
Pabst said that as certification becomes more prevalent in his market, he thought it would be more important that technicians only fixed the cars for which they had training, "and that's it."
"That's the obvious answer for everybody," Mendoza said.
Asked if a certified A-technician could sign off on work a B-tech performed on the OEM's vehicle, both Mendoza and Willard said yes.
Kilkeary said his shop's structural techs are certified, and they would handle items like frame rails. However, a less critical bolted part could be handled by another staffer who was coached by one of the certified technicians.
Kilkeary said his shop's general manager holds the responsibility for keeping up with the facility's training requirements, and she has many "balls in the air."
Pabst said a Pfaff manager also keeps track of training, which is cataloged in a binder. The shop also tasks a person to coordinate travel and hotels, for most training of the Canadian shop's staff occurs in the U.S.
Overall, Kilkeary's budgets $50,000 a year for training, though this could fall, Kilkeary said. He observed that this statistic also didn't capture the expense of lost productivity while the employees were training — something he called a "bigger number." Pabst said the past month saw three Pfaff technicians out at various times for training and also referenced a loss in productivity.
Kilkeary said some OEM programs demand a "really, really painful" initial training expense for a shop, but the cost levels out over time.
Pabst said his company became BMW-certified about four years ago and estimated it was more than 90 percent through the process, which means the cost would begin to dissipate. The shop wouldn't be sending 3-4 technicians for courses every year, he said.
He said BMW's training worked out to about $1,800 per day per technician and estimated Pfaff overall probably spent about $75,000 on training this year. (Assuming he's referencing Canadian dollars, that works out to about $1,387.44 and $57,810 in USD, respectively.)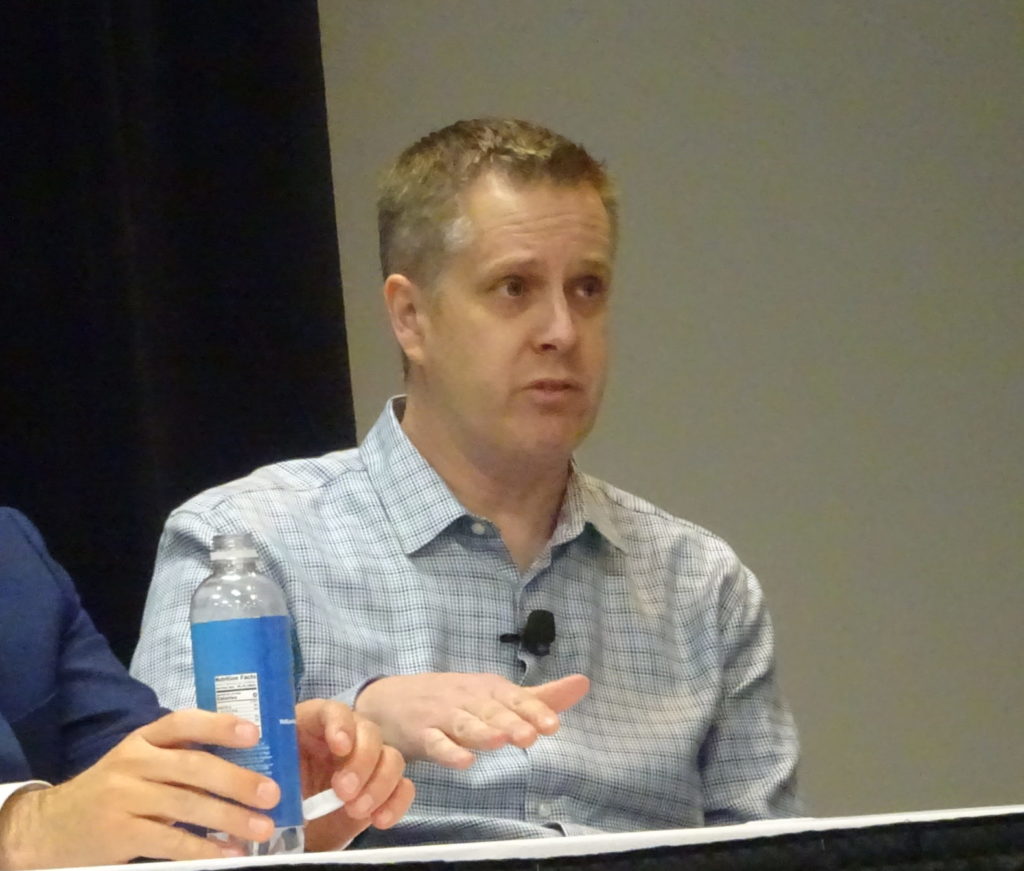 Mendoza acknowledged shop personnel don't come back from his OEM's training with a check to cover the shop's lost productivity. However, he said he sees it as Toyota's responsibility that the time the staff spent away from the shop did pay off with extra lines on repair orders — procedures the shop had missed. They might also work more efficiently, he said. Toyota understands sending staff to training had better produce a long-term value for the repairer, he said.
As for online training, Kilkeary's gives both techs working hours access to it, though some prefer to take the courses after hours, Kilkeary said. The shop pays them a bonus per class competed, he said.
Pabst said Pfaff's staff prefer to do online training at home on their own time. He said the certification-program technicians look forward to training and "thrive" on it.
"They're really engaged in it," Pabst said.
Asked if the trained technicians will leave for a competitor, Kilkeary said, "I don't have that problem." He said his staff knows that the relationships at Kilkeary's means they can work on cars not available at other body shops.
Kilkeary said his shop is adding technicians rather than losing them.
Pabst said at least half of his staff of 45 people have been with Pfaff for more than 10 years. It comes down to company culture, he said.
Kilkeary said technicians develop a higher level of professionalism and pride in their work when they know they're properly trained and have access to information and equipment. It's easier to keep those employees, he said.
Audits
Kilkeary said his shop looks forward to audits, and mostly it's compliant with what the OEM demands. Audits are how Kilkeary's knows it's meeting the bar, he said.
He said OEMs provide notice of an audit and what they want to see, and the equipment and training coordinator at the shop receives this.
Mendoza said not every element of an audit needs to be an inspection. He said Toyota tries to bring value with consultation and coaching, such as huddling estimators together and showing them something in Toyota's OEM repair procedures.
Asked why repairers would receive advance notice of an audit, Kilkeary did note a couple of "completely unannounced" visits by JLR program consultant Rick Miller. Though Miller claims he's just stopping by to say hi, Kilkeary suspects the visits were "surprise attacks." However, he said advance notice of the formal audits is helpful in the sense the shop isn't scrambling to pull the necessary information demanded by the manufacturer.
If a shop is performing bad repairs and the OEM program has teeth, it won't be long before the automaker finds out and does something, Kilkeary said. Customers aren't shy about raising grievances, he said.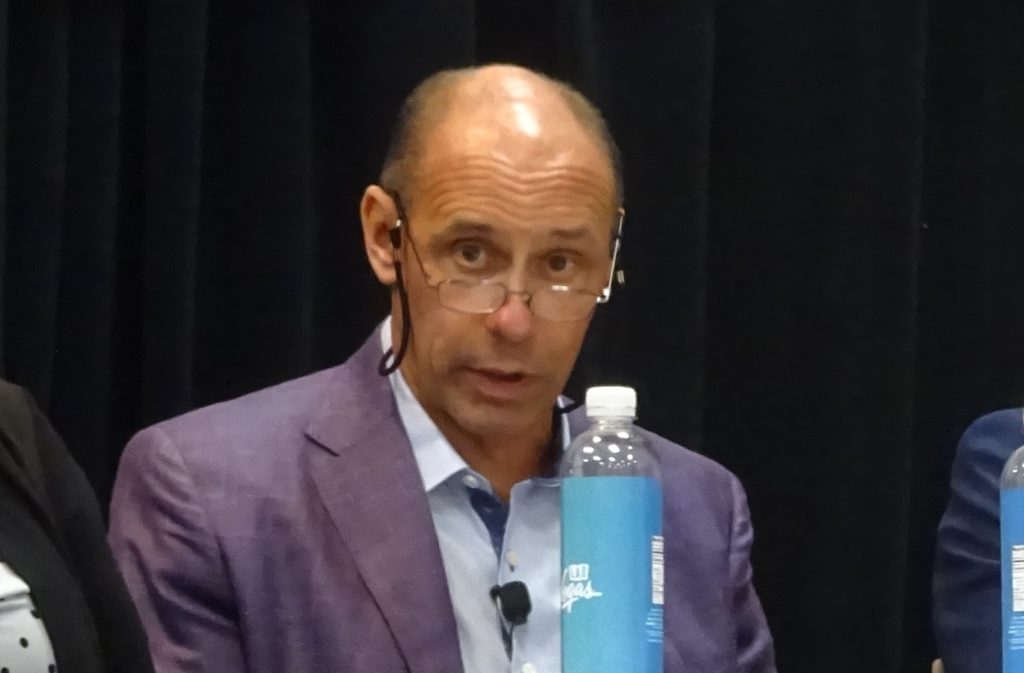 Willard said JLR definitely removes shops from programs. Mendoza said Toyota does too but it's rare. Toyota demands a dealership own at least 51 percent of a certified repairer, and Mendoza explained that if the facility's collision center manager is the problem, Toyota will notify the dealership general manager and dealer principal.
The "right people" at a dealer won't want to lose certification, he said. "They will step it up," he said.
Moderator Jeff Wildman, BASF North America OEM and industry relations region manager, said the better programs were booting repairers. Programs were also evolving to grow stronger — and then cutting repairers, he said.
"You're going to see things head that direction," Wildman said. He also said dealerships will alert OEMs to a certified shop performing bad repairs too.
Kilkeary said he used to be worried about consolidators, but they're losing certifications as well.
Images:
From left, Tim Kilkeary Jr., president of Eighty-Four, Pa.-based Kilkeary's Auto Body; Eric Mendoza of Toyota collision operations; and Jeff Pabst, general manager of Vaughan, Canada-based Pfaff Autoworks, participate Nov. 6, 2019, in an SCRS Repairer Driven Education course. (John Huetter/Repairer Driven News)
From left, Jeff Wildman, BASF North America OEM and industry relations region manager, on Nov. 6, 2019, served as moderator on an SCRS Repairer Driven Education panel composed of Jaguar Land Rover aftersales retail technology senior specialist Liz Willard; Tim Kilkeary Jr., president of Eighty-Four, Pa.-based Kilkeary's Auto Body; Eric Mendoza of Toyota collision operations; and Jeff Pabst, general manager of Vaughan, Canada-based Pfaff Autoworks, participate Nov. 6, 2019, in an SCRS Repairer Driven Education panel. (John Huetter/Repairer Driven News)
Jeff Pabst, general manager of Vaughan, Canada-based Pfaff Autoworks, participates Nov. 6, 2019, in an SCRS Repairer Driven Education course. (John Huetter/Repairer Driven News)
Tim Kilkeary Jr., president of Eighty-Four, Pa.-based Kilkeary's Auto Body, speaks during an SCRS Repairer Driven Education panel Nov. 6, 2019, at SEMA. (John Huetter/Repairer Driven News)
Share This: