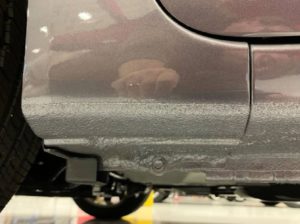 A March 2020 Body Repair News provides repairers advice on chip protection for Honda vehicles, including a rule of thumb for anti-chip primer if the substance's manufacturer lacks one.
"Stone chips are a leading cause of corrosion hot spots," Honda notes.
Anti-chip primer
Shops must check the OEM repair procedures to find out where to apply anti-chip primer, Honda wrote. Then you'll need to check your paint manufacturer's procedures for how to deliver sufficient protection, according to Honda.
"Each paint manufacturer has its own formulation for matching the durability of the factory anti-chip primer," Honda wrote. "Some call for additional sealers in these areas. Some call for an increased mil thickness of the clear coat. And some call for catalyzation of the base coat. Always check with your paint manufacturer for recommendations of products and procedures."
If the paint manufacturer doesn't have such a procedure, Honda said repairers should "Spray light coats of 2K primer surfacer/sealer allowing appropriate flash time between coats until a thickness of 20 microns (0.79 Mils) is achieved."
Remember, that's only "If your paint manufacturer does not list a recommendation" per Honda itself. (Emphasis ours.) You'can't just cut corners and use Honda's formula instead of putting in the time to research the paint manufacturer's.
In terms of mil thickness, Honda said you must possess a digital mil gauge to check your work.
"The main purpose of refinishing products is to protect the surface from corrosion," Honda wrote. "To accomplish this, proper mil thickness must be achieved.
"Refer to your paint manufacturer for minimum and maximum mil thickness recommendations. A digital mil thickness gauge must be used to ensure these recommendations are followed."
Intermediate chip guard
An even thicker coating of intermediate chip guard might also be required. Honda offers this overview:
Intermediate chip guard helps prevent chipping damage from flying stones and is commonly applied to the side sill areas of the vehicle. It is a chloride vinyl resin material that is granular in appearance and applied between 100 and 200 microns thick (4 to 8 Mils).
Matching the factory applied function and appearance may take practice and use of multiple spray-out panels. Never apply chip guard over bare metal.

Protective tape
Finally, Honda says you must replace the clear protective tape present on some of its vehicles, typically in areas like "lower doors, the dogleg area of rear outer panels, and the fenders."
The material protects the paint from chips, according to Honda.
"It is important to remove and replace the tape anytime a panel is repaired, refinished, or replaced," Honda wrote. "Refer to the applicable service information for location of the tape and the application procedure. … Never paint over the protection tape."
More information:
"Corrosion Protection for Honda Vehicle Repair"
Honda Body Repair News, March 2020
"Recommended Sealers and Adhesives for Collision and Body Repairs"
Honda, Dec. 7, 2018
"Body Repair Manual Welding & Sectioning Guideline Revisions"
Honda Body Repair News, October 2019
Images:
Honda says in a March 2020 Body Repair News that matching factory function and aesthetic of intermediate chip guard "may take practice and use of multiple spray-out panels." (Provided by Honda)
Honda says you must replace the antichip clear protective tape present on some of its vehicles, typically in areas like "lower doors, the dogleg area of rear outer panels, and the fenders." (Provided by Honda)
Share This: