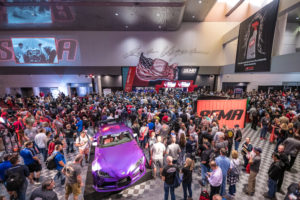 SEMA events Vice President Tom Gattuso on Friday said the COVID-19 coronavirus hasn't deterred SEMA from holding its 2020 show Nov. 3-6.
"I'm not sure where it comes from," Gattuso said of the thinking that the current COVID-19 response would bar a show seven months away.
Gattuso thought it was "looking at the glass half-full and wanting to be right about that."
Instead, "we're hearing good things from our exhibitor base," Gattuso said. He said he thought people wanted to focus on "something positive down the road" that would help the industry recover.
"We've actually got a really good amount of support" for the SEMA Priority Space Allocation selection in May, according to Gattuso.
"That part of it is great," he said.
The NFL Draft-like event May 4-20 gives early registrant vendors a specific time "on the clock" to call dibs on a booth location. The process is virtual and transparent, and the industry can watch the show floor take shape in near-real time, according to SEMA.
The space draw typically finds around 2,000 companies committing by the deadline to participate (March 27 this year), and "we're in that range this year," according to Gattuso.
Vendors who missed that deadline can apply for the remaining spaces for months to come. (SEMA 2019, for example, drew 2,400 exhibitors.) This policy existed prior to the COVID-19 concern, but Gattuso noted that some businesses are experiencing a transition they "never, ever thought they would." A company who wasn't ready to buy a booth today but was between August and October would have options.
If a company approached SEMA in October, "we'll do everything we can to help" it, according to Gattuso.
SEMA would take applications up to the show itself, according to Gattuso. Success from its perspective involved as many exhibitors as possible. "That's the big value for the buyer," he said.
SEMA's job as a trade association involves supporting members in a time of "critical need" and advocating for them all year, Gattuso said. He said the group was building an environment in which they could do business in November, and it felt the platform could help the industry more quickly benefit. The fourth quarter of 2020 and the first quarter of 2021 should see business "start to level" and trend upward, Gattuso predicted.
All that said, SEMA sought to "eliminate any apprehension," according to Gattuso. While SEMA had retained its typical payment schedule — half of the booth cost 24 hours after space selection, half at at the beginning of August — it will refund 100 percent before Sept. 1. At that point, "we're gonna have invested in them," Gattuso said.
This setup permitted SEMA to retain the momentum of the show but permit companies to take "one final look" and back out in September.
"I think that's the most fair thing that we can really do," Gattuso said.
However, if SEMA itself wound up being cancelled after Sept. 1, the association would issue vendors a full refund, Gattuso said.
The Las Vegas Convention Center houses most of the massive trade show, but the Westgate casino-hotel contains a small piece of it.. Gattuso said the Westgate isn't waffling on its arrangement with SEMA. Gattuso saw the Las Vegas tourism industry as feeling COVID-19 even more deeply, and conversations with the Westgate find the hotel-casino "wanting to get back to business."
'Level of certainty'
Though the show itself would return, some elements might change. Gattuso said SEMA needed to offer a "level of certainty": attendees needed to feel comfortable and not at risk.
SEMA was examining concepts for this daily, and Gattuso said he thought it could overcome this "very positively." SEMA could even set a "level of benchmark" for the trade show industry.
"We're taking that role very seriously," he said.
Gattuso said possible considerations could be traffic flow, exits and entrances, security checks, hours, and distances. However, it didn't know yet what requirements would be imposed externally, he said.
He noted the three-phase "Guidelines for Opening Up America Again" recently released by the Trump Administration.
"We're watching that quite closely as well," Gattuso said.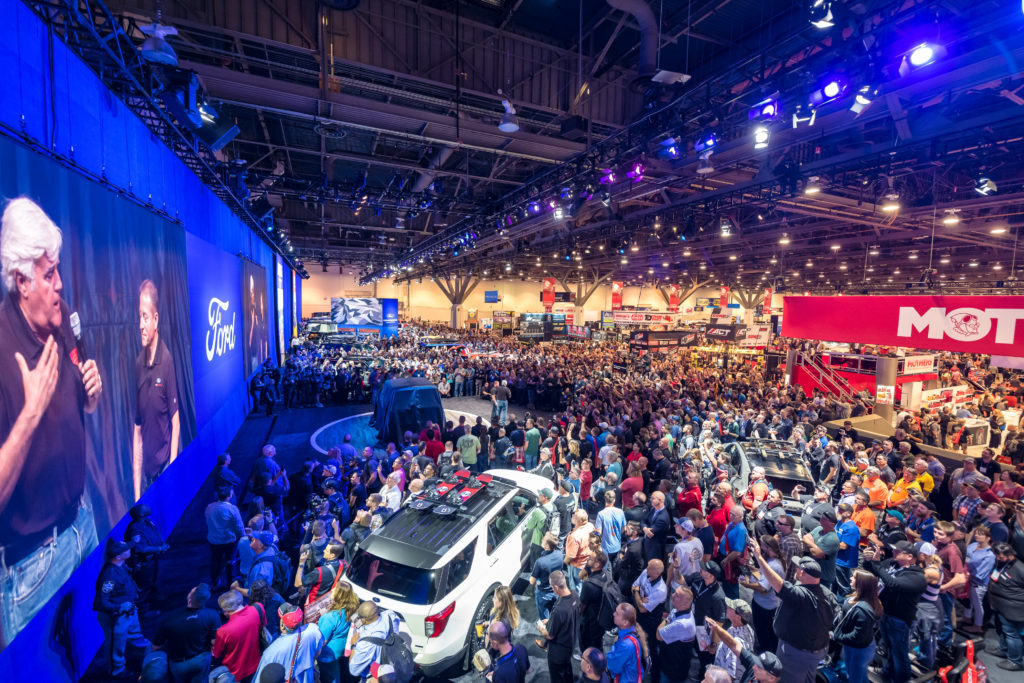 That plan's Phase 1 permits large venues to open "under strict physical distancing protocols" in areas that meet certain "gating" criteria. In Phase 2, those venues can operate with "moderate" protocols in states showing a rebound and meeting gating rules. Phase 3 only demands "limited physical distancing protocols."
These are only guidelines; states and locales can still do whatever they wish.
"Today, I had a briefing with my team of medical and emergency response experts," Democratic Nevada Gov. Steve Sisolak tweeted Saturday. We're reviewing the recommendations from the White House and making considerations for our state-specific re-opening plan. I look forward to presenting these updates to Nevadans soon."
The SEMA Show has dealt with other difficult circumstances in its more than 50 years, Gattuso said. It was one of the first major trade show after the Sept. 11, 2001, terrorist attacks and came just a month after the Mandalay Bay mass shooting in 2017, he said. It also ran during last decade's recession, he said.
International participation
Attendees also might encounter differences in the international flavor of the show.
SEMA 2019 drew attendees from more than 140 other countries, and 21 percent of the show is international, according to Gattuso.
"That's a significant portion," Gattuso said.
He said he didn't foresee "business as usual" on that front. Protocols likely would exist for visitors entering the country and even the state, Gattuso predicted.
"We're gonna discover what that is," Gattuso said. SEMA would follow whatever local and federal requirements existed, he said.
International travel in general might not have rebounded to 100 percent by the fourth quarter either, he said.
The Trump Administration prohibited many in the Schengen Area of Europe, China and Iran from traveling here, and the U.S., Canada and Mexico have restricted non-essential travel across their borders.
Exhibitor summit
SEMA has cancelled or postponed all events through May 31, but it still plans to retain its Exhibitor Summit scheduled for June 24-26 at the Las Vegas Convention Center. Vendors could expect a decision in "mid-May," Gattuso said.
Options include cancellation, postponenment, changing the venue and holding the event virtually. Gattuso said his preference is to continue the event.
The summit might be postponed, but "we're leaning towards wanting to hold it in-person rather than hold it virtually," he said.
More information:
"SEMA Show Space Selection in 17 Days—What You Need to Know"
SEMA eNews, April 16, 2020
SEMA COVID-19 coronavirus webpage
SEMA "IMPORTANT SHOW INFORMATION" NOTE
Featured images: The 2019 SEMA Show is seen. (Provided by SEMA)
Share This: