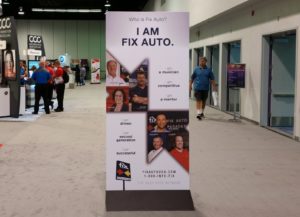 Driven Brands announced Thursday it had purchased Fix Auto USA but would retain the brand of what had been a competitor to Driven Brands' CARSTAR.
Driven Brands paint, collision and glass group President Michael Macaluso told Fix Auto franchisees in a memo Tuesday that the deal had been in the works since 2019.
"We are thrilled to add the Fix team to Driven Brands despite the current business climate. Our word and reputation for being good partners are incredibly important to us," Driven Brands CEO Jonathan Fitzpatrick said in a statement Thursday. "We have never been more optimistic about the long-term prospects for Fix Auto USA, all of our businesses in the paint, collision and glass segment, and the Driven Brands portfolio overall."
Driven Brands said Thursday it also bought Auto Center Auto Body. The news release did not specify if that brand name would continue.
"Today, we are happy to welcome the entire Fix Auto USA (FUSA) and Auto Center Auto Body, Inc. (ACAB) into the Driven Brands family!" Macaluso wrote Tuesday.
"… We all look forward to the strength FUSA and ACAB brings to the collective Driven Brands team, and I am excited to welcome you all to our growing family."
Fix Auto USA will join three other collision brands in Macaluso's paint, collision and glass segment: CARSTAR, Maaco, and 55 ABRA franchisees Driven Brands purchased after the Caliber-ABRA merger. The segment also includes the Clarius family of Canadian glass companies.
The Driven Brands News release described acquiring a network "nearly 150 franchised and ten company collision repair locations," which appeared to be references to Fix Auto USA and Auto Center Auto Body, respectively.
CARSTAR has more than 700 locations across the U.S. and Canada, with at least half of them in the U.S. The new acquisition would seem to put Driven Brands' U.S. footprint on par with or ahead of No. 2 Gerber.
Fix Auto USA President and CEO Paul Gange will remain president, managing the franchisees.
"After years of growing Fix Auto USA, we are thrilled to be part of Driven Brands, who completed the acquisition despite the tumultuous business climate," Gange said in a statement. "We are excited to continue building our organization with the strength and support of Driven Brands behind us."
Fix Auto co-founders and Auto Center Auto Body owners Erick and Shelley Bickett will oversee the company-owned Auto Center locations.
"Driven Brands' mission and unwavering commitment to its consumers, franchisees, employees, and industry partners align with our vision," the Bicketts said in a statement. "We look forward to the many benefits that our two organizations and our franchisees will gain from one another, including industry-leading solutions tailored for our customers. There is exciting growth ahead. We look forward to working with Driven Brands as leaders in the collision repair industry."
Driven Brands, which also owns brands like Meineke, Take 5 Oil Change, and 1-800-Radiator, does more than $3.4 billion in sales and has more than 3,250 locations across North America. The Fix Auto USA and Auto Center Auto Body purchase brought the conglomerate to 38 acquisitions since Roark Capital bought Driven Brands in 2015.
"We are committed to the success of our franchisees and driving your profitability," Macaluso wrote. "The goals for our paint, collision and glass repair businesses are the same as yours: to focus on our customers, deliver quality repairs, engage in our communities, and deliver world-class performance to our insurance suppliers."
More information:
"Driven Brands Announces Acquisition of Fix Auto USA and Auto Center Auto Body, Inc."
Driven Brands, April 23, 2020
"Focus Advisors Represents Fix Auto USA and Auto Center Auto Body in a sale to Driven Brands"
Focus Advisors, April 2, 2020
Featured image: A Fix Auto USA advertisement at NACE 2016. (John Huetter/Repairer Driven News)
Share This: