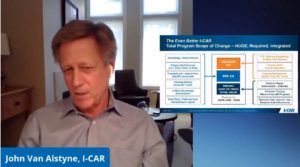 I-CAR's significant "Even Better I-CAR" curriculum overhaul has hit its stride, with the only remaining hitches attributable to the COVID-19 coronavirus.
"We believe we've delivered," CEO John Van Alstyne said in a live, interactive YouTube feed Wednesday.
The program officially launched Oct. 7, 2019. Elements involved revised Professional Development Programs, course credit achievable through in-shop knowledge assessments and granted free for classes offered by a Training Alliance, more frequent welding recertification, tougher rules for Gold Class and Platinum and unlimited training subscriptions. The program replaces live courses with more online and virtual classes, focuses on neutral training sites for remaining live coursework and shortens courses at least in part by eliminating redundancy.
However, repairers might have felt "'"The Even Better I-CAR" hasn't been so better,'" Van Alstyne said.
The bold overhaul was beset by technological challenges — such as migrating millions of data points into a new system — which in turn delayed I-CAR's plans for unique customer reporting, according to Van Alstyne. Existing courses had to be reconfigured into the new curriculum, he said. I-CAR customer care found itself "kind of overwhelmed," he said.
But I-CAR had "methodically and progressively" fixed those four problems as of the end of April, he said. The curriculum works, "the customer care team has caught up" and reporting in myI-CAR is accurate, according to Van Alstyne.
He said I-CAR also addressed students' problems with accessing virtual classes by shifting to a non-Flash software platform in April. This is more in line with modern browsers, which have moved away from the legacy Flash format, according to Van Alstyne.
"Students should not be having any issues today," Van Alstyne said. Any issues should "immediately" be directed to customer care, who can help the user troubleshoot the problem. (He also advised the industry to use Chrome or Firefox instead of Internet Explorer for a smoother experience.)
Despite the bugs, repairers have been using the new I-CAR format.
Van Alstyne said 19,500 unique students used I-CAR's Learning Management System last month. On the whole, I-CAR counts 78,378 registered users, with 54,543 using the LMS. Students have finished 365,000 I-CAR courses, and I-CAR awarded credit for 37,436 courses they took through Training Alliance partners.
The COVID-19 coronavirus has thrown a wrench into some student and I-CAR plans. I-CAR has not been deemed an essential service, leaving staff stuck working from home. The organization has had to postpone live classes shops need for Gold Class and Platinum status as well as delay holding welding certification events.
However, I-CAR in April converted all required classes into virtual options — with the exception of the welding program. It also has extended the deadlines to renew Gold Class, Platinum and welding certification.
As of the end of 2019, 8,359 collision repairers held Gold Class status, up 23 percent from 2018. Platinum technicians rose 28 percent to 32,610 last year.
Asked if the required live classes converted to a virtual format during the COVID-19 coronavirus issue would have a virtual alternative after things return to normal, Van Alstyne said no. I-CAR said it designed each course around what it felt would be the optimal format; live classes were "best delivered as live."
Though I-CAR decided some of those could go virtual without "significant compromise" to the education, "we do intend to take back to live" those classes, Van Alstyne said.
An audience member indicated I-CAR's virtual classes were booked, and Van Alstyne said I-CAR was seeking to recruit more instructors. He explained that unlike an "online" course, an I-CAR "virtual" course is meant to involve instructor-student interaction, even if it's not to the degree of an in-person "live" course. If the class size is too large, that engagement can't happen, he said.
I-CAR also isn't holding hands-on classes right now. Those won't be required for Gold Class and Platinum shops until 2021.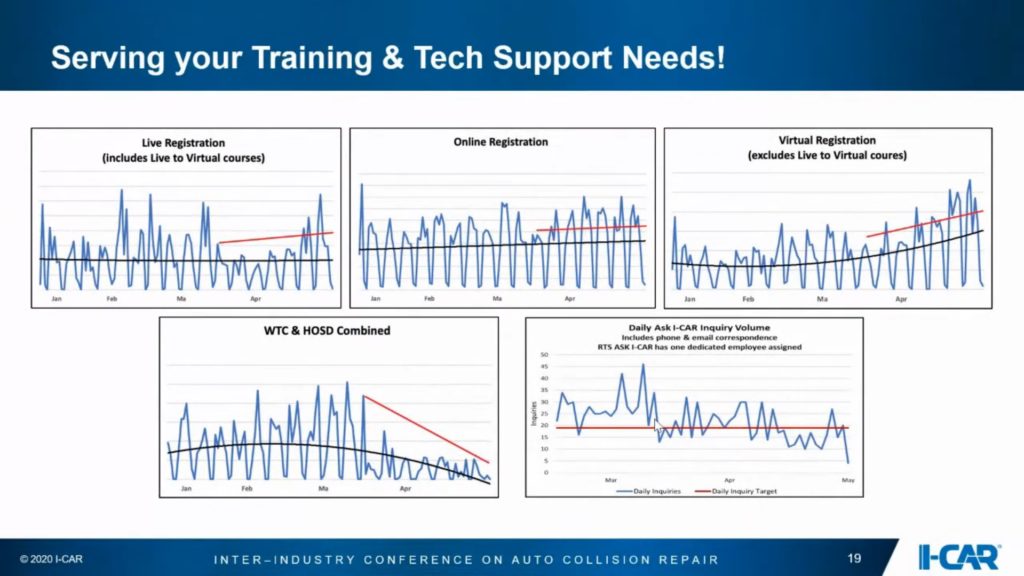 Though shops can meet all other requirements through virtual and online classes, I-CAR won't let shops who aren't yet Gold Class achieve that status without live welding certification.
Delaying the welding renewal date for existing Gold Class shops was a different story, Van Alstyne said: Those repairers have already been certified on welding.
But "we just don't believe that our program would have integrity" if it granted Gold Class to someone who had never achieved the welding certification, he said.
"I'd encourage you to get in line" when welding training reopens June 15, Van Alstyne said.
Repairers attempting to achieve Gold Class to earn a spot on an insurer or OEM network could attempt to have the partner relax the requirements on that end, Van Alstyne said.
But it's probably a nonstarter, he suggested.
"I think most of 'em probably think welding's pretty important," Van Alstyne said.
He said more than 20 insurer and OEM networks require Gold Class, and "they support our policies."
Other interesting details from the call:
I-CAR has seen an "uptick" in online training during the COVID-19 coronavirus pandemic, Van Alstyne said.
I-CAR is also offering a deal on training for repairers so inclined. Existing Gold Class subscribers can decide by May 29 if they want either a free month of unlimited training or to defer billing for three months. New Gold class unlimited training subscribers between May 1 and June 30 can receive three free months, Van Alstyne said.
I-CAR also has been overhauling its membership and leadership structure. Half of its inaugural Member Council under the new format met April 30 for the first time; the other half will be assembled next year so as to stagger everyone's two-year terms, according to Van Alstyne.  Council members included representatives from SCRS, ASA, CARSTAR, Service King, Ranken Technical College, Ford, Nissan, Toyota, CCC, asTech, Progressive, Liberty Mutual, Amica, Caliber and Midwest Collision.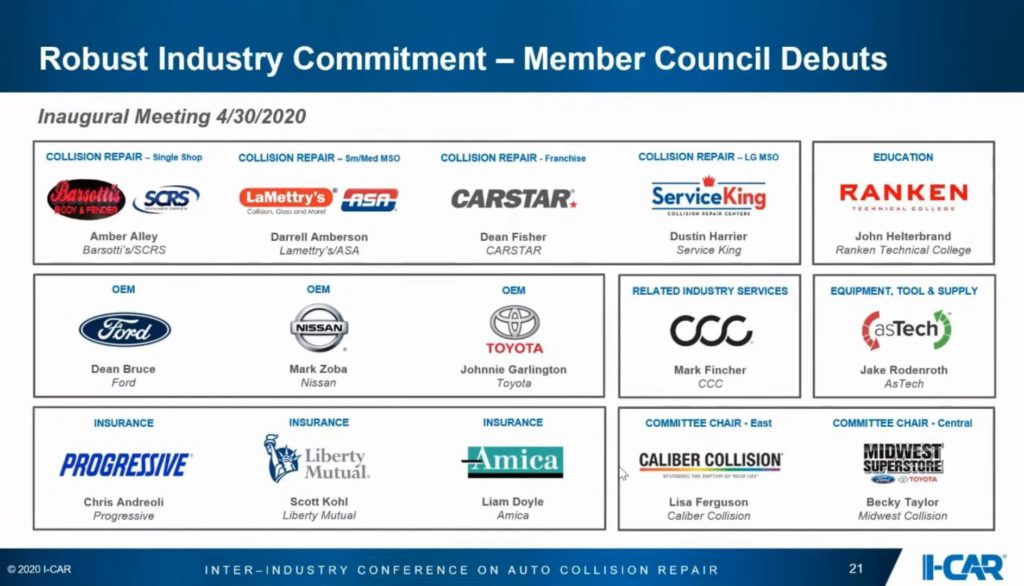 More information:
I-CAR YouTube Channel, May 6, 2020
Images:
I-CAR CEO John Van Alstyne speaks at an interactive live event on YouTube on May 6, 2020. (Screenshot from I-CAR video on YouTube)
I-CAR has noticed an uptick in training during the COVID-19 pandemic. (Screenshot from I-CAR video on YouTube)
Half of its inaugural Member Council under the new format met April 30 for the first time; the other half will be assembled next year so as to stagger everyone's two-year terms, according to Van Alstyne. (Screenshot from I-CAR video on YouTube)
Share This: