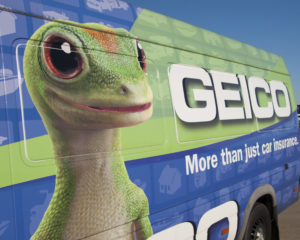 GEICO last month announced a new recalibration pricing policy slated to take effect last week for at least one Safelite-administered network of glass repairers.
The guidance was contained in a memo obtained by glassBYTEs and covered by the auto glass trade publication May 4. GlassBYTEs reported that the document applied to the U.S. except for Florida. Read its coverage here.
We should stress, as GEICO did, that "These rate standards do not impact the current collision pricing guidelines." (Emphasis GEICO's.) They're intended for the glass network.
However, the document by underwriting AVP John Little is still noteworthy for auto body shops and their customers.
It demonstrates GEICO's acknowledgement of operations like static and dynamic calibrations and pre- and post-repair scans — and willingness to reimburse associated charges. It also recognizes that such work can take a while.
"Accurate invoices which do not exceed the updated pricing structure will be paid promptly after submission," Little wrote in the April 29 document.
The memo also appears to support OEM procedures (or at least those of equipment manufacturers): "GEICO's expectation is that recalibration services will be performed per individual manufacturer guidelines," Little wrote.
Little wrote that GEICO will reimburse up to $325 for network shops performing static recalibration, reflecting up to "$40.00 per hour up to 3 hours," a "Set up/Admin fee" of $125 and separate $40 charges for a "Pre- Scan" and "Post Scan."
(For context, the average weighted mechanical labor rate found in CCC estimates was $89.91 in 2019, according to CCC's 2020 "Crash Course." The average weighted auto body labor rate was $51.45. The average scan line item in CCC estimates carried a fee of $68 during the fourth quarter of 2019, while the average calibration charge came in at $232 — but with a standard deviation of $264.)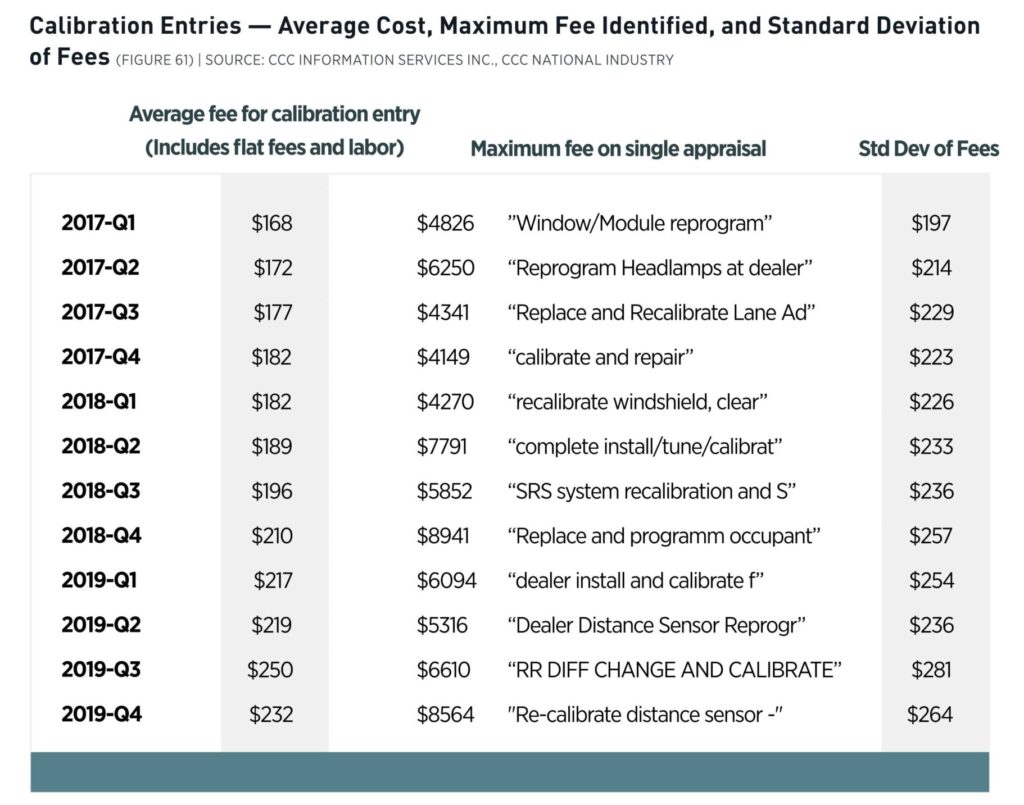 GEICO has not yet responded to a Tuesday inquiry on how it developed its glass network times or how it handles recalibrations sublet to parties like dealerships or mobile operators.
Later in the document, Little defines pre-scan as "DTC scan- analysis before recalibration" and a post-scan as the same thing but after the recalibration.
He said it will pay up to $275 for a dynamic recalibration: $40 a pop for the pre- and post-repair scans, $75 for "Set up/Admin" and up to three hours at $40 an hour.
If a vehicle requires both dynamic and static recalibrations, GEICO approves a $40 pre-scan and a $40 post-scan, according to Little. It also allots "$40.00 per hour up to 4 hours" of labor and $200 in setup/admin, encompassing "$125 for Static and $75 for Dynamic." The maximum "Dual recalibration" amount is $440, according to Little.
"The shop must provide pre and post-scans and function results for all recalibration services performed and invoiced," Little wrote. "All recalibration services invoiced to GEICO must be performed by a certified trained technician. …
"GEICO reserves the right to conduct random inspections of premises and recalibration equipment."
The insurer requires pre-scan documentation containing the customer's name; VIN and year-make-model information; technician first and last name; date and scan start/stop times; and scan tool manufacturer, serial number and software version. It calls for post-scan documentation in the form of a customer signature and the post-scan date and start and stop times.
Finally, GEICO wants the recalibration itself documentated with the data and start and stop times and a "Function Result (Recalibration)" that details "ADAS feature(s) for recalibration" and "a system generated confirmation that the recalibration was successfully completed."
GEICO will require glass network shops to keep recalibration records for three years, according to Little.
Read glassBYTEs' original May 4 coverage here.
More information:
"Geico Sends Notice On New Market Pricing"
glassBYTEs, May 4, 2020
Images:
A GEICO van is seen Oct. 16, 2011, at the Houston Air Show at Ellington International Airport. (Lanie/iStock)
CCC found the average calibration charge on its fourth-quarter 2019 estimates came in at $232 — but with a standard deviation of $264. (Provided by CCC)
Share This: