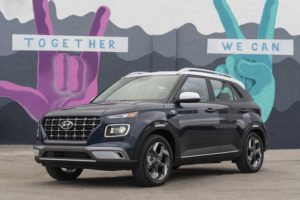 Hyundai's brand-new entry-level crossover the 2020 Venue carries significant advanced high-strength steel content and safety technology standard for just $17,350.
Nearly half of the body is what a Hyundai diagram characterizes as "Advanced High Strength Steel" of at least "60 Kg-f," which appears to be a reference to kilogram-force per square millimeter and would work out to nearly 590 megapascals. The remainder is mostly mild steel maxing out at 35 kg-f (a little more than 343 MPa) or high-strength steel of 35-45 kg-f (343-441 MPa).
"Hyundai is the only carmaker with our own in-house steel mill, which specializes in automotive materials," spokeswoman Michele Tinson wrote earlier this year. "That's an important advantage. Hyundai Steel has made significant investments in R&D and manufacturing to develop the next-generation steel that's making our vehicles stronger, stiffer and lighter!"
She called the Venue a "showcase" for lightweighting. Referencing the body seen below, she wrote:
Most of the steel in this body-in-white is made of varieties of steel that deliver greater strength with less weight.  This includes:
• Advanced High Strength Steel, indicated with red paint;
• And High-Strength Steel – shown in blue.
Using these materials, the engineers have reinforced the body-in-white in key areas.  These include:
• the entire ring of the tailgate frame;
• Side pillars, to prevent deformation from side collisions;
• And the lower dash panel, to protect against frontal collisions. (Minor formatting edits.)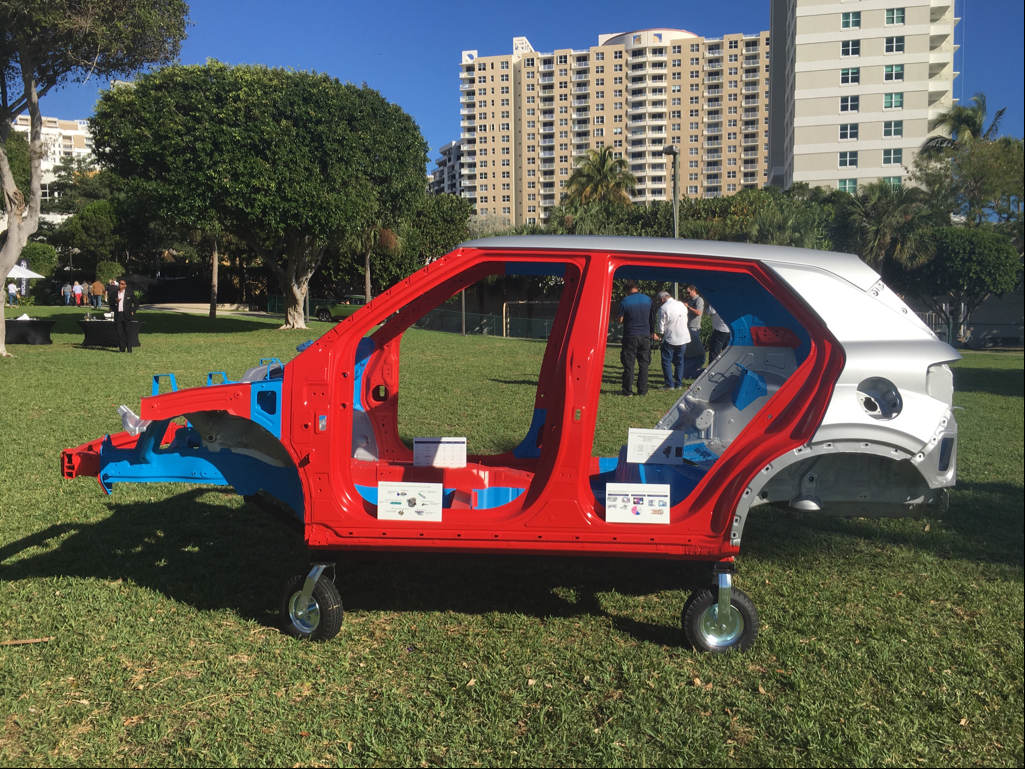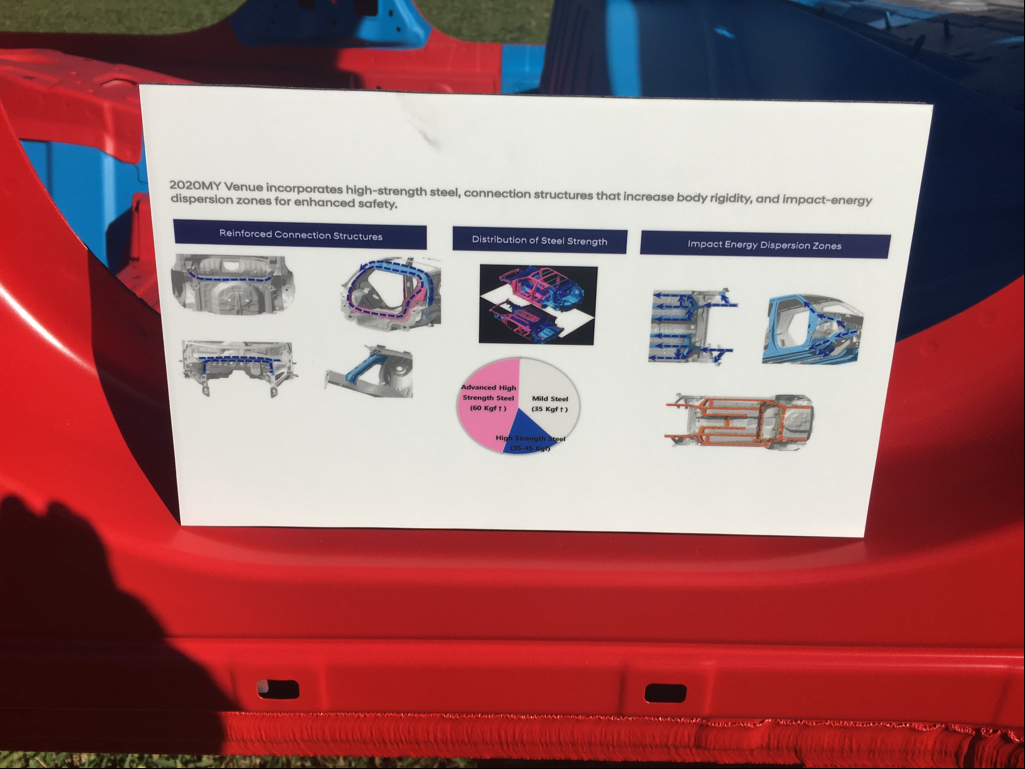 The body rides on a suspension featuring "a torsion-beam rear axle with tall, upright dampers that provide greater travel and tuning potential," according to Hyundai. The OEM described this as an imporvement over older torsion-beam axles which "applied much shorter dampers installed at an angle that limited tuning options."
Unfortunately, Hyundai as of Tuesday didn't provide OEM collision repair procedures, which means auto body shops might find themselves unable to fix the Venue with any degree of certainty into its future crash performance. Some repairers have argued Hyundais should be treated as an automatic total loss for this reason.
Aesthetically, Hyundai called the body "compact but confident."
"The side profile showcases full-volume wheel arches and strong character lines, while the cascading grille incorporates Hyundai's signature forward-looking visage found on both Kona and NEXO SUVs," the OEM said.
Moving along the side to the rear, "The unique Venue body character line carries through the profile to the tail lamps," according to Hyundai.
The crossover's rear carries a spoiler and "rear fascia asymmetric block" for aerodynamic efficiency and style.
In other aesthetic news, the vehicle comes in eight colors. The regular coating options include "Black Noir Pear," "Ceramic White," "Galactic Gray," "Green Apple," "Intense Blue," "Scarlet Red Pearl" and "Stellar Silver." A special two-tone "Denim" and white paint job appears only on the Venue's Denim trim.
In terms of ADAS, the Venue comes standard with autobraking, lane keeping, automatic high beams and driver attention alerts. Rear cross-traffic autobraking comes standard on the Denim trim.
Hyundai has sold 3,983 Venues through April 30.
More information:
"Hyundai Venue Launched to U.S. Media in Miami, Florida"
Hyundai, Jan. 10, 2020
Images:
The 2020 Hyundai Venue's two-tone "Denim" and white paint job can be found on the crossover's Denim trim. (Provided by Hyundai)
The body-in-white of a 2020 Hyundai Venue is shown. The red areas are what Hyundai considers advanced high-strength steels, and the blue encompasses what it calls high-strength steels. (Provided by Hyundai)
Diagrams demonstrate body features on the 2020 Hyundai Venue. (Provided by Hyundai)
Share This: