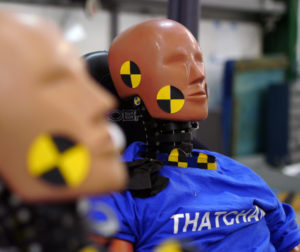 British vehicle research center Thatcham Research has asked automakers to create a warning light for advanced driver assistance systems.
The insurer-funded, Insurance Institute for Highway Safety-esque Thatcham's work includes studying repair methods and running Euro NCAP crash tests. It would like to see "the implementation to acknowledge a requirement for sustainability" in ADAS and other technology, Chief Technical Officer Richard Billyeald said in an interview earlier this month.
"We very much don't resist technology," Billyeald said of Thatcham. But a system can't be 5-star at launch and be "not doing the job" years later, he said.
Billyeald said Thatcham's vision is a situation where a dash light arises if an ADAS system is compromised by situations like misalignment, dirt, snow or failing paint.
This wouldn't be a "big narrative message"; rather, it'd be akin to a check engine light, according to Billyeald. The customer would take the vehicle to a mechanic for the actual details as to what had gone wrong, he said.
Billyeald said one Thatcham study pulled 100 vehicles from company fleets and found 47 percent "had ADAS faults" — and 12 percent contained "serious faults."
In some cases, the problem had been corrected. But "none of them had a dashboard warning light," Billyeald said.
Billyeald said Thatcham brought the issue of ADAS before all the major OEMs in early December 2019; an IIHS representative was present as well.
"They were understanding," he said of the OEMs.
He said he didn't know if it was technologically feasible for OEMs to deliver what Thatcham wanted, but the automakers "weren't entirely resistant to it."
One concern would be that an ADAS system doesn't know it's, say, been incorrectly restored a degree off. It just thinks its misperception is reality. How would it know a warning light is needed?
Billyeald noted that some minor degree of error might let an ADAS system continue to function with "relatively minimal" loss of protection. At the end of the day, the driver still retained responsibility for controlling the vehicle, he also noted.)
But consider a misaligned lane-keeping system where the "car is constantly fighting you," Billyeald said. Perhaps that could throw a dash light.
"I don't think that's an unreasonable thing to ask," he said.
The device could examine lines on the road relative to a datum point of the car itself, Billyeald said. Deviation could be met with a warning.
Billyeald also said momentum existed for ADAS to self-calibrate. Part of this is driven by automakers' production process, he said. If a system can self-calibrate, "that's an efficiency" and a cost savings for an OEM.
Move the radar
In other ADAS news, Billyeald also offered an interesting perspective on bumpers housing radar. He said Thatcham studied the issue with a major Tier 1 supplier, noting the "default position" that "'You can't repair that bumper at all.'"
"We wanted to do the research," he said. Thatcham found that, indeed, "you can't clearly define it."
Filler and paint both impacted the radar's performance, he said. "A repair in front of a radar is uncontrollable," he said.
Billyeald said Thatcham would like to see clearly defined repair zones so body shops know what areas can and can't be fixed.
Thatcham would also like OEMs to quit sticking radar behind the bumper cover, according to Billyeald.
"You can't control the repair, and that's not safe," Billyeald said.
More information:
"Driver assist tech needs standard failure warning, says UK insurance body"
Autocar, March 9, 2020
Featured image: A BioRID dummy is shown. (Provided by Thatcham)
Share This: