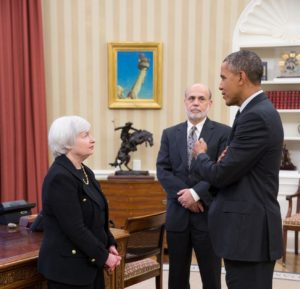 Two former Federal Reserve chairs joined more than 150 economic experts in a new letter asking Congress for more COVID-19 economic aid. 
"Policymakers in Congress and the Federal Reserve responded to this crisis with unprecedented levels of economic support for those affected, but more needs to be done," Ben Bernanke, Janet Yellen and the other signatories wrote to House Speaker Nancy Pelosi, D-Calif., and Senate Majority Leader Mitch McConnell, R-Ky, and the minority leaders in both chambers.  "If Congress fails to act, state and local governments face potentially disastrous budget shortfalls, and the Congressional Budget Office estimates the unemployment rate will likely be more than 11 percent at the end of the year."
The economic leaders called for a "large" recovery package.
"Congress must pass another economic recovery package before most of the support in the CARES Act expires this summer," they wrote in the letter shared Tuesday by the Washington Center for Equitable Growth. "Given current projections of economic need, this new bill should provide, at a minimum, continued support for the unemployed, new assistance to states and localities, investments in programs that preserve the employer-employee relationship, and additional aid to stabilize aggregate demand. While the signers of this letter have different views on the optimal size and composition of the package, we all agree that an adequate response must be large, commensurate with the nearly $16 trillion nominal output gap our economy faces over the next decade, according to CBO estimates."
The America's Recovery Fund Coalition, whose members include the Society of Collision Repair Specialists, Automotive Service Association and Auto Care Association, highlighted this letter in an email Tuesday.
The group made up of more than 150 business organizations has said companies need "medium-term capital" and demanded Congress create a federal fund delivering "rapid liquidity." When we spoke to the coalition in May, the idea was to have the fund disseminate grants rather than loans.
The coalition also recently warned of economic disaster if Congress failed to act.
On June 11, it announced results from an unofficial poll of 1,545 businesses that suggested 1.2 million companies could be out of business by September 2020. (This is at least slightly better news than late May, when the coalition estimated more than 2 million businesses were at immediate risk of folding.)
"When asked what resource is most needed in order to remain open, 69 percent of respondents said capital to cover overhead, or capital to cover overhead and also capital for payroll and to cover necessary changes to their business operations. If no additional help is forthcoming, only 37 percent of businesses are confident they can avoid further layoffs," the coalition wrote in a June 11 discussion of their survey results. "Perhaps most alarming of all, one in five businesses surveyed say they will go out of business between now and September if no additional help arrives for small businesses." (Emphasis coalition's.)
65 percent of respondents applied for PPP loans. Most of these received the money, and a small amount received PPP funding but returned it. Ultimately, 57 percent of the surveyed businesses received and kept PPP loan dollars.
"Among businesses that did not apply for PPP loans, only 19 percent said they chose not to apply because they felt they did not need the money. Eleven percent said they applied for a different loan instead (like the Economic Injury Disaster Loan)," the coalition wrote.
"Last week we saw some changes to the Paycheck Protection Program (PPP), reducing the payroll requirement from 75 percent to 60 percent, but this is still not enough," coalition research director Trevor Hanger said in a statement. "The pandemic requires businesses to take on additional overhead costs when reopening to adhere to new safety guidelines, and 47 percent of small businesses we surveyed said PPP did not give them enough funds to cover those costs. Further, our survey found that businesses that are reopening are experiencing an 85 percent decrease in revenue. Bottom line: American enterprise is in grave danger. We need to do more."
In other PPP news, borrowers who didn't cut staff, hours or salaries and self-employed people without any staff can apply for PPP forgiveness using an "EZ" form announced Wednesday. The Small Business Administration document "requires fewer calculations and less documentation for eligible borrowers," SBA said.
More information:
Economic leaders' letter to Congress for more COVID-19 economic help
Released by Washington Center for Equitable Growth on June 16, 2020
"PRESS RELEASE: 150 BUSINESS ORGANIZATIONS TO CONGRESS: WE'RE GOING OUT OF BUSINESS, AND WE NEED HELP"
America's Recovery Fund Coalition, June 15, 2020
Survey of American Small Businesses Navigating COVID-19
America's Recovery Fund Coalition, June 11, 2020
Democratic President Barack Obama, right, talks with Janet Yellen, left, on Oct. 9, 2013, before announcing her as his nominee for chairwoman of the Federal Reserve to succeed Chairman Ben Bernanke, center. (Pete Souza/Official White House Photo)
Share This: