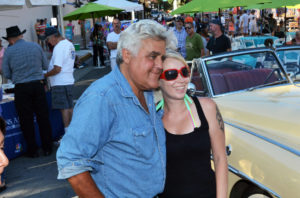 The Collision Repair Education Foundation announced Monday that a new fundraising auction series would kick off with bidding on a private tour of Jay Leno's Big Dog Garage.
The auction runs until July 10 at 10 p.m. CT. Bidding stood at $4,000 as of early Thursday evening, but the reserve hadn't yet been met. Bid here.
"Funds raised through this once-in-a-lifetime experience for any automotive enthusiast will allow CREF to support high school and college collision programs this upcoming school year who have expressed concern about their already limited program budgets being reduced," CREF wrote in a news release.
Leno's "personal Tour Director who is highly informed on every vehicle in the collection" will serve as the guide, according to a description on the auction webpage. However, "Every attempt will be made for a personal meet and greet with Mr. Leno," though this isn't a given.
Even if Leno himself can't make it, the tour sounds pretty spectacular.
"You will hear the stories behind many of the autos on display and see the site where Jay Leno's Garage is filmed," the auction webpage states. "Take 3 of your best friends or family to tour Jay Leno's incredible collection of approximately 200 vehicles at his Big Dog Garage. Jay has one of the world's greatest car collections and a tour of this magnificent facility should be on every car aficionado's bucket list! Big Dog Garage houses Leno's extensive car, motorcycle and miscellaneous 'collectables' like the BarFly Racing Stool!
Automotive lift manufacturer Stertil-Koni facilitated the event.
"We are thrilled to be working together with CREF to arrange the Jay Leno's garage tour auction," shop equipment specialist Carl Boyer said in a statement. "Stertil-Koni strongly believes in CREF's work to support high school and college collision programs around the country as the industry needs to come together in supporting its future workforce. We are excited to see the success of this auction and would encourage other industry members to get creative with their business partners to come up with their own auctions in support of CREF."
CREF on Monday described a vision of holding other auctions of "unique, one-of-a-kind experiences and items that will be available for auction not only to the industry but also auto enthusiasts around the country and globe."
"I cannot thank Carl and Stertil-Koni enough for helping to make our initial auction item one to remember and connecting us with Jay Leno's Garage," CREF director of development Brandon Eckenrode said in a statement. "This and future auction opportunities allow CREF to expand its supporters beyond just industry partners and get the general public involved. We look forward to seeing the results of this auction and are excited about the other auctions that we will be announcing over the coming months."
Anyone interested in collaborating on future CREF auctions should email Eckenrode at Brandon.Eckenrode@ed-foundation.org.
More information:
"Collision Repair Education Foundation Organizing Online Auctions to Support Collision Programs"
CREF, June 29, 2020
BiddingForGood listing and bidding for Jay Leno's Big Dog Garage auction
Featured image: Former "Tonight Show" host Jay Leno poses at the Downtown Burbank Car Classic on July 26, 2014. (DnHolm/iStock)
Share This: