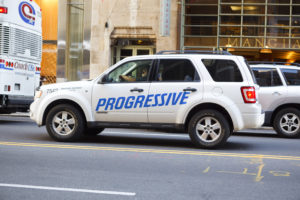 Declaring them "the reasonable and necessary amount for calibration services," Progressive on June 25 announced new amounts it would reimburse automotive glass shops for static and dynamic calibrations.
The memo obtained by Collision Hub and posted to Facebook June 30 said Progressive would pay $500 for glass repairs requiring both a static and dynamic calibration, $275 for a dynamic calibration alone and $300 for an individual static calibration.
The prices would take effect July 1. "Accurate invoices which do not exceed the updated pricing structure will be paid promptly after submission," Progressive wrote.
Progressive as of early Thursday evening did not respond to an inquiry Wednesday about how it calculated these "reasonable and necessary" prices or what it would do for work sublet by glass shops.
We should note, as Progressive did, that "These rate standards do not impact the current Collision pricing guidelines." They're for shops providing "glass service," according to the insurer.
The document is still noteworthy for auto body shops and their customers.
It demonstrates GEICO's acknowledgement of operations like static and dynamic calibrations. It also seems to support OEM procedures.
"All recalibrations must be performed by certified trained technicians and according to the manufacturer guidelines," Progressive wrote.
The insurer also described what documentation it would expect. "Valid recalibration documentation include: ADAS feature(s) recalibrated, system generated date stamp, system generated start and stop time stamps, and a system generated confirmation that the recalibration was successful," Progressive wrote. Having that info readily available following a collision repair would seem to streamline Progressive's acceptance of auto body shop calibrations as well.
Conversely, glass shops might appreciate a little pricing context from the collision side.
The average weighted mechanical labor rate found in 2019 CCC estimates was $89.91, according to the 2020 "Crash Course." The average weighted auto body labor rate was $51.45. The average scan line item in CCC estimates carried a fee of $68 during the fourth quarter of 2019, while the average calibration charge came in at $232 — but with a standard deviation of $264. Some calibrations cost at least $1,000.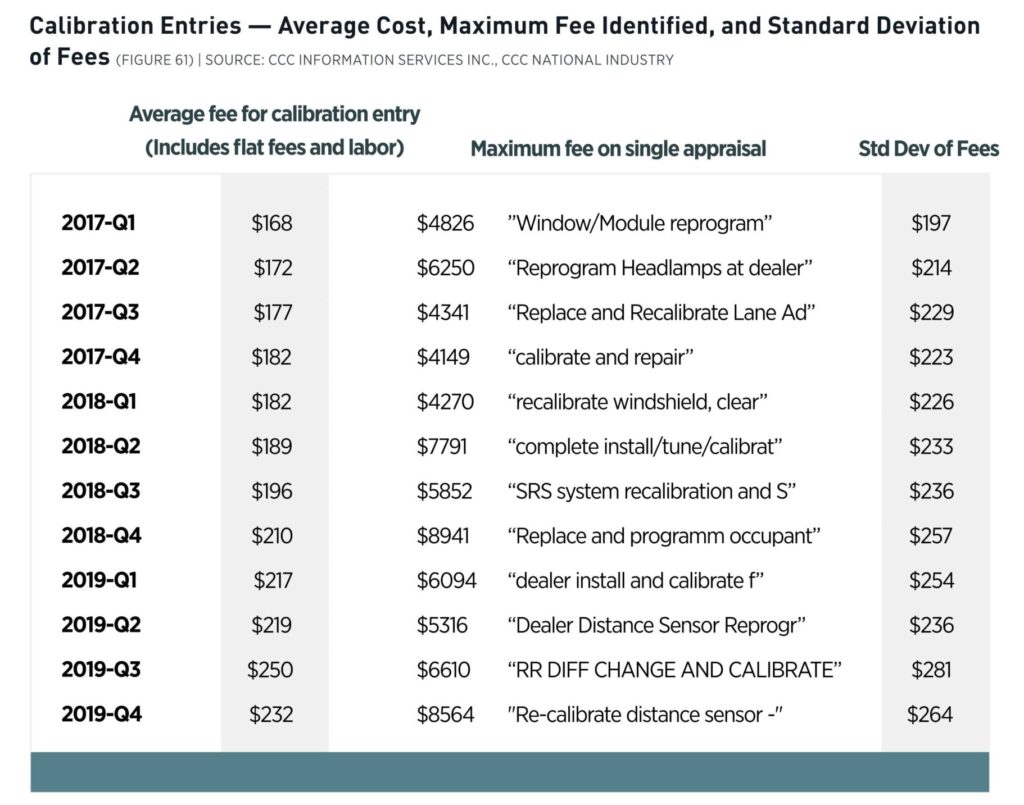 Progressive's note seems to bounce between addressing both its network glass shops and non-network shops. It discusses out-of-pocket costs related to the customer's choice of shop but also issues commands that might be irrelevant and unenforceable on a non-network repairer.
"Progressive policyholders have the right to choose an automobile glass shop of their personal choice," Progressive wrote. "However, Progressive is obligated on behalf of its policyholders to pay the reasonable amount necessary for glass replacements, glass repairs and windshield recalibration.  Therefore, if you are unwilling to provide services at the market prices that Progressive has set, please consider declining the job so the policyholder will not be responsible for the additional charge.
"Further, no communication by you which rejects the Progressive glass pricing will be binding upon Progressive. If you accept a glass repair, glass replacement or windshield recalibration service for one of Progressive's policyholders, while intending to charge more than Progressive's reasonable and necessary pricing, you must advise the policyholder prior to initiating replacements/repairs and windshield recalibration so the policyholder can determine whether they are willing to pay the additional costs for your services."
Progressive also announced record-keeping and inspection requirements.
"Recalibration scan results must be retained for a minimum of three years, and Progressive reserves the right to conduct inspections of the recalibration equipment and documentation," the insurer said.
Progressive said invoices and questions could be directed electronically to Safelite Solutions, thought the insurer would receive any mailed invoices.
A similar memo GEICO glass network shops was recently obtained by glassBYTEs. GEICO said it would pay up to $325 for static recalibration, $275 for dynamic calibration and $440 for both. Like Progressive, it said this guidance didn't apply to collision repair.
Images:
Collision Hub Facebook post on Progressive glass calibration pricing
Collision Hub Facebook page, June 30, 2020
Images:
A Progressive Insurance vehicle drives along West 57th street in Manhattan on June 2, 2011. (wdstock/iStock)
CCC found the average calibration charge on its fourth-quarter 2019 estimates came in at $232 — but with a standard deviation of $264. (Provided by CCC)
Share This: