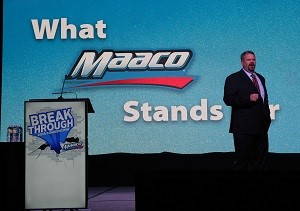 Maaco on June 30 said shops used the slowdown caused by the COVID-19 coronavirus response to "make upgrades to their facilities and utilize the time for more skills training for technicians."
This has allowed more repairers to become what Maaco considers "Platinum Certified," according to certification director Tyson Disbennett.
"During the state shutdowns, even though we were classified as essential, business had slowed as it did for the rest of the repair industry," Disbennett said in a statement. "That gave owners and technicians more time to complete I-CAR® training and make the enhancements to their operations needed to become Platinum certified. We now have more centers that are Platinum Certified, meaning they are qualified to perform national fleet repairs, then we did pre-pandemic. That translates to more revenue opportunities for those centers."
The auto body and paint franchisor's certification initiative began in 2018. Maaco said it sought to deliver a better customer experience and and ensure "each center is equipped with the right tools and technology, and technicians are prepared to service the type of business that they are focused on serving."
Maaco's more than 400 shops can pursue certification in one of three tiers: Gold, Platinum and Diamond. The Platinum and Diamond levels could give traditional collision repairers greater competition for fleet and direct repair program work.
Franchise Times reported in August 2019 that Maaco certification and strategic development Vice President Dave Gross expected the "large majority" of the company's 500 shops to reach one of those levels by the end of that year. He told the magazine that Maaco wanted franchisees "to identify which customers they're geared up to serve…and the end goal is to move everybody toward diamond or platinum."
"A Gold Certified Maaco center delivers on all the brand standards set by Maaco and is primarily serving the traditional retail customer who needs their vehicle painted with minor cosmetic repairs," Maaco wrote in a February news release. "Platinum certification is the next level and is required when a center wants to participate in the Driven Fleet program to service national fleet accounts and perform insurance work. Diamond certification is a premier level of achievement, meaning that a Diamond center has all requirements previously mentioned and the necessary training and equipment to participate in an insurance company DRP (Direct Repair Program)."
Gross at the time called these "three potential revenue streams" for a shop.

Maaco's Gold and Platinum certifications for shops are different than I-CAR's separate Gold Class and Platinum classifications for shops and technicians, respectively. However, Maaco will require a shop to achieve I-CAR Gold Class to reach the franchisor's Diamond status.
"National fleet and insurance-paid collision work requires an investment in equipment, technology and training to repair today's advanced vehicles," Gross said in a February statement. "Platinum and Diamond Certified centers have made those investments. Diamond level centers are also I-CAR® Gold Certified and qualified to participate in an insurance company DRP. I-CAR (Inter-Industry Conference on Auto Collision Repair) is the collision repair industry standard for repair procedures and training."
Commerce City, Colo., Maaco owners Jim and Jamie Powell in February called achieving Diamond Certification "very important to us and our objectives for continued growth."
"The automotive repair environment is changing rapidly, and you have to keep up if you want to continue to be successful and grow," they continued. "The Maaco certification program is a great program to help us stay current, keep learning and growing."
Maaco in November 2019 called its internal certification program part of its 2018 "Go Forward Plan" focusing on performance and profitability. Certification was yielding both of these qualities, Maaco said last fall.
"A key component of the plan is the revitalization of the Maaco shop image and the shop certification program, where Maaco centers meet requirements for Gold, Platinum or Diamond certification," Maaco wrote in November 2019.
"These key initiatives are driving same center sales increases for the year, and these have doubled in the past month as more Maaco centers achieve certification. Maaco certified shops are growing at a higher rate and some are already seeing significant improvements on performance."
Other COVID-19 efforts
Maaco on June 30 also shed light on other company activities during the COVID-19 coronavirus.
The company said it initially worked to help franchise owner find their financial footing, "providing guidance and assistance with the application process for government and Driven Brands programs available for business and employee financial relief," according to Gross.
It also offered shops a Readiness-Attitude-Management-People program focusing on employee and customer safety.
The franchisor delivered "a six-week series of webinars on such topics as maintaining social distancing on the production line, implementing a touchless intake process, proper disinfecting procedures and proper use of personal protective equipment," according to Maaco.
"The COVID-19 pandemic was a unique situation that no one has ever faced before," West Springfield, Mass., Maaco owner Joe Houghton said in a statement, "and communication was critical to success. There was constant communication between the advisory council and the Maaco management team, where everyone could share their concerns and ideas. This provided a support system that helped everyone focus on what needed to be done to be safe and keep business coming in. The corporate teams did a great job of coming together, and with our collective input, creating programs to support the franchisees while implementing all the safety procedures needed to keep our customers and employees safe."
More information:
"Overhaul of Maaco's Cert Process Paying Off, Exec Says"
Franchise Times, Aug. 2, 2019
Images:
Then-Maaco President Bob Benjamin appears at the company's 2019 convention. (Provided by Maaco)
A Maaco is shown. (Provided by Maaco)
Share This: