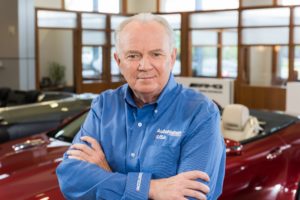 AutoNation on Wednesday announced it would cease its aftermarket auto body parts business by the end of the year as part of an "aggressive approach to streamline its business."
The publicly traded dealership chain said the "AutoNation Collision Parts" represented less than 1 percent of the company's parts and service gross profit for the first half of the year, which works out to less than $15.67 million. Dumping the brand would actually save it about 1 percent of gross profit, which for the first half of the year would work out to more than $16.08 million assuming the company meant total gross profit.
The company estimated spending about $52 million throughout the second half of the year to wind down the business, including about $12 million in cash, plus another approximately $9 million after that "related to existing contractual obligations."
It thought dropping the aftermarket collision parts business would bring its selling, general and administrative expenses below 68 percent of its third-quarter gross profit. The company said it already had slashed SG&A down to 68.2 percent of its $795 million gross profit in the second quarter.
"Over the last two years, AutoNation has implemented a restructuring plan that reduced costs annually and consolidated its region infrastructure from three to two regions," AutoNation wrote in a news release. "In 2020, further reductions to headcount, advertising, and discretionary spending were also made."
AutoNation CEO Mike Jackson issued a statement Monday but didn't mention the collision parts business.
However, he told a July 23 earnings call that it hadn't been performing well. (Special thanks to Seeking Alpha, whose transcript allowed us to identify speakers and find quotes.)
"I would say that's the only area of concern," Jackson said.
AutoNation had seen "big success" with maintenance and mechanical components, which gave the company a "very good basis" for reconditioning and would be used for that purpose, Jackson said. Those parts contributed to company profitability, he said.
"Now, AutoNation Collision Parts is another story," Jackson said. "The whole collision business was very challenged during the  second quarter with the dramatic reductions in the amount of miles driven, and that business wasn't profitable even  before the marketplace got much more difficult."
Collision parts represented a "relatively small part" of the company's parts offering, according to Jackson. The rest of the parts business had been trending in a "very good direction," he said.
Jackson's comments regarding reconditioning appeared to be related to a company bullishness on buying used cars and reconditioning them — essentially flipping vehicles.
"We figured out how to do reconditioning competitively," Jackson said. He said AutoNation has a core skill of buying used cars, and it knows how to improve them cost-effectively. He was optimistic about the company's chances in used cars going forward.
"We see an opportunity to take a larger share of the used vehicle market and benefit from the increased interest in vehicle ownership by our customers," Jackson said in a statement Monday. "AutoNation's strong brand, first-class digital capabilities, and One Price pricing strategy, combined with lower acquisition cost and stable used vehicle retail pricing make AutoNation USA stores an attractive opportunity."
More information:
"AutoNation Continues Aggressive Approach to Streamline Business and Reduce Costs"
AutoNation, Aug. 19, 2020
AutoNation second-quarter 2020 earnings call
AutoNation, July 23, 2020
AutoNation second-quarter 2020 earnings call transcript
Seeking Alpha, July 23, 2020
"AutoNation Reports 2nd Quarter GAAP and All-Time Record Quarterly Adjusted EPS from Continuing Operations"
AutoNation, July 23, 2020
Featured image: AutoNation CEO Mike Jackson is shown. (Provided by AutoNation)
Share This: