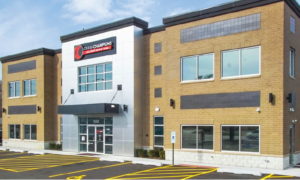 Crash Champions has sold multiple Chicago-area facilities but will continue to inhabit the properties in a sale-leaseback arrangement, financial services firm Cushman & Wakefield announced Thursday.
The transaction raised $30 million for the Chicago-based Crash Champions, according to Cushman & Wakefield.
"We had the honor and privilege to work with Crash Champions on their growth strategy through this recapitalization transaction," Cushman & Wakefield managing director Jack Chang said in a statement Thursday.
In a separate interview Friday, he offered further perspective on the sale-leaseback concept.
Selling off real estate with the understanding you'll remain as the tenant can be a way for businesses to receive an influx of cash but remain in a location they like. The buyer gets a piece of real estate and a steady revenue stream from the seller's new rent obligation.
Cushman & Wakefield said Chang found "a large pool of qualified buyers" and obtained multiple bids for the Crash Champions properties.
"In any deal but more so in this current environment, communication and confidence in the deal is very important," Chang said in a statement. "By presenting a compelling property story for buyers, we procured multiple competitive offers and were also able to execute on the portfolio with pre-COVID pricing for the seller."
Chang "has sold $150 million in collision properties in just the past two years," his company wrote. Chang said Friday that about half of these were sale-leaseback deals, while the others were more traditional real estate deals, often involving MSOs selling a property they've just acquired.
MSOs often remain within such facilities as tenants, but Chang said such deals weren't the same as a true sale-leaseback arrangement like Crash Champions'.
Chang said sale-leaseback deals typically involve a long-term lease, such as one locked in for between 10-20 years. Another three or four five-year lease options could be available to the tenant after that. The rent might be cheaper than what a typical commercial inhabitant would pay as well, he said.
This could be a particularly good arrangement for a shop in a red-hot real estate market — for example, the San Franscisco Bay Area — looking to sell their property and use the cash for an expansion, capital spend or an acquisition. The shop wouldn't have to find and relocate to another location or fear the kind of rent the market could ask.
We asked why a buyer would want to accept such a deal in a hot market. Why not take in a tenant who'd have to eat the market rent rather than cut a body shop a 20-year lease at a discount?  Chang said some buyers with significant wealth are looking to "park money somewhere," describing the Bay Area real estate market as one attractive opportunity for this. Owning the property asset is intended as "wealth preservation" rather than a cash flow play, he said.
Asked if a repairer needed to be a major MSO to take such a deal, Chang said no. However, he advised a repairer to have a private equity partner and be focused on growth.
"That's the story we need," he said.
For its part, the A&M Capital Partners-owned Crash Champions has been on an expansion kick, and an extra $30 million on hand could facilitate more purchases.
The company more than doubled in size in March with the purchase of the 23-shop Pacific Elite MSO, a move which grew Crash Champions to 39 locations and brought it into California.

On Sept. 1, Crash Champions announced its 40th location — "with more opening in the coming years" — would be West Bend, Wisc.-based Silver Spring Collision Center. The purchase represented the MSO's debut in Wisconsin.
"With the addition of this facility, Crash Champions continues its rapid growths strategy and expansion throughout the United States with 40 locations in Illinois, Wisconsin, Ohio and California."
Chang didn't rule out an independent single-shop operator obtaining such a deal. But a buyer would need to know the repairer plans on remaining in the business, according to Chang.
A 60-year-old single-shop owner closing in on retirement isn't an attractive prospect for a buyer to grant a 15- to 20-year lease, Chang said. In addition, a buyer would want a traditional mom-and-pop operation to offer a personal guarantee, he said. No one would cut a sale-leaseback deal with a small business "shell" the way they would with a more robust company, he said.
But good independent in a decent location could be pitched to a buyer, Chang said. He also didn't rule out a sale-leaseback for shop who wished to use the building proceeds for expensive OEM certification equipment rather than buying a rival.
A shop in a rural market could be a tougher sell to a sale-leaseback buyer, but a rural market whose demographics indicate growth could reduce the challenge, according to Chang.
Individual small repairers within a region but not directly competing could also package their properties together to tempt a buyer with a bigger real estate deal, Chang said.
Chang also on more than one occasion stressed the concept of the repairer having a "story" that could make a buyer confident in a sale-leaseback deal.
We asked about the notion of maintenance. After all, a collision repairer wouldn't want to sell their property only to discover the new landlord is more like a "slum lord."
Two types of maintenance deals are typical, and both protect against this scenario, according to Chang.
In one, the tenant "will still maintain everything," he said.
In the other, the landlord holds an obligation for a few basic elements, such as the roof or the building structure, Chang said. But all the other maintenance would remain the shop's responsibility, he said, giving the example of the plumbing.
Typically, a lease goal would involve keeping the landlord from bothering the tenant and the tenant from bothering the landlord, Chang said.
He said shops in a sale-leaseback would retain the right to make facility upgrades, such as improving the building's electrical system for welding operations.
Images:
A Crash Champions facility is shown. (Provided by Cushman & Wakefield)
Crash Champions entered Wisconsin with the purchase of Silver Spring Collision Center announced Sept. 1. (Provided by Crash Champions)
Share This: